Reality show star, Elsa Patton is a darling of the audience, who has got a history of quirky antics to distorted face after a botched plastic surgery. She came to prominence after her appearance in the show, Real Housewives of Miami (ROHM) (2011-2013). However, after the show's wrap, Elsa suffered from various health scares and disappeared from public eyes.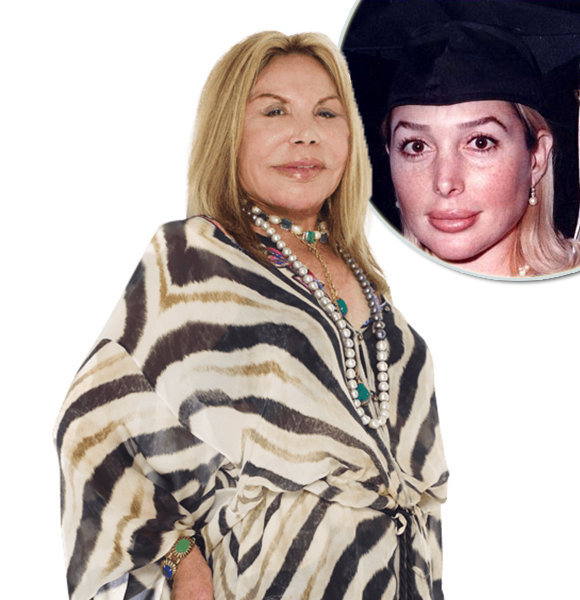 Quick Information
Divorce/Split

Not Yet

Lesbian

No

Plastic Surgery

Yes

Eye Color

Brown

Hair Color

Blonde

Hair

Long

Weight

60 kg (132 lbs)

Height/ How Tall? 5'4" (162.5 cm)
Net Worth

$10 Million

Dating/Affair

No

Date of Birth 1934-08-25 Died : (2019-05-12)
Husband/Spouse

Donald Patton

Relationship Status

Married

Daughter/s

Marysol Patton

Ethnicity/Race

White

Religion

N/A

Zodiac Sign

Virgo

Profession

Television Personality

Nationality

American
The late reality show star, Elsa Patton was a darling of the audience, who had a history of quirky antics to distorted face after botched plastic surgery. She came to prominence after her appearance in the show, Real Housewives of Miami (ROHM) (2011-2013).
However, after the show's wrap, Elsa suffered from many health scares and disappeared from public eyes. A biography shall reveal it all!
Near-Death Experience Saves Nearly Divorce Situation
The veteran reality show star had her share of misfortunes!
The Cuban native shared a near-death during the premiere party of the show, The Real Housewives of Miami in September 2012. Elsa fell unconscious at the event and suffered her first health scare.
She got taken to the emergency services, where medical personnel tended her for a day and later, discharged. Elsa's daughter Marysol allayed fears after announcing that she was okay and had lost consciousness due to, her old age.
Discover:- Dana Perino: 20 Years of Married Life But No Children, Husband and Divorce?
Elsa' another health problem struck on 5 March 2013. She suffered a stroke and fell in her home. Sharing about the time, Marysol reminisced she feared for her mother's life. She RadarOnline in August 2013:
"I thought she was going to die. It is difficult to describe the hurt and fear that I felt. If I had not had my company to run and the filming of this season, I would have fallen into a horrible depression."
Her condition improved after brain surgery and months of physiotherapy.
But, the family suffered another problem when Elsa and her husband nearly divorced each other after 50 years of marriage. On Real Housewives of Miami's third episode of the second season, their daughter Marysol revealed the nearly-divorce situation by saying, 
"After 50 years of marriage, right before mom was hospitalized, my mother and father were on their way to like a pretty messy divorce. They're both very intense. Sometimes he'd walk by and give her a squeeze on her honey, and they'd giggle. The other 90% of the time, they were at odds."
The incident got aired in September 2013. But, Elsa's marriage got saved as her stroke shelved their plans and kept the family intact.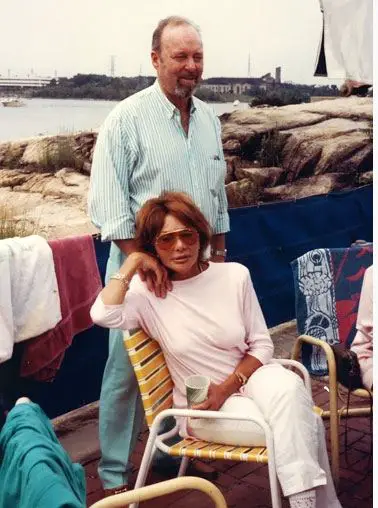 Elsa Patton with her Yachtsman husband, pictured during her pre-surgery days (Photo: starcasm.net)
TV actor recovered soon, and in October 2013, she was already appearing in an episode of the reality show and looked healthy. She recovered from her disease after months of therapy.
Death Rumors; Plastic Surgery Gone Wrong
The self-proclaimed seer, Elsa became part of death rumors after a star of the reality show Real Housewives of Miami was reported to have died in October 2016. However, it got later confirmed that it was not Elsa, but Miami businessman Herman Echevarria, who had died.
You Don't Want To Miss:- Actress Lucy Walters Biography: Age, Height, Net Worth, Boyfriend, Ethnicity
Since the death hoax, news about the reality show star did not get highlighted in the media until she became plastic surgery's example of how wrong the procedure can go.
Now deceased, Elsa went under the knife from a period of 2008 to 2012 and suffered severely after her surgery went wrong. Her photos before the surgery depict her as a lovely babe, but in an attempt to stop her aging, she underwent numerous ruined surgery and ended up with a distorted face.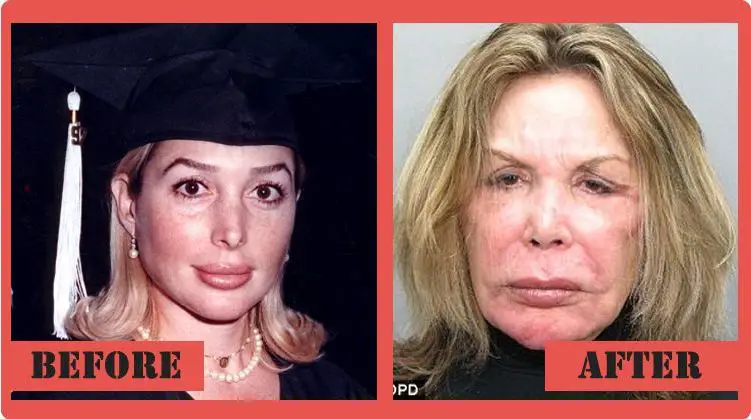 A before-after image of the late Elsa Patton, showing her distorted face after plastic surgery (Photo: Celebrityplasticsurgerypics.com)
She opened up about her plastic surgery quoting she had a wrong surgery and an evil doctor on 6 January 2013. The doctor's identity, who performed her botched surgery, is still a mystery.
The reality show star's plastic surgery was hot cake even in 2018 as the incident was voted second by many fans in Real Housewife Polls. The poll was conducted to find what updates fans wanted to know on Twitter, where Elsa' plastic surgery came second. 
Despite having an unusual face, Elsa won plenty of admirers due to her quirky behavior on RHOM. She enjoyed the net worth of $10 million, earned through her business venture, Havana Elsa Coffee, and her television shows.
Death At Age 84
A year after the infamous death hoax, in May 2019, Elsa finally succumbed to her "long illness" at the age of 84. It was her daughter who broke the devastating news to the public. In a statement, Marysol revealed:-
"Our beloved Elsa Patton passed away over Mother's Day weekend after a long illness... She was surrounded by her family and close friends."
Thanking the fans and friends for their good wishes and prayers, she professed gratefulness on behalf of the Patton family.
Following the announcement, the Bravo community and fans alike mourned the late reality star's death. On his show, Andy Cohen praised his friend's " spirit, humor, and wisdom."
Likewise, Shah of Sunset stars Reza Farahan and Mercedes "MJ" Javid paid fitting tributes by labeling the former RHOM star "one of a kind, beautiful, strong, intuitive soul."
The news of Elsa's death came little over a year following her husband's passing. She and her loving husband were a married item for about five decades.
Reflecting On Elsa's Influence On RHOM in 2018
Whether it was because of false death hoax or the gore before and after images of her botched plastic surgery, the fans of the Real Housewives of Miami couldn't get enough of Elsa. To say that she was one of the favorite guests on the show would be an understatement.
Discover:- Autumn Calabrese Biography, Age 37 & Husband Still Friends; Married Life Rift, Family Stays
The late Havana Cuba-native would make regular guest appearances on the hit Bravo reality series alongside her daughter, Marysol, a season regular. However, three seasons into the series, Elsa suffered a stroke and as a result but, she and her daughter left the show in 2013.
Following the announcement of the pair's sabbatical from the iconic reality show to focus on Elsa's health, Bravo announced the show would get canceled. Lauren Foster, a regular guest on the RHOM and family friend, would explain the reasons behind the show's cancellation in a July 2018 interview with Hornet. She said:
Elsa was the fan favorite of the show. I personally believe that's why the network decided not to move forward with the fourth season. 
By then, five years had passed since the final episode of the RHOM got aired for the first time. Everyone, including Marysol, seemed to miss Elsa on the Real Housewives of Miami.