Entertainment
Ethan Wacker: Everything On The Rising Star - From Age To Parents
Ethan Wacker: Everything On The Rising Star - From Age To Parents One among such names is 15 years old Ethan Wacker; a rising actor has built an impressive fan following who admires what he does. Now, it's obvious; that if you love Ethan's work, you for sure want to know about him, a tad bit more. So, keep reading to find out everything there is to know about this actor.
"You can have all the talent in the world, but without determination, you won't get very far." ~ Malorie Blackman.
It's astonishing how young talents' persistence in the entertainment industry with sheer determination to give their best is increasing, day in day out. 
There are countless teenagers, who have the potential to outdo many established actors in the long run. One among such names is 17-year-old Ethan Wacker; a rising actor who has built an impressive fan following.
Keep reading to find out everything there is to know about this actor.
Essential Details - Age, Height, Birthday & Parents
The Disney star famed for his role as 'Bernie' in 'Bizaardvark' was born in the year 2002 and is 17 years of age.
Ethan, who celebrates his birthday on 8th of May every year, was born to his loving parents in Hawaii. A Taurus by birth sign, he shares his birthday with the likes of rapper 6ix9ine and actor Stephen Amell.
Another Disney Star:- Madison Pettis Parents & Boyfriend; Who Are They & What Is Her Net Worth?
He introduced his family via a YouTube video on his channel back when he was 15 years of age. Going by the clip, the bond that he shares with his family members is applaudable.
Apart from his parents, Ethan has a brother Christian and sisters, Natalie & Olivia Wacker as his family. 
Growing up, he traveled all over Asia, including places such as Bali, Cebu, Tokyo, and Beijing. For four years, he called Seoul, South Korea, his home. 
Additionally, the Disney sensation stands beyond the 5 feet and 6 inches (1.68) height mark. Given that he is still in his teenage years, his height will see growth once puberty hits.
Relationship With Jake Paul
Besides his parents and siblings, Ethan shares a close bond of friendship with his former co-star from Bizaardvark and a very famous Youtuber, Jake Paul.
He and the YouTube sensation used to have fun, on the sets of Bizaardvark and Jake even featured Ethan in many of his videos. However, Jake had to leave the show to focus on building his Youtube career further, and Ethan was left gutted by the news. He even made a video, sobbingly expressing that he was going to miss Jake every day on the set.
Related To Jake Paul:- Is Alissa Violet Dating A Fellow Viner Or Is She Just Too Bored To Have A Boyfriend?
Despite Jake's departure from the show, Ethan and Jake remain best friends forever.
Dating/Girlfriend Talks
From one Bizaardvark co-star to another, Ethan began dating actress Olivia Rodrigo - who played Paige in the Disney series - in June of 2018.
The former KC Undercover star and his girlfriend, however, didn't make their romance public until January of 2019 when he uploaded a 6-month anniversary post on Instagram.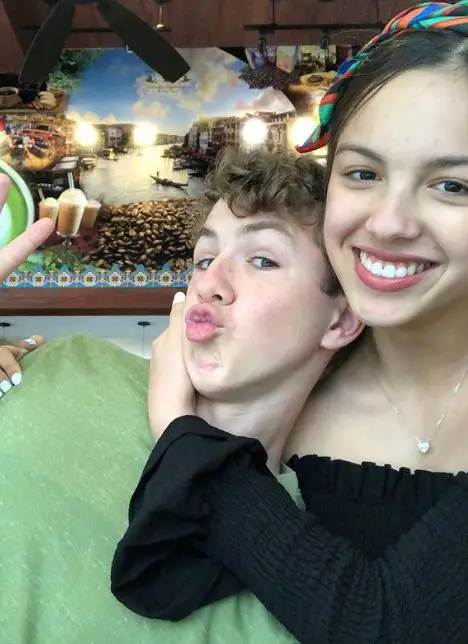 Ethan Wacker and his girlfriend Olivia Rodrigo strike pose for a photo circa Feb 2019 (Photo:- Ethan Wacker's Instagram)
In the following months, he littered his fans' Instagram feeds with the pictures of the two celebrating birthdays as well as worldly affairs. For 2019 Valentine's Day though, he shared an image of the two locking lips on the beach. 
More On Olivia:- Olivia Rodrigo Wiki: From Ethnicity To Her Dating Status
To those unfamiliar, Ethan's girlfriend Olivia - now age 16 - is best recognized as Grace Thomas from the movie, Grace Stirs Up Success.