Entertainment
Francia Raisa with Unconditional Love: For Both Boyfriend & Selena Gomez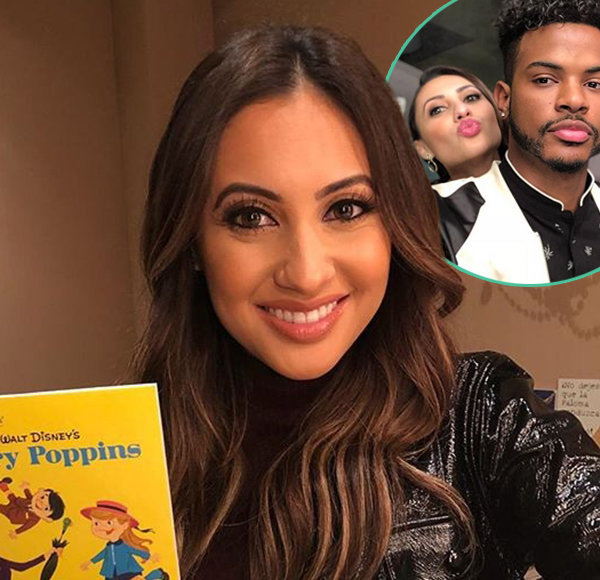 American actress Francia Raisa, who won a Gracie Allen Award for Outstanding Female Rising Star for her role in The Secret Life of the American Teenager, has an acting career just like her dad and shares a love that has awed many. 
But the ongoing question is, apart from her unconditional love for her best friend, Selena Gomez. Does the actor have a boyfriend? Or is she dating anyone?
Who is Francia Raisa's Boyfriend?
Single now actress Raisa, best known for her role as Leti in the film, Bring It On: All or Nothing, prefers to keep her love life at bay and away from the media.
Previously the actress was dating her ex-boyfriend Chris Adkins, a cinematographer working behind the scenes.
But, the pair has not revealed how they met and fell in love.
Francia first let her fans into her romance when she posted a now-deleted portrait with her ex-boyfriend during the holidays.
The couple made the relationship official through an Instagram post in December 2017.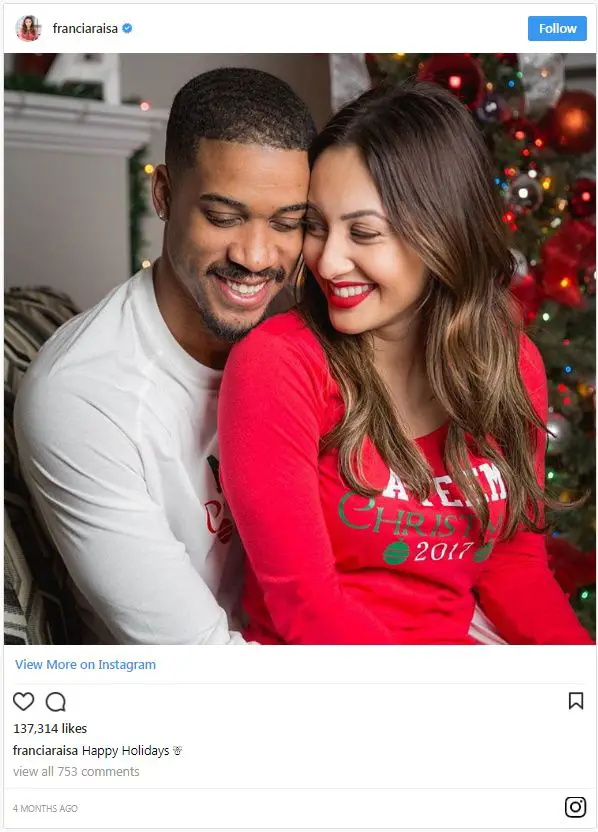 Francia Raisa with Ex-boyfriend Chris Adkins on Christmas (source: Instagram)
Well, the very next day, the couple even shared a quick kiss while they were enjoying the 12 degrees weather in Indianapolis. Their affectionate moment was shared on the actor's Instagram story while it was snowing. 
Adding to it, even though the pair could not spend Valentine's Day together, Chris sent a bunch of red roses for Francia that surely made her day. 
You might like: All about Buffie Carruth's Low-Key Personal Life- Her Husband, Net Worth & More
After being together for, almost two years, the boyfriend and girlfriend split up in 2019 with not much information about why. As the pair wanted to keep it personal, we fully support their privacy.
If we talk about the actor's love life in terms of friendship, her friendship with Selena Gomez is the star of all.
Francia & Selena Gomez
Francia gave her kidney to her best friend, Selena. Francia met Selena when she was starring in ABC's The Secret Life of the American Teenager while Selena was doing her shows at Disney.
During the time, Disney and ABC Family had the stars of their shows visit the children's hospital, where they both met and exchanged a conversation.
Also check out: Ben Carson Wife's Undying Support For Her Husband
After some interaction, the two decided to hang out, and since then, the two have been inseparable.
After decades of friendship, they both moved in together and were cohabiting. But unfortunately, that is when Selena's lupus began to take a turn for the worse.
Selena needed a new kidney to survive, and the waitlist for the kidney was seven to ten years. During the tough time, Francia decided to go for a test and save a life.
Luckily Francia's kidneys were a match, and both the stars underwent surgery.
Through various complications, both had successful surgeries. For them, recovery was not as easy as expected, but Francia, along with Selena, stayed strong and went through it bravely. 
Talk about friendship goals.
Now the stars are healthy and continue to be best of friends evidently when Selena publically thanked her friend for blessing her life on World Kidney Day.
Jumping to her career, the star holds a net worth of $3 Million, according to Celebrity Net Worth.
Stay with us for more updates regarding the star's future love life and future endeavors.