Entertainment
Who is Greta Thunberg? Interesting Facts About Young Activist
Greta Thunberg...A sad topic that has been discussed for the past few decades and voicing her own opinion on the matter of...And, this was not all. After ending her sentence she went on to look straight into the...Her emotions were all out, though she didn't breakdown or...Greta Thunberg was born on...he rose to prominence after working to deal with...
"Global Warming " has been the hot topic in the world since the past few decades. Voicing her own opinion on the matter, teenager Greta Thunberg shook the UN with her speech on 23rd September 2019.
The Swedish climate activist displayed her oratory skills and eloquently delivered her points beyond her age.
Sixteen-year-old, Greta has always been brutally direct with her approach. Never shy to point her fingers at politicians, she didn't stop at the United Nations summit.
Her speech was moving and inspirational for her peers, but uncomfortable for her primary targets. In the breathtaking four minutes UN address, Greta was clear on how important and upsetting her statements were.
Details On The Speech
The clarity of her speech was pure and simple. Delivering a heartbreaking statement on the summit, she said, 
"We are in the beginning of a mass extinction. And all you can talk about is money and fairytales of eternal economic growth."
And, this was not all. After ending her sentence, she went on to look straight into the eyes of the global leaders and added,
 "How dare you!".
Her emotions were all out, though she didn't breakdown or shed tears of sadness; her words cried out the grief she was feeling. She even claimed that the adults leading the world had stolen her dreams and her childhood with their empty words regarding climate change.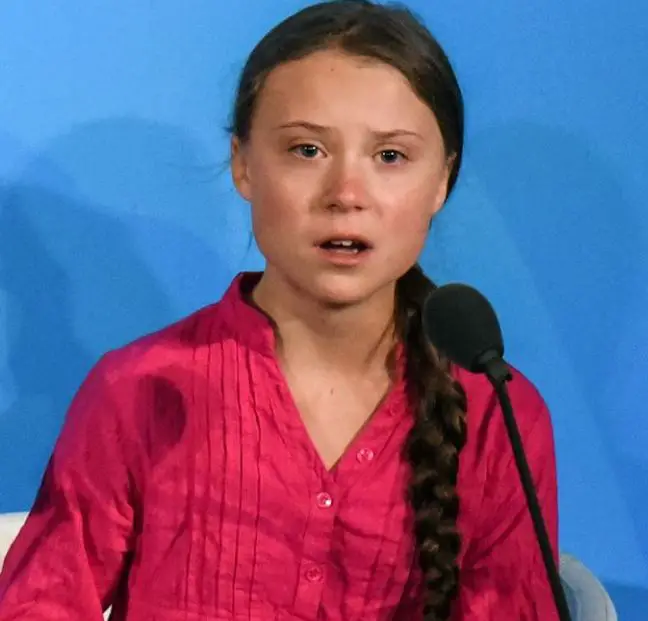 Greta Thunberg delivers her speech on the UN summit on 23 September 2019 (Photo: gettyimages.com)
Interestingly, her statement came just a day after millions of young people across Sydney, Manila, and New York came out on the streets to urge emergy action on climate change.
Add to that, the world leaders- including US President Donald Trump and Indian PM, Narendra Modi- gathered for the annual UN general assembly, where Gret put forward her moving speech.
Interesting Subject:- Charlie Kirk Married, Gay, Net Worth
While many countries claimed to do their best to address the issue, some had their reserves on it. President Donald Trump even went on to allegedly mock the young lady tweeting in 2019,
"She seems like a very happy young girl looking forward to a bright and wonderful future. So nice to see!"
Famous for his alleged skepticism towards the notion of climate change at every turn, President Trump's tweet was probably a sarcasm.
Well, Greta feelings towards Trump was also not cheerful as news cameras captured the young activist staring intently at the President when he came in the lobby during the summit.
Bio & Facts On Thunbergs
Born on 3 January 2003, Greta Thunberg is the daughter of father Svante Thunberg and mother Malena Ernman. Her parents are theater enthusiasts. While her father is a Swedish performer, author & producer, her mother is an opera singer.
Also, a part of her family is her younger sister, Beata Thunberg. While Greta has the oratory skills to change views and opinion, her little sister has the angelic voice on her side. Beata has a significant fan following on Instagram. (over 11K as of September 2019)
Diagnosed at a young age with OCD, especially Asperger syndrome, and selective mutism, Greta had difficulties in her early childhood. Overcoming those challenges, Greta became one of the most talked-about speakers in the world.
For You:- Ames McNamara Wiki: Age, Family, Siblings & Interesting Details On The Young Actor
She rose to prominence after working to deal with climate change and global warming. Organizing the world's first school strike for climate change in front of Sweden's parliament, the young activist added more attention to her name in August 2018.
The young activist would see documentaries about climate change when she was in school. While she sat quietly at the back, she was more affected than any other students. Greta suffered from depression and even discontinued her school education to commit herself in response to heatwaves, wildfires, and the issue of global warming.
Then, she went on to address the United Nations Climate Change Conference in 2018.
For her achievement, she was even named as one of the World's 25 Most Influential Teenagers in December 2018 by the Time magazine.