Entertainment
Hank Baskett Cheating Disaster; Affair That Cost Him Divorce With Loyal Wife
Quick Information
Date of Birth

1982-09-04

Age

38 Years 6 Month(s)

Nationality

American

Profession

Former Football Wide Receiver

Birth Name

Henry Randall Baskett III

Zodiac Sign

Virgo

Ethnicity/Race

African-American

Father

Hank Baskett, Jr.

Mother

Judy Baskett

Brother/s

Randy Curtis

Son/s

Hank Baskett IV

Daughter/s

Alijah Mary Baskett

Relationship Status

Single

Divorce/Split

Yes (Once)

Ex-Wife

Kendra Wilkinson (m. 2009–2018)

Gay

No

Salary

$800 Thousand Per Year

Net Worth

$3.5 Million

Career

2006–present

High School

Clovis High School

College

University of New Mexico

Height/ How Tall?

6'3" (1.91 m)

Weight

220 lbs (100 kg)

Hair

Short

Hair Color

Black

Eye Color

Black
Former Philadelphia receiver Hank Baskett was one of the best football players during his time, and his brilliance was just all over the field. Now, the retired footballer runs the same brilliance in his married life, with a superstar wife and gorgeous kids.
But seems like, even Hank's brilliance couldn't save his eight years of marriage as the former pair's relationship went through cheating accusations and sex-scandal in 2014. Rocked by the incident, the couple reconciled for a brief moment, but Hank could never earn his wife forgiveness.
If this sparks you, why don't follow how Hank's married life turns upside down!
Transgender Claims Sexual Affair; Addresses The Matter Himself
It all started when Hank Basket proposed Kendra Wilkinson on November 2008 and got engaged to her.
The beautiful brunette said yes and made way for the couple to tie the knot in a lavish ceremony held in the Playboy mansion on 29 June 2009, after six months of dating.
The power couple welcomed their first child together, a son, Hank IV on 11 December 2009.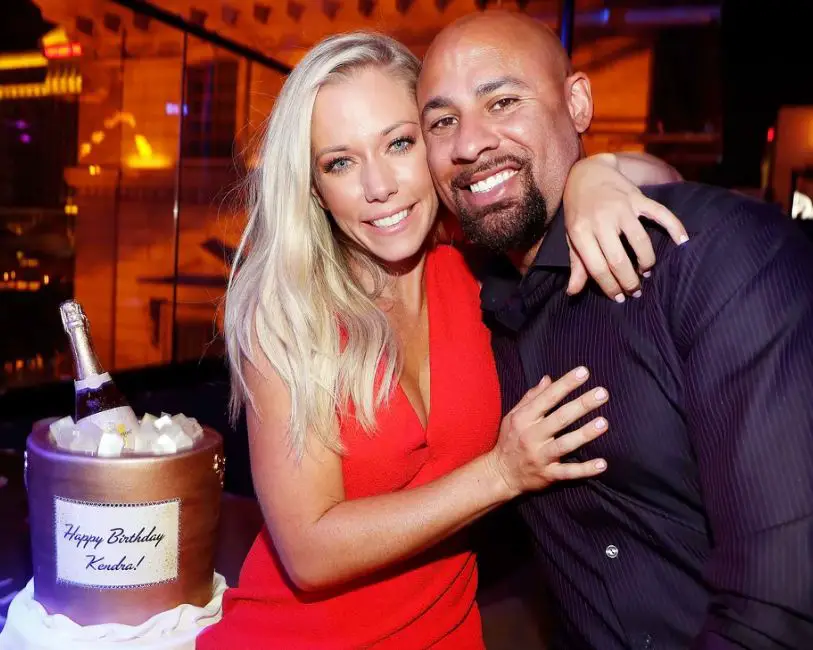 Hank Baskett with wife Kendra Wilkinson celebrating her birthday in 2016 (Photo: Zimbio.com)
The former Philadelphia Eagles receiver and his Girls Next Door star wife were leading a blissful life and even announced that the couple was expecting their second child, a daughter on 31 October 2013.
However, their perfect little world was rocked after Hank's cheating news surfaced in 2014; the time when Kendra was eight months pregnant with her second child and their fifth marriage anniversary came around.
A transgender named Ava Sabrina London claimed that she was engaged in sexual activity with the former footballer, in an exclusive interview with RadarOnline on June 2014. The transgender revealed to the news portal that Hank was a bit nervous before finally getting a hand-job done. Ava even added that Hank left him with $500 for the services. Ava stated,
"We quickly went to my bedroom where things got a little hot. I started giving him a hand job and he was playing with my penis 'cause he was laying down and I was like, you know, above him, so that's when I realized who he was."
However, Hank neither denied nor accepted the accusations even after being rumored to be gay. Bassett household was covered with unease and Kendra reportedly became furious to such extent that she flushed her wedding ring, kicked her husband out and even threatened him with a divorce.
However, the couple continued living together, and Hank finally decided to clear the situation.
You May Also Like:- Engaged Couples Christian Carino & Lady Gaga Splits
Speaking with PEOPLE, the footballer, with a chequered career, told that he had been naive about the way he had dealt with the situation. He added that he had spotted a couple smoking marijuana and just wanted pot from them.
When he approached them asking for marijuana they gave him a number, he duly called and went to the specified location, and there he saw two transgenders making out. The father of two froze seeing the act, and that was when one of them approached him and fondled him through his basketball shorts. He claimed his innocence and maintained that he had not indulged in any sexual activity. Hank quoted,
"I didn't engage in anything. It was like a bank robbery. You never know when you'll freeze. I don't know if it was a couple of seconds or 15 seconds, because all I was saying was get out, get out, get out.
Hank added that he was so humiliated by what unfolded ahead of his eyes and could not open up about the incident to his family and friends, and even with his macho personality could not protect himself and his family from the embarrassment. He affirmed:
"I was this big former football player. I was the alpha male. I could do anything to protect my family but I couldn't protect myself."
His wife, the former contestant of I'm a Celebrity...Get Me Out of Here!, sided with her husband and showed her understanding side and added that her husband was very gullible and trusted everyone easily. She was quoted saying to PEOPLE,
"Hank was very naïve and gullible. He thinks everybody is his friend. That led him to the hell that we've lived."
A year on from the cheating saga, the family seemed to have worked their way out from the scandal, when Kendra on top star dropped the bombshell.
Cheating Takes To Divorce; Children Might Save The Marriage?
Everything seemed to be going pretty well with Hank, who enjoys the net worth of $3.5 million, and his TV star wife until Kendra filed for divorce on 3 April 2018 citing irreconcilable differences in their marriage as the reason of separation.
She took to her Instagram on 6 April 2018 to post an emotional message.
She declared that it was her last day with her husband and they had decided to separate after eight years of marriage. She further added in the post that she would always love him and would cherish the memories but had agreed to take up their ways. She, however, reiterated the couple's responsibility towards their kids and were determined to be good parents to their kids.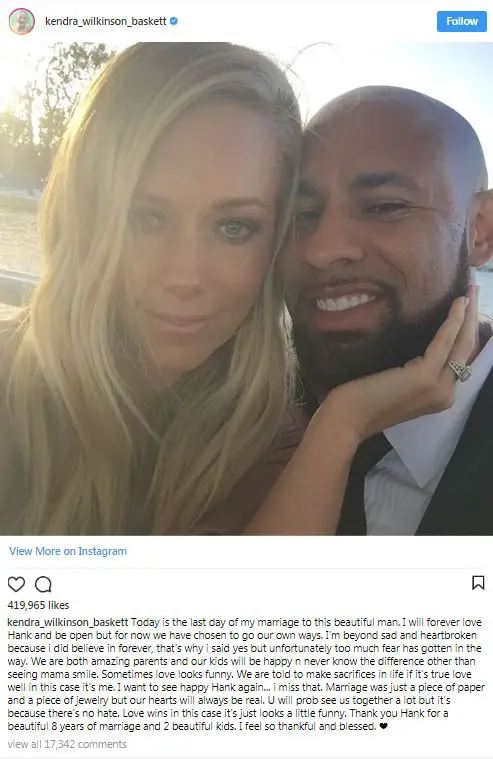 Kendra Wilkinson's Instagram post about her divorce with Hank Baskett (Photo: Kendra Wilkinson's Instagram)
After the news about their divorce, PEOPLE in March 2018 quoted a source saying the separation between the couple had been coming and added that their relationship had not been the same after the sex scandal. The insider stated,
"Kendra was devastated. Even though she decided she was going to stand by her man their marriage was definitely forever impacted by his cheating."
However, before the divorce got finalized, the source quoted "they're still talking, but it's mostly for the kids." The couple was determined to give their children a good upbringing and made sure that their children are not affected by their parents' separation.
Finalizes Divorce; Dating Anyone Now?
True to the words, Hank's kids left the divorce scathe-free upon the finalization of the separation.
In February 2019, he and his ex-wife Kendra officially parted ways, ten months after filing for divorce, as the documents about the case were registered at the L.A. County Superior Court.
Per the papers, the former couple will share joint legal as well as physical custody of their two kids. Further, they will retain their wealth while evenly distributing the money in the bank account.
Hank and Kendra had initially attempted to settle the divorce in October of 2018 but got rejected for errors in the filing of the paperwork.
Whether it is out of respect for each other or their reluctance to dive into the dating pool, neither the retired football player nor the former Playmate has publically debuted a new relationship since the estrangement. Now that the divorce has been finalized, it could help change all that, no?