Hilaria Baldwin celebrated their five years of the wedding by renewing...and her actor husband, as they renewed their vows after... accompanied by their three children, namely...babies grabbed a baby doll wrapped in a white towel and looked at the color of the dress the baby was wearing to determine...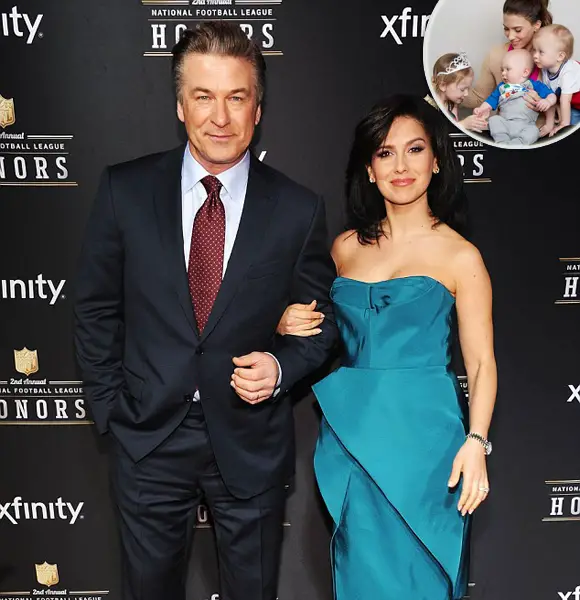 Quick Information
Husband/Spouse

Alec Baldwin (m. 2012)

Lesbian

No

Body Measurements

34-26-35 inches

Eye Color

Hazel

Hair Color

Black

Hair

Long

Weight

52 kg or 115 lbs

Height/ How Tall? 5 ft 4 in or 162.5 cm
College

New York University

Net Worth

$10 Million

Divorce/Split

Not Yet

Date of Birth Jan 06, 1984
Relationship Status

Married

Daughter/s

Carmen Gabriela Baldwin,

Son/s

Leonardo Ángel Charles Baldwin, Romeo Alejandro David Baldwin, Rafael Thomas Baldwin

Ethnicity/Race

White

Zodiac Sign

Capricorn

Birth Name

Hilaria Lynn Thomas

Profession

Businessperson

Birth Place

Mallorca, Spain

Nationality

Spanish
Marriage is a sacred bond, and the love between you and your partner is something that is way over anything else in this world. But, what happens when you and your partner marry again and renew your vows?
Just ask Hilaria Baldwin and her actor husband, as they renewed their vows after five years of a stable marriage. 
Today, let's take you back to this beautiful ceremony and take a stroll into the personal life of Hilaria Baldwin!
Renewing of Vows: Hilaria Baldwin And Husband Get Married Again
 Hilaria Baldwin and her actor husband Alec Baldwin celebrated their five years of the wedding by renewing their vows in front of their children on Friday, 30th June 2017.
The happy and lovely occasion took place at the stunning Wölffer Estate Vineyard located in Long Island, New York.
Their close and dear ones witnessed the love heading a whole new level in awe, accompanied by their three children, namely Carmen Gabriela Baldwin, Rafael Thomas Baldwin, and old Leonardo Ángel Charles Baldwin. 
Wedding Bliss:- Danielle Lloyd Wedding, Michael O'Neill, Pregnant
In addition to them, Ireland Baldwin was also amongst the guest, who is Alec's 25-year-old daughter, from his previous marriage to Kim Basinger. The actor even took over to his Instagram to share his happiness with the fans.
All of this made news after Alec accidentally spilled the beans and revealed details along with the date of them renewing the vows.
"We're getting remarried on Friday if we make it to Friday."
Hilaria added,
"Now there's going to be people at our doorstep. If there's paparazzi now, it's his fault. This was the moment."
Moreover, ahead of the happy ceremony, Hilaria elaborated,
"The whole relationship went fast. It was actually Alec's idea, Marriage is something you're constantly working on, and it's a wonderful thing to celebrate, which we are doing, and it's also a wonderful thing to go, 'Hey, I'm still in this, I'm still doing this, and we met a lot of people since then so we have to include them.'"
The yoga instructor and the "30 Rock" star first tied the knot back in June 2012 at New York City's famed St. Patrick's Cathedral. The Baldwins met in February 2011 at Pure Food and Wine, a restaurant located in NYC, and began dating a few days later.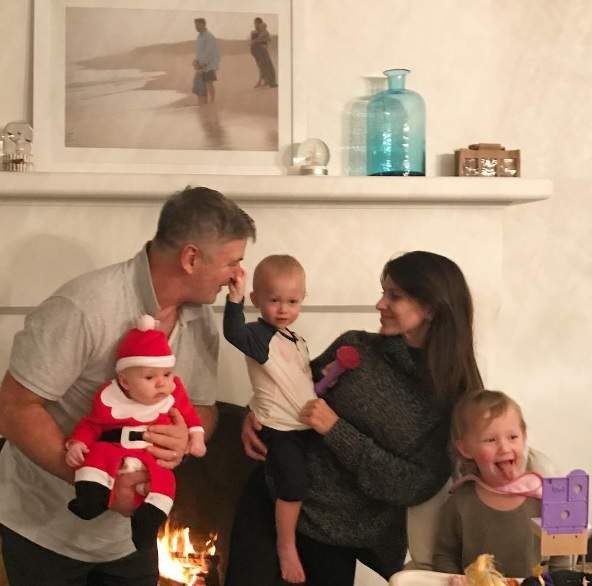 The Happy Baldwin Family (Photo: heavy.com)
Fans sent out their best wishes to the remarried couple and hoped the love between them keeps on growing with time!
Welcomes Fourth Baby; Suffers Miscarriage Year After
Hilaria and husband Alec announced the news of her pregnancy in November 2017. The couple later welcomed their fourth child together, a baby boy named Romeo Alejandro David in May 2018.
Baby Daughter For Loving Couple:- Jason Ritter Welcomes Baby! Engaged Couples; Parents For The First Time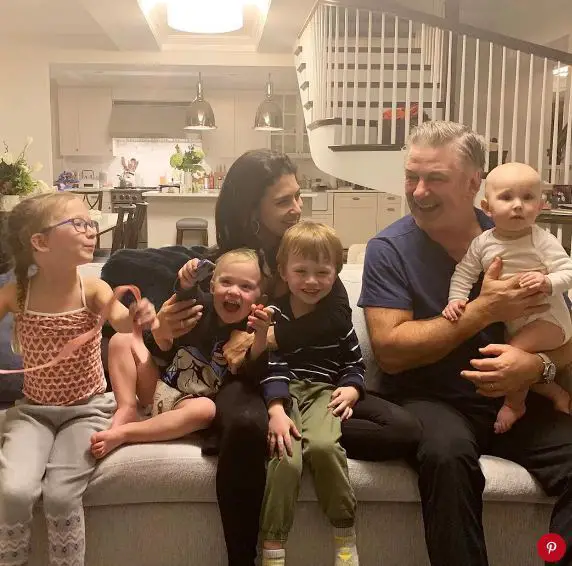 Hilaria Baldwin with husband Alec Baldwin and children in 2019 (Photo: Pinterest.com)
Amid the happiness of sharing four kids with her husband, Hilaria became pregnant for the fifth time earlier in 2019; however, the duo faced a tragedy this time.
Earlier in April 2019, Hilaria shared a heartbreaking message on her Instagram feed. Hilaria mentioned that while performing a scan on her body, she found out that the baby didn't have a heartbeat. 
The news was a shock to her, but Hilaria gently handled the situation as she looked forward to her four children. 
Opens Up About Miscarriage
On 24th April 2019, Hilaria opened up to the world about a painful episode in her life. She shared a sonogram of her miscarried child and talked at length about the impact of the harrowing experience.
The fitness expert chose to be public about losing her child because she thought most of the time, it was dealt with it in shameful silence. When she first announced about her ordeal, many people reached out to her; thus, being a public figure, she chose her platform to talk about losing a baby and let people know that they were not alone.
Support came pouring out for the strong lady as fans were inspired by her bravery and thanked her for being so outspoken about her struggles.
Pregnant Again
Even though life has it's ups and downs; there is always a great deal it has to offer. Even after going through some unfortunate events, Hilaria didn't lose hope and instead gave another try on a child.
On 19th September 2019, she surprised her fans with exciting news of her pregnancy. She jokingly cited that she was just six minutes pregnant, which was evident through her belly that doesn't show a considerable baby bump.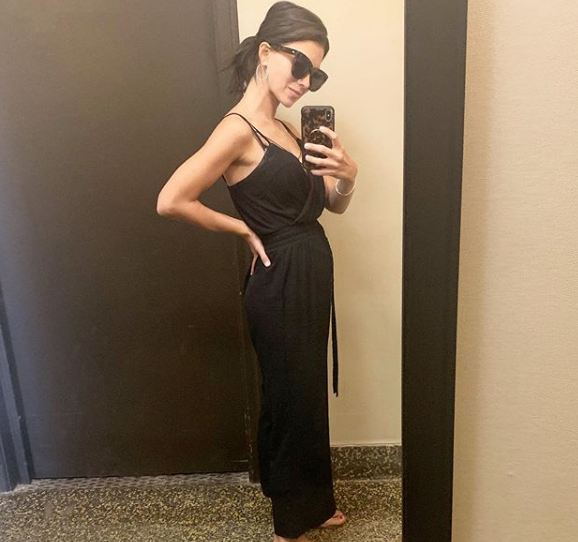 Hilaria Baldwin showcases her slight baby bump on 19th September 2019 (Photo: Hilaria Baldwin's Instagram)
But, at that very moment, she had already hinted expecting another child very soon. Being the parents of four children already, it was a rather instinctive decision to make for the loving couple. However, they did it to fulfill their daughter Carmen's wish to have a baby sister.
Surrounded by three younger brothers Rafael, 4 Leonardo, 3, and Romeo, 1, Carmen was eager to be an elder sister. For her same wish, the loving parents opted to become parents again. However, it was always uncertain that the next baby will be a daughter.
Another Pregnancy:-  Linda Ikeji Husband, Engaged, Pregnancy
Surprisingly, the luck turned out to be in favor of Carmen. The gods granted her wishes as to the baby on Hilaria's womb was a girl. On 12 October 2019, the happy family announced the excellent news playing the game of revealing the sex of the baby.
Each of their babies grabbed a baby doll wrapped in a white towel and looked at the color of the dress the baby was wearing to determine the gender. Now, the family of seven, along with their eldest daughter Ireland is ready to welcome the newest member in the family.
As a pregnant mother, the news must be quite an exciting one for her and her husband, Alec. For now, it's evident that along with excitement, she has a lot of challenges ahead to look well after her unborn baby's health.
Moreover, Hilaria is requesting the media to offer her a private time since she is pregnant and vulnerable. She stated,
"I want to remain peaceful during this very early time in my pregnancy and getting chased around by cameras is not in the doctor's orders."
Since too much spotlight and the pressure of showbiz can result in harming stress in mind, her doctor's recommendations sounded plausible.
Another Miscarriage In 2019
Only a short while after Hilaria and Alec announced the pregnancy of their 5th child together, the couple have sadly lost another through a miscarriage.
The duo made a joint statement announcing that their baby passed away at 4 months. It was just in September when the couple revealed the pregnancy. Hilaria and her entire family were grieving for the loss of their child.
Hilaria found about the fate of the child through one of her regular scannings. The news a complete shock to the couple. In the 20th week scan with the doctors, the sad outcome was confirmed when there was no heartbeat.
She is, however, remaining strong. With four of her wonderful children, Hilaria finds solace through her healthy kids.
Her husband also opened up about how devastating the miscarriage has been and how difficult it has been for his wife. Fortunately, Hilaria seems to have made her peace with the miscarriage as well, which was confirmed non-other than her husband.
Relationship With Step-Daughter
Being a celebrity, Hilaria got a lot of hate for not posting about her stepdaughter, Ireland Baldwin. On 18th April 2019, she clapped back at the haters and talked at length about loving her step-daughter as much as her biological children. She even mentioned sharing a healthy relationship with her husband's child from ex-wife, Kim Basinger.
A Short Wiki-Like Bio of Hilaria Baldwin
Born on 6th January 1984 in Majorca, Spain, Hilaria Baldwin is a fitness and wellness expert, who is 35 in age and is 26 years younger than her husband, Alec.
She is also the co-founder of "Yoga Vida," which is a yoga studio located in Union Square and Noho in NYC.
Moreover, she is a lifestyle correspondent for EXTRA, where she covers fitness, fashion, news, and celebrities.
More Fitness Experts:- Michelle Lewin Wiki: Age, Fitness, Husband, Tattoo
Hilaria was only thirteen when she started in international Latin ballroom dancing. She has also written about how dancing professionally led to her issues with Anorexia & Bulimia in her book.
She is such a great personality in her field, and if you are a yoga enthusiast, wanting to know more about how to maintain your diet and fitness, you might as well have a perfect person to look up to in her.