Unless you are a rock dweller, you must have heard about the American "Royal" Family, The Kardashians. Their flawless makeup looks are to die for.
Well, the person behind the iconic makeup looks was Joyce Bonelli, who worked closely with the "it" family for a decade. But since 2018, Joyce parted ways with her employer. Was here some drama behind the end of the professional relationship?
History With The Kardashians - Relationship Now
Joyce met Kim Kardashian back in 2005. It was a different time as she was not the biggest celebrity on the planet then. The pair met during a photoshoot and Joyce didn't know a thing about the soon to be a reality star.
Momma Kardashian's Personal Life:- Corey Gamble Age 38 & Kris Jenner Won't Be Getting Married, Here's Why
As Kardashian started making a splash in the industry, they needed the best makeup artist in the business. Thus, they hired Joyce to help create their flawless look.
Joyce Bonelli poses with Kim Kardashian on 8th July 2015 (Photo: Joyce Bonelli's Instagram)
Not only, Kim, but Joyce also worked with Khloe, Kourtney and the Jenner sisters Kylie and Kendall. The LA-born make up artist did become the sought after artist in the business due to her Kardashian-Jenner connection in the resume.
No wonder she worked with huge celebrities like Nicki Minaj, Demi Lovato, Lindsay Lohan, and Holly Madison.
But in June 2018, the Kardashians ended their decade long partnership with Joyce. Something significant must have happened as the clan even unfollowed her on Instagram.
In Kardashians' world, it is a massive deal as an unfollow could very well equal a divorce in a marriage. However, Joyce maintained that it was a personal thing and there was no drama behind the end of her working with the reality family.
According to some sources, Joyce leaked information about a deal so that the Kardashians - Jenner family wouldn't get it. Well, neither the source confirmed such rumors.
Joyce's Wiki
Joyce was born on 7th July 1987 in California. Growing up with American nationality, she was always inclined towards art as her father was a painter. So, at the age of just 16, she joined her first esthetician course.
Continuing her learning journey, she studied makeup techniques of trans-women and drag queens.
Well, her big break was working with Baywatch star Pamela Anderson for Playboy's shoot back in 2006. Since then, she built her resume as the sought after makeup artist in the business.
About Kylie Jenner's Ex-Best Friend:- Who Is Jordyn Woods & What Is Her Net Worth? Wiki - Age, Parents, Family
Such is her demand; it is reported she makes more than $1 million per year for her makeup services. One can only assume her skyrocketing net-worth from her job as a makeup artist who is at the prominent height of her career.
Married Life With Husband
Joyce married Ben Taverniti on 28th August 2018. Well, the couple had been dating for a while and shared twins-boys of 20 months old(birthday in December 2016) at the time of their wedding.
Kardashians had a hand in the start of their relationship as Joyce and Ben first met on Kim and Kanye West's wedding. The couple eventually found their way to each other when Joyce DMed Ben on Instagram and the pair hit it off.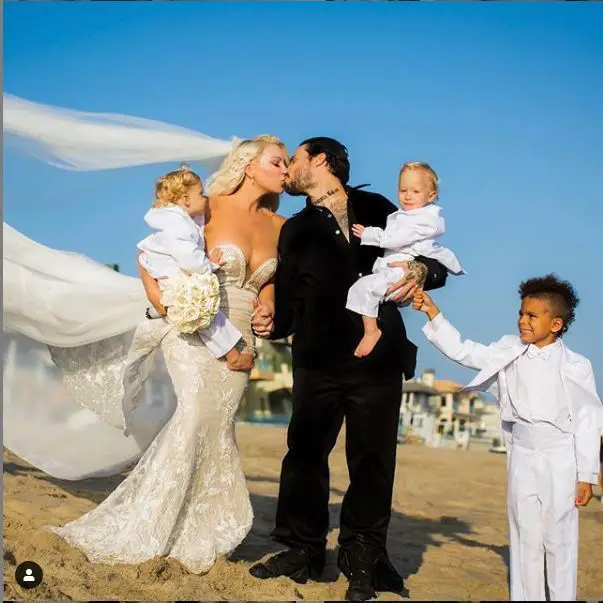 Joyce Bonelli shares a smooch with newlywed husband, Ben Taverniti beside children: twin boys and son - Zeplin on 28th August 2018 (Photo: Joyce Bonelli's Instagram)
Besides the twins, Joyce has another baby, six-year-old son named Zeplin from her previous relationship. She keeps the identity of her first baby father private.
On her relationship with Ben, it is stronger than ever as Joyce is set to make the fashion entrepreneur, her husband, a father again. She is pregnant with her fourth child.