Entertainment
NFL Reporter Kristina Pink Married Status Now; Dissecting Personal Facts
Articulate, stunning and affable -- all the adjectives that have been used to describe NFL reporter Kristina Pink in the past, and fittingly so.
Best known for her NFL coverage on FOX Sports' Thursday Night Football, the Florida native is one of the most recognizable female faces in all of sports broadcasting.
With a soaring career height - one that seems to reflect on her impressive salary - it's understandable that Kristina would boast an educational pedigree like that of no other.
Has her professional success permeated through her personal life as well? Is she happily married to her husband? Or Is she busy dating her boyfriend? Read along to learn more including her age & birthday!
Is NFL Reporter Married With Husband Or Still Dating Boyfriend?
Safe to say, whoever manages to convince Kristina into getting married will become the envy of the world!
More importantly, the news of her getting herself a husband will break more than a few hearts. Twitter user A Martinez may very well be one of those hearts.
Interesting:- Rachel Brosnahan & Boyfriend Secret Wedding? Evidence Say He's Husband
In March 2018, when Kristina tweeted a photo of her with the caption "wedding vibes," the stated user was in dismay as he questioned the NFL reporter if she had married.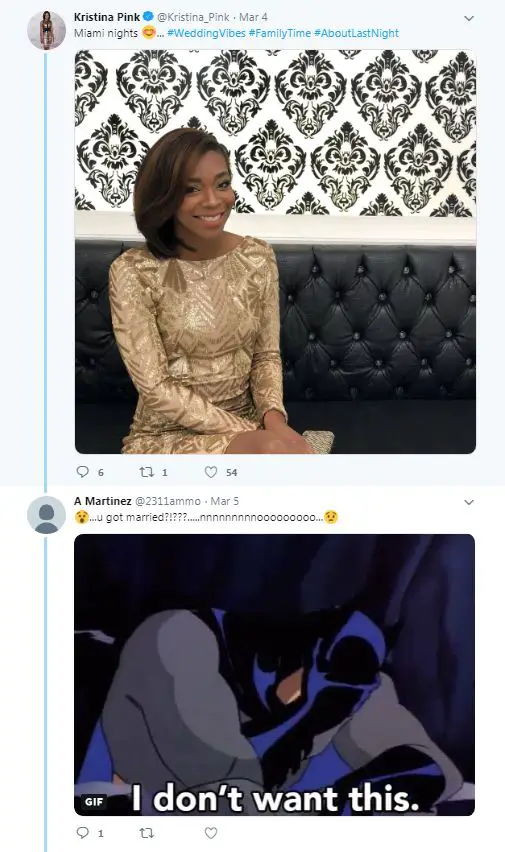 Screenshot of exchange between Kristina & her down-&-about fan (Photo:- Kristina Pink's Twitter)
The former WTVJ-TV sports reporter swiftly doused the suggestion of her acquiring a husband by replying that she did not. Reading by the addition of crying laughing emoji in her reply, she seemed to find humor in the suggestion.
If not married, one would assume that she has a boyfriend, no?
See Also:- Josephine Skriver Is Engaged To Boyfriend; Ringing Wedding Bells Gleefully
Sadly, she couldn't be more single. Her "dates" tend to be with her mother and her brother, who accompany her to events. And more importantly, she seems preoccupied with her obligation at FOX Sports.
More On Kristina Pink Including Her Age, Birthday, Education, Salary & Height
At FOX Sports, Kristina, age 32, teams up with analyst Troy Aikman, reporter Erin Andrews, and play-by-play announcer Joe Buck for FOX Sports' coverage of Thursday Night Football. For her excursions, Fox Sports' reportedly pays her a five-figure salary.
Having joined the famed sports channel in 2012 as Fox NFL reporter, Kristina - who celebrates her birthday on 12 March every year - has gone on to team up with numerous FOX Sports' personalities including Dick Stockton, analyst Chris Spielman, Kenny Albert and analyst Ronde Barber.
Before FOX Sports, she worked for WTVJ-TV as well as WGNO-TV, having started her broadcasting career during her college years at the University of Florida.
Discover:- Blair O'Neal Age 37 Married: How Boyfriend Turned Into Husband, Story!
A telecommunications major, Kristina - who stands well above 5 foot 8 inches(172 cm) in height - received her high school education in Pembroke Pines, Florida.