Entertainment
Ledisi Choosing To Evolve Herself Alone Rather Than Getting Married? Reveals Bits On Her Past Experience With Boyfriend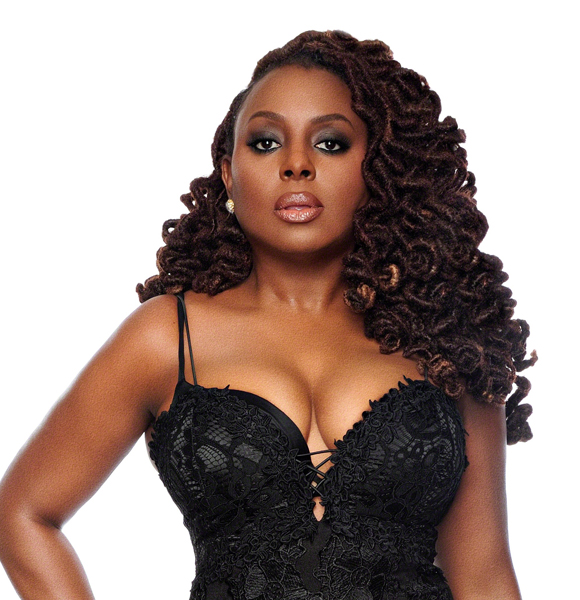 Some people believe that in order to be happy and enjoy every aspect of life, they don't need a companion, while others focus on expanding their lives within themselves.
Is this, however, what acclaimed R&B singer Ledisi believes in?
Everyone knows she was once dating someone and was in a relationship, but how does her current romantic life look? 
Was she married to her boyfriend or did they break up?
Married Her Boyfriend turned Husband In Her Hometown
Ledisi sent the internet into a frenzy when she cryptically revealed that she had married her "best friend."
Interesting:- MyAnna Buring Ultra Secretive About Married & Husband But Not Baby, Why?
On 7th July 2018, the I Blame You songstress posted a throwback picture of her in a wedding gown, posing next to her longtime boyfriend Ronnie T. Young with a cheeky caption that said, "The last time I was home in #Nola I had a party with my best friend. #all the way."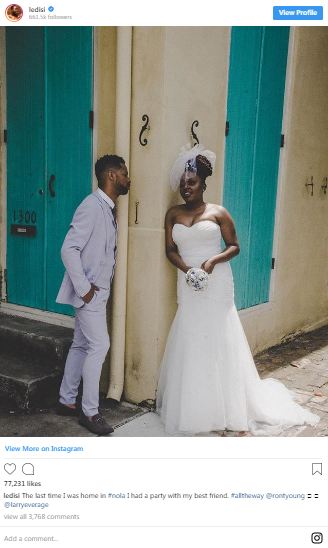 Ledisi suggests that she married her husband in her hometown (Photo:- Ledisi's Instagram)
Ron soon followed suit by uploading the same image with the same caption in his Instagram.
Ledisi's husband Ron T. J is a professional photographer based on Sherman Oaks, California. According to his Facebook profile, Ron specializes "in Headshots, Lifestyle, Family Portraits and more."
Discover:- Damian Lillard & Loving Girlfriend, Wife-To-Be? Married Status & Gay Talks
She and her husband have yet to comment on the details of their wedding; nor have they revealed any intimate details about their life as boyfriend and girlfriend for that matter. A rare insight into their romance came in the form of an Instagram post uploaded by the "Nola" native.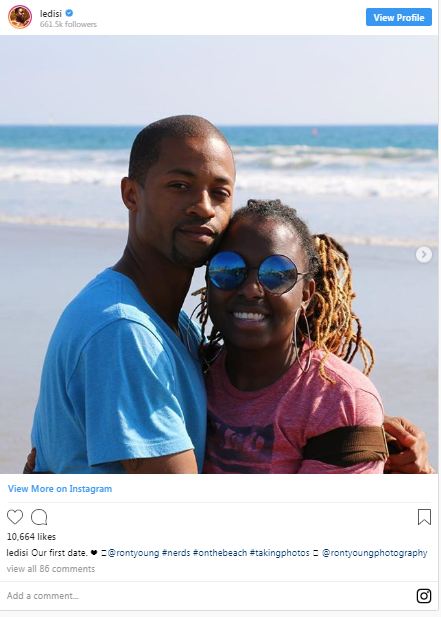 Ledisi shares a snap of her and then-boyfriend Ron from their first date (Photo:- Ledisi's Instagram)
Not only were Ledisi fans taken aback by the R&B singer's announcement but it was also news to some famous faces. Claws star Niecy Nash commented with emojis under the stated Instagram post. Likewise, actress Taraji P. Henson reacted by writing:-
"Yaaaaasssssss!"
Hopefully, the All The Way crooner will provide an insight into her married life in the coming days. One way to do so would be through her forthcoming albums.
More About Ledisi Including Her Tour & Albums
Ledisi is best known and recognized for her jazz influenced vocals and soulful voice.
Read Also:- Does Rapper Lupe Fiasco Have A Girlfriend? Has Any New Albums Or Tour Dates To Hit Fans With?
Ledisi has released several successful projects since the mid-1990s, her first being "Soulsinger." Her other notable albums include Feeling Orange but Sometimes Blue, Lost & Found, Turn Me Loose, Pieces of Me, and The Truth.
She formed LeSun Records back in 1995, which has helped her receive many awards & accolades and nine Grammy Awards nominations since 2008.
Having achieved such massive success in her career doesn't seem to be enough for her, as she has been relentless in expanding the magnitude of her professional success. In 2019 alone, she will perform four shows in two separate venues - Jazz Cafe, London, and Band on the Wall, Manchester - as part of the UK leg of the European tour.
She has been living a peaceful life and still have been working hard for her career. 
Stay tuned for more updates on Ledisi.