Entertainment
Linda Perry and Sara Gilbert Split After 6 Years: What Actually Happened!
Another celeb split news hits the tinsel town!
And this time, it's songwriter Linda Perry and actress Sara Gilbert. Well, the news of their separation was brewing for quite a while, but it was on 27th December 2019, the separation was confirmed.
Sara filed the paperwork for a legal separation in which she stated that the couple had been separated since August.
Read on to find out more about what actually happened that ended their five years long marriage. 
Linda Perry and Sara Gilbert Split After 6 Years: What Actually Happened!
Linda and Sara, who started dating in 2011, got engaged in April 2013 when Linda proposed at music-themed surprise picnic.
Following the engagement, the pair tied the knot on 30th March 2014. Their wedding held at the beautiful One Gun Ranch in Malibu, California, was a gorgeous event.
You May Be Interested:- Elizabeth Shatner [William Shatner's Ex] Married, Divorce, Net Worth
Together, the duo was one of Hollywood's most prominent lesbian power couple representing television and music industry. 
Further, the couple also welcomed their first child together- a boy named Rhodes Emilio Gilbert Perry on 28th February 2015. (Sara also has two kids Levi and Sawyer with her ex Ali Adler.) But unfortunately, their relationship did not last long, and the couple eventually fizzled out.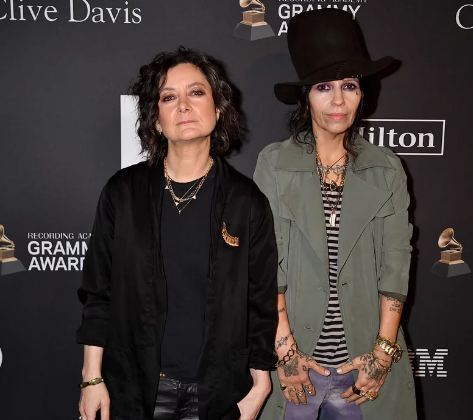 Linda Perry and Sara Gilbert at Grammy Awards 2019 (Photo: people.com)
What's more interesting about their separation is the fact that a few months ago, Sara had announced that she was leaving as co-host of CBS's The Talk after nine years, to focus on her family and kids. But sadly, Sara's effort did not do much, and the couple eventually parted ways in August 2019.
And after four months of separation in December, Sara took a step forward to end the relationship legally. Further, she has also requested for no spousal support to be awarded for both herself and Linda.
As for the reason behind their separation, on the papers, they stated the classic 'irreconcilable differences'. However, the insiders have reportedly claimed that the two had nonstop fights because of Sara's busy work schedules for quite some time.
Further, both Linda and Sara have not yet spoken about their separation.
More About Linda Perry
Linda Perry was born on 15th April 1965 in Springfield, Massachusetts, in a musical household. 
Also Interesting:- Yoko Ono, John Lennon's Wife Bio: Where Is She Now?
Linda started writing songs from a very young age. As of now, she has written songs for star singers like Pink, Gwen Stefani, Courtney Love, Kelly Osbourne, and Christina Aguilera.
Most recently, she gained massive fame for her collaboration with Dolly Parton in the song Girl in the Movies, which was featured in the movie Dumplin'(2018). Further, the duo also got nominated for Best Song category in Critics' Choice Movie Award, Golden Globe Award, and Hollywood Music in Media Award in 2019.