Entertainment
Lzzy Hale Revealed Possible Struggle While Dating Boyfriend; Will Get Married Soon Or Focusing On Band?
When you have a beautiful voice and carry out that Rockstar frame with such art, you are bound to get loved by many. Also, people follow you step by step and keep up to date with your life. Today by saying this, we would like to have a little look at the life of a lady who has taken the rock world by storm with her band, Halestorm, Lzzy Hale.
There is no denying that she has been able to win over a lot of heart and is someone who has cemented her place in the rock scenario firmly. But people often wonder what this rock goddess has to deal with in her personal life and how her love life looks like.
Is she in a relationship and has a boyfriend and if she does, what her relationship is like? Is she getting married anytime soon? And if you are not aware of it then well, we have got it all covered for you.
Dating Life: Getting Married Soon?
Having been there and done that with her band, she has been successful with her career as a rock star. But that is not all people would like to know about her as she is also reported to be in a relationship with fellow band member and guitarist, Joe Hottinger.
Before coming out with the relationship status, she had disclosed about her shocking relationship status, self-claiming to be bi-sexual back in October 2014. But her relationship with the female partner hasn't aired yet. Despite claiming herself to be gay, she has been adoring her relationship with a boyfriend.
Don't Miss:- Hunter McGrady Boyfriend Turned Husband Embraces Her Measurements To Inch
Hottinger joined the band in 2003, and since then he and Lzzy have been able to make a great guitar duo.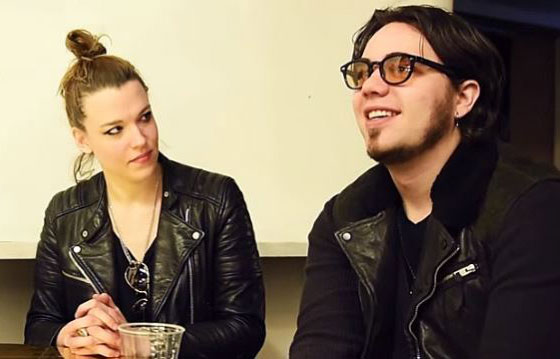 Lzzy Hale and Joe Hottinger reported being dating each other (Photo: blabbermouth.net)
But a long-standing rumor of Lzzy and Hottinger dating came true when fellow band member and bassist, Joe Smith opened up about them having an "on and off" relationship. In a statement he gave to blabbermouth, he said,
"They're pretty open about their relationship. They don't talk about it openly, but, you know… At the end of the day, we're all like family, and that's more or less the road we take is… You know… Whatever the case may be relationship-wise, it's not gonna break up our band, and that's the… I guess, the big thing is the band is the marriage here."
Also, when the frontwoman herself was asked her views over a relationship in an interview, she said,
"In a relationship, you have to literally have everything out there to this other person, and they have to do the same thing with you, or it's not gonna work. I've never been a jealous person either, and as of right now, I'm dating someone who is the same way. So we have a very amazing trust thing going on."
Fans too were not far from noticing the chemistry between Joe and Lzzy and the snaps some fans took to show how much they adore the pair.
And the couple seems to be getting strong with their relationship as they are flaunting their love-life more than ever. She is the "favorite human on earth" for her dearest boyfriend.
See Also:- Dawnn Lewis Bio: Husband At Age 57 Of Movie Actress, Revealed?
On 10 October 2018, Joe Instagrammed the adorable picture of Lzzy and wished her happiest birthday.
Similarly, Lizzy shared the adorable pictures with her boyfriend on Instagram on 1 December 2018 where their followers rained the comment section with the beautiful comments.
Lzzy Hale, boyfriend Joe Hottinger (Photo: Lzzy Hale's Instagram)
While Lzzy and Joe are making their on-and-off relationship work, it seems they have finally found the intense bonding. But the pair hasn't yet talked about their plans on getting married, it seems they are focusing to lead the band to the bright future ahead.
You May Also Like:- Emily Watson Bio Uncovers Strongly Tied Married Life With Husband
Interestingly, instead of announcing her boyfriend to be husband, she had shouted that author Lou Brutus to be her husband on Twitter. So, while she was frequently gushing about Lou to be her husband, another follower questioned her about her married life.
And even at the age of 32, she claimed, she is not yet married.
Short Bio- Career; Net Worth
Born on October 10, 1983, in Red Lion, Pennsylvania, USA, as Elizabeth Mae Hale, Lzzy Hale is an American singer, songwriter, and musician most famous for her band, Halestorm where she sings and plays rhythm guitars.
She has been honing her creative skills and writing and performing original music since 1997 which is a general overview of her talents. She learned to play piano at a very young age of 5 which shows that her love for music was there from the very beginning.
Read Also:- Annie Wersching Third Child With Husband | Baby Boy Archie Is A Gem
In December 2009, she graced the Revolver Magazine cover alongside Grace Perry of Landmine Marathon as the "Hottest Chicks in Metal." That is some achievement. Not only is she famous for her band and the songs she has written with Halestorm, but she had also been famous for her performances with Seether, Amy Lee of Evanescence, Shinedown and Blackstone Cherry.
All of her hard work and dedication with her band has led her to acquire great fame and also, she has accumulated an estimated net worth of $2 million through her long career in the industry.