Entertainment
Mixed Ethnicity Actress Cristine Prosperi: Still Dating With Ice Hockey Player Boyfriend?
The gorgeous diva, Cristine Prosperi is best known for portraying Imogen Moreno on Degrassi. But it is quite a match between a sportsperson and a tv personality.For a matter of fact, she's been dating a Canadian ice hockey player.
Boyfriend and Dating?
Cristine Prosperi and Jeff Skinner have been dating each other since August of 2012. Jeff Skinner is a Canadian ice hockey player and currently plays for the Carolina Hurricanes of the National Hockey League (NHL). Regardless of rumors, their current status is unknown since both have kept the relationship secret. But we have found a photo of the couple being together. Although their currents status is known, they might still be together.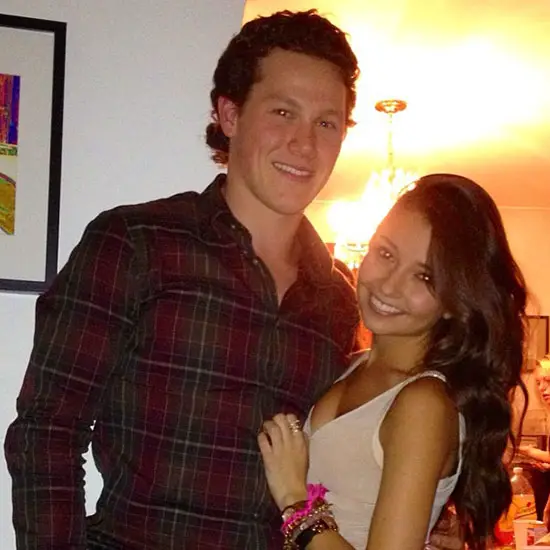 Caption: Cristine Prosperi and Jeff Skinner.
Source: tumblr.com
Cristine Prosperi and Ben Fanelli dated back from 2010 to 2012. Although reason of their break up is unknown.
Well, she also posted a post in an Instagram that she's going on a dinner date with a 2nd boyfriend or a lady friend. Well, who's the first then?
Role in 'His Double Life'!
In this new TV movie His Double Life (originally titled Betrayed), Scarlett ( the role portrayed by Prosperi) comes home from college and notices that her stepfather Greg (Brian Krause) acting weirdly. Greg was also the business partner of Scarlett's late father who was killed in a deadly car accident five years earlier. Scarlett suspects he's having an affair since she doesn't like Greg. She then follows him as a stalker and he does indeed meet up with another woman. Things start to take a wicked turn when the same mysterious woman turns up dead the very next day.
Cristine Prosperi's Short Bio:
Cristine Prosperi (April 7, 1993) is a Canadian actress and best known for portraying Imogen Moreno on Degrassi. Cristine Prosperi is half Greek Half Italian by ethnicity. Her mother is an Italian and father is a Greek. She also has one older brother named Joe.
Prosperi started her career with small cameo roles in the 2007 movies Stir of Echoes: The Homecoming and Your Beautiful Cul de Sac Home. She was especially famous for her role of Imogen Moreno in Degrassi alongside Luke Bilyk, Miriam McDonald, Eric Osborne, Lauren Collins, Munro Chambers and much more. In 2012, she won Young Artist Award for Best Performance in a TV Series – Leading Young Actress, thanks to her role in Degrassi. Cristine Prosperi's net worth is $700 thousand.