Entertainment
Once Engaged Aaron Eckhart Moved On With His Life And Started Dating consecutively; Reveals About Getting Married
His acting career, playing various hit movies as a villains or heroes has made his life a luxurious on for Mr. Aaron Eckhart but not his relationships. The successful esteemed actor has bit off more than he can chew, since then he has had many opportunities to make an honest woman out of a woman but has not chosen to do so.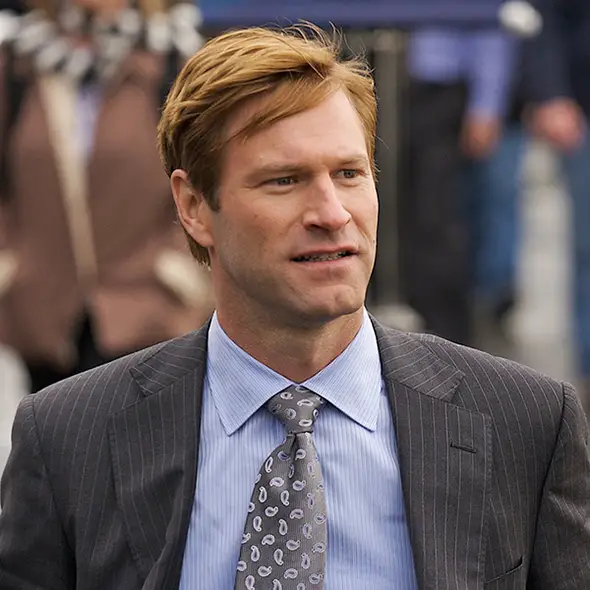 American actor, Aaron Eckhart, who played the character of "Two-Face" Harvey Dent in Christopher Nolan's The Dark Knight, received praise for his role along with nominations for several movie awards. However, like his onscreen persona, Aaron's love life has not been successful despite his multiple relationships.
The esteemed actor has bitten off more than he can chew since he has had many opportunities to have a wife out of the many women he dated but chose not to do so.
Finding out about his personal life is a difficult one as the California native keeps it in a tight lease, but the latest and the greatest hits on his love life and dating history has been uncovered now in addition to his relationship secrets.
"Two Faced" Aaron Eckhart Scrolling For A Wife Number?
Aaron usually keeps his personal life behind the camera and out of sight of the media. But, the Thank You For Smoking actor was seen with a mystery woman having a day in a park in Malibu on 22 September 2014, whom many assumed to be his girlfriend.
Unfortunately, there are no details on the identity of the woman, and one can only speculate if she the person who will sweep the actor off his feet.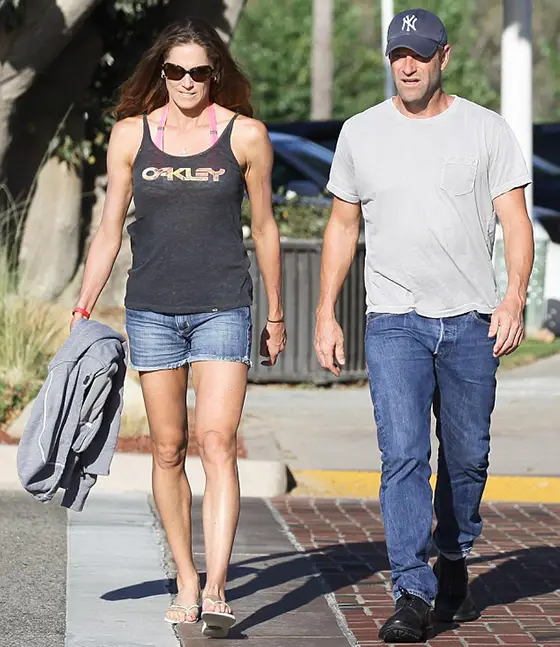 Aaron and a mystery woman walk together in a park in Malibu on 22 September 2014 (Photo: dailymail.co.uk)
By now, it's known that Aaron is not confined to dating only celebrities; however, he's had his share of dating actresses and models. Back in March 2009, he was in a relationship with American model and actress, Molly Sims. But, the romance ended after the 45-year-old model went public with their relationship.
See Also:- Why Rupert Grint Is Struggling With Dating, Girlfriend & Career; Where Now?
Molly had confirmed their affair after they were spotted having an intimate dinner at Sullivan Steakhouse in Baton Rouge on 11 December 2009. Her revelation led to a dispute between the couple as Aaron had insisted on keeping their romance a secret. The London Has Fallen actor broke up his model girlfriend through a phone call.
After the split, a source close to the former gave some insights on how the relationship went down.
"Aaron flipped out, He's an incredibly private guy."
The source further added about Molly's sudden realization if she had continued with the relationship,
"Molly was surprised that he ended it with her – and by phone – but she was starting to realize he's not right for her. He's so closed off from the world, She wants someone a bit more chill. Besides, she feels she deserves a guy who isn't afraid to tell the world they're in love!"
Post the separation with Molly; he had another affair, the same year in 2007 with Ashley Wick. Ashley is a successful businesswoman, who had a short-lived relationship with the actor, but they soon parted ways in the same year with no reason for the split. 
Don't Miss:- MSNBC Ari Melber Dating Status After Split With Wife, Who Is New Girlfriend?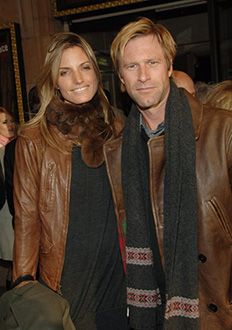 Aaron Eckhart and Ashley Wick in one of their rare photos while dating in 2007 (Photo: whodatedwho.com)
Before that, Aaron had dated 46-year-old musical country artist Kristyn Osborn in 2006 but soon parted ways in 2007 without revealing a reason for their break up. A very sudden drop in their relationship but Kristyn Osborn since then is believed to be single.
Engaged With Co-Star; Almost Got Married
Aaron is a tough one to crack when it comes to relationships and is also strict about his significant other. His ex-fiancée, Emily Cline is his first recorded relationship, who is now a forty-seven-year-old film actress, She also co-starred in the movie, In the Company of Men, along with Aaron where they first met. 
Dive In:- DeAndre Jordan, Age Has Found His Wife; Girlfriend Moments Reflect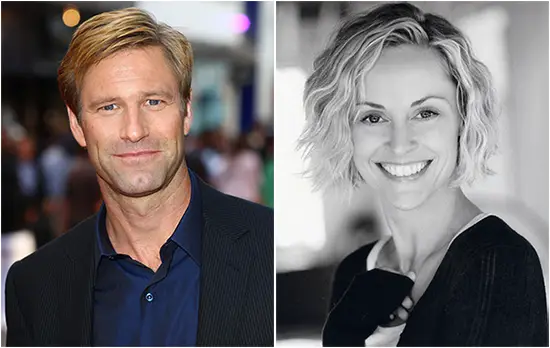 Aaron Eckhart and Emily Cline, back when the couple was first dating in 1998 (Photo: Liverampup)
They dated throughout 1998 and were engaged as well and sadly, in the same year, Aaron broke it off with no reason being specified. But after that, Emily got married and is still married to her husband, Francis Scott Shea since 2002.
Even though the Olympus Has Fallen actor's ex-fiancee has already established herself as a family woman, he is yet to make his move to the married life. It seems, he has not yet found the perfect one, whom he can gush to the public as his wife.
You May Also Like:- How Chris Rock Wrecked Wife Relationship, Girlfriend Affair Fueled Divorce
Misleading women?; Net Worth
He works hard in his acting business. Aaron does have a lot of relationships but still keeps his work schedules a strong one. Many failed relationships with the opposite gender may be the problem. Perhaps the actor is crying out masculinity in his lifestyle. Gay maybe inappropriate but it is still a possibility to his endless affinity with women. 
He once had an interview with Advocate on being gay for a movie as well as a possibility of being gay offset as well. When asked if he would ever play a gay actor he replied; 
"I almost did, but the movie never got made. I was going to do the film version of David Rabe's play A Question of Mercy, which is about a man dying of AIDS. Sean Penn was directing. But before we started filming, 9/11 happened, so it just fell apart."
 At least he is not afraid to play a character who is gay, and again he was questioned if he had any celebrity crushes, he said,
"There are definitely a lot of actors that I admire, but I wouldn't say that I'm head over heels for any of them."
Continuing more with how he has a big gay fan base and how Arron had won them over with the movies he has played surprised by the large fan base he replied,
No! Honestly, I didn't think I had any following, so this is great.
and guessed which movie he won the gay community over with saying
Hmm, I don't know. Maybe the one in Erin Brockovich, because he rode a motorcycle?
With a net worth of $25 million, his dates should surely pore to grow ever more closely to another wife but at the meantime, he has made his net worth by playing characters in movies such as Nick Naylor in Thank You For Smoking and  Harvey Dent in The Dark Knight earned the best actor in these films. 
Read Also:- Eric Gordon Girlfriend: Who Is He Dating At Age 30? Unrevealed Facts
Moreover, he claims that he is not happy with his career as it could have been better than now. But he is not a "people person," he somewhat holds the introvert personality.
As of 2018, he has landed a part in the movie Live along with actor Ben McKenzie. Ben is best known for portraying the role of police commissioner Jim Gordon in Fox's series, Gotham.