Whether it is because of the high-profile romances with pop culture icons Selena Gomez and Bella Hadid or the genre-bending musical catalog which has inspired so many, R&B powerhouse The Weeknd remains a media darling.
A peculiar accomplishment no less, considering that he rarely provides interviews - be it in print or digital. Instead, the "I Can't Feel My Face" crooner lets the lyrics on his song function as a "status update."
Though autobiographical, the contents of his records mostly follow the trope of addiction; one that spins around women and drugs usage. In contrast, references to family & blood relatives barely make it to his music.
Relationship With Bella Hadid
The Weeknd and Bella Hadid broke up for the second time.
The first time around, the couple began dating in 2015. However, they split a year and a half later in November of 2016.
Just a few months later, the singer was romantically linked with another fellow singer, Selena Gomez. The pair started dating in January of 2017. But, it turned out that Selena was just a rebound for The Weeknd. The couple parted ways after just 10 months in October 2017.
Bella Hadid's Ex-Boyfriend:- Jordan Barrett Sparks Dating Rumors With The Weekend's Former Girlfriend Bella Hadid
The Weeknd was back at it again with Bella just a month later. Slow at first, on July 2018, the pair fully rekindle their relationship. Bella even moved into the singer's condo in New York on October 2018.
However, with both of their schedules being packed, the couple has grown apart yet again. Sources claimed that the pair split. The Weeknd is working on his acting debut and music while Bella is prepping for her fashion week.
Family Background - Parents & Ethnicity
Hailing from Toronto, Canada - Scarborough, Ontario to be more specific - The Weeknd is the maiden child of parents: Makkonen and Samra Tesfaye. Both of his parents were immigrants from Ethiopia.
Celeb With Ethiopian Heritage:- Marcus Samuelsson Post Wedding Spice In Wife & Mystery Daughter Relationship! Chef's Recipe
Raised in a multicultural environment by a single mother, the Starboy hitmaker's upbringing was far from conventional. He couldn't have been more than 10 when his father walked out of his life.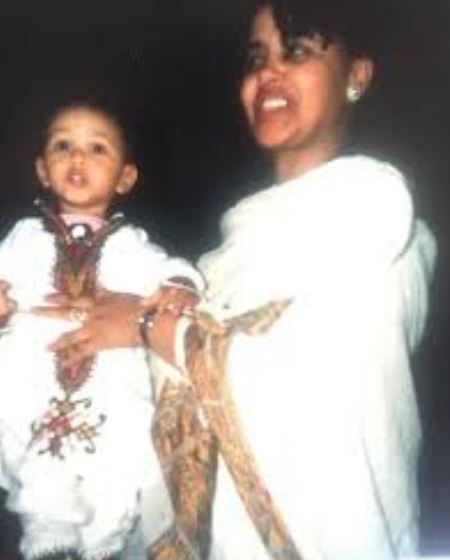 A young Weeknd gets held by his mother Samra Tesfaye circa 1992 (Photo:- familytron.com)
After the split of his parents, his mother went to work to support the family. While still attending night school, she held several difficult jobs, including that of a nurse and a caterer.
Meanwhile, The Weeknd of Ethiopian-Canadian ethnicity got left under the guardianship of his maternal grandmother. It is the only reason why he is so fluent in Amharic. A staunch follower of Ethiopian Orthodox Church, grandmother Weeknd exposed him to a wide array of Ethiopian music.Till date, fans argue that the In The Night singer's family background played an instrumental role in shaping his subsequent musical sensibilities.
Bio Unveils High School & Age
If The Weeknd's unconventional childhood is the heart of his music, then the drug habits he picked as a high school student is its soul.
Lacking a proper father figure - be it biological or symbolic - to guide him, the Earned It crooner fell into a spiraling drug habit. Beginning with marijuana at age 11, he eventually experimented with hard drugs such as MDMA, Xanax, Cocaine, Psilocybin, and Ketamine.
To fund their expensive habit, The Weeknd and his friends would shoplift from the nearby supermarkets. He once famously described his teenage years as "KIDS without the AIDS."
With Equally Bad Drug Problems:- Heather Locklear Bio, Age, Ethnicity, Parents Turmoil, Mortal Family Issue
Bored with its mundane surrounding, he dropped out of high school at the age of 17. The Wicked Games hitmaker attended both West Hill Collegiate Institute and Birchmount Park Collegiate Institute but, never graduated.
Even the 29-year-old pop sensation's stage name "The Weeknd" is a homage to his status as a high school dropout. He was born as Abel Makkonen Tesfaye on the 16th February of 1990.