The world was shocked when an American Businessman with zero political experience, Donald Trump was elected as the president of America. Far from being diplomatic, like a country-head ought to be, many believed that he continued to express his problematic views about minorities.
For taking on Trump's ignorant age-old views, a former Hillary Clinton campaign member, Zac Petkanas rose to fame. As the director of Trump War Room, he is making his liberal views heard loud and clear.
Zac' Biography 
A campaign veteran, Zac didn't find his passion much later. He went to Boston University for a year to study music. Realizing his true calling, he transferred to George Washington University as a political science student.
After completing his education in 2007, he got his first job working for Rep. Hilda Solis, of California as a scheduler and new media assistant.
The Democratic strategist steadily rose in his career as he worked for the campaign of high profile political figures; Ann Kirkpatrick, Rep. Kathy Dahlkemper and Howard Dean.
Zac, who started as a volunteer, rose to a new height as he worked for Hillary Clinton's presidential campaign. Although his side lost the presidential race, Zac gained a lot of experience.
American Politician's Secret Wedding:- Ana Navarro Married Chief Boyfriend! Furtive Husband Revealed, A Wedding In Secrecy 
In April 2017, he started his own company, Petkanas Strategies. With his decade long experience working in political communication, he aims to help liberal corporate and individual clients with media strategies and building relations.
Besides, his work as the director of his company, he takes on Trump and his allies, Fox News, who continue to spread racist remarks and misguide the public allegedly. He famously took on a Fox News pundit, who attacked year immigrant child, age 10, with Down's Syndrome in 2018.
On His Openly Gay Status And Partner
Zac, who holds American nationality, is a proud gay man. He isn't ashamed of his sexuality and regularly voices his opinion on discriminations against same-sex minorities. He is an inspiration to members of LGBTQI members, who wish to come out in society.
Well, the inspiring guy isn't alone in his tough but fulfilling journey; he is dating Levi Bohanan since February 2018.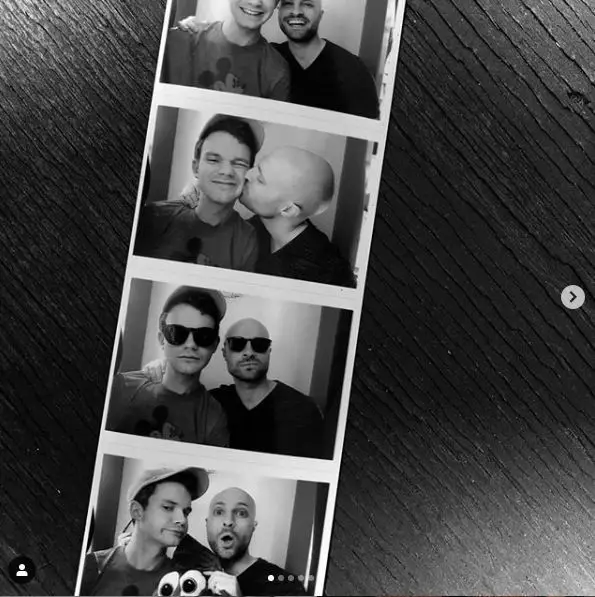 Zac Petkanas goofing around with partner Levi Bohanan on 24th February 2019 ( Photo: Zac Petkanas's Instagram)
The gay-couple met on a blind date and hit it off. Such intense was Zac and his beau's connection; their first date lasted for seven hours. The love escapade included show tunes at Marie's Crisis and a late night dinner at a West Village French restaurant.
Openly Gay Actor:- Nico Santos Bio, Gay, Dating, Net Worth
Zac and his partner moved in nine-month later and continue to live a spectacular life.
In a relationship just over a year, they have managed to travel world destinations; San Juan, London, Budapest, Copenhagen, Berlin, and México City. Along with the travels, the couple celebrated 2018's Christmas together which pretty much solidified the seriousness of their relationship.
The enigmatic personality continues to live his best life with his partner. With his partner's support, he has a decent net worth, also courtesy of his salary $57,329 a year.