Actress Zooey Deschanel and her ex-husband film producer...While the couple didn't reveal any info regarding their...the couple failed to meet the expectations of a happy couple and soon parted...the actress was spotted walking hand in hand with...they met back on an episode of... Her other iconic acting chops include the...she has completed her work with the... has amassed a fortune worth...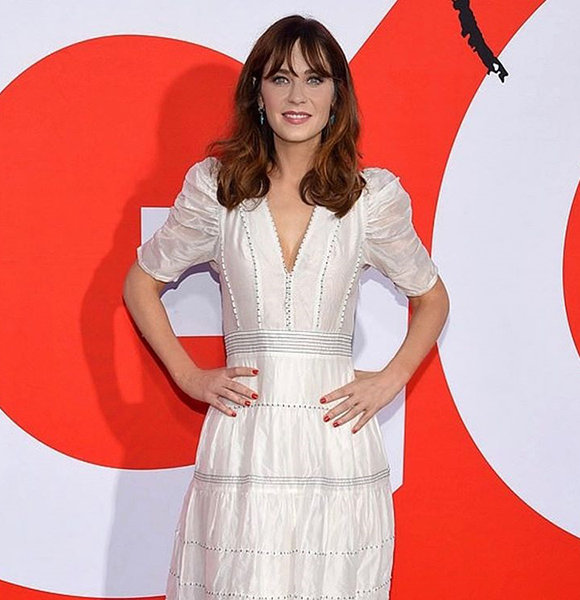 Famous American actress Zooey Deschanel and her film producer ex-husband Jacob Pechenik have finally spoken on their divorce.
The pair - who were married for four years - announced their separation on 6 September 2019. The shocking news of their split left fans and followers with some unanswered questions. While the couple hasn't revealed any info regarding their split as of September 2019, the pair made a joint statement on USA Today.
The soon-to-be-divorced duo mentioned that their division was a mutual decision after much discussion and a long period of reflection.
Zooey and Jacob have decided that they are better off as friends and business partners rather than life partners.
Husband - Kids & New Dating Partner
Zooey's split with the film producer was not her first. Initially, the famed actress tied the knot with ex-husband Death Cab for Cutie frontman, Ben Gibbard on 19 September 2009. After two years of marriage, the couple failed to meet the expectations of a happy couple and soon parted ways.
Filling for divorce in December 2011, Zooey and Ben finalized their seperation the next year on 12 December 2012.
A year after and into the foray came her new love interest. Zooey and Jacob Pechenik were first introduced as a couple on 10 August 2014 when they were seen in Venice Beach, California together. However, their love for each other had started nearly five months before their public debut.
Since meeting on the set of Rock the Kasbah, Zooey and Jacob went on to tie the knot on 21 June 2015. Together, the two have a daughter named Elsie Otter Pechenik and Charlie Pechenik.
The couple has yet to file for divorce, but it is no doubt that the two have decided to part ways in 2019. As for their kids, both parents have agreed to co-parent their children together.
Amidst news of her separation, Zooey also has brought in to the light of a new relationship. After her announcement of her split, while her divorce papers are yet to appear the actress was spotted walking hand in hand with Property Brothers' Jonathan Scott.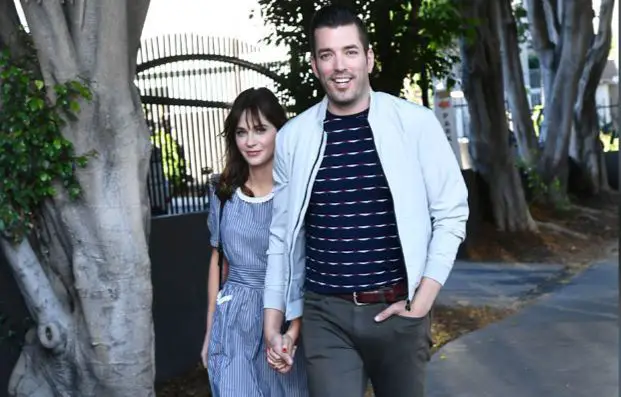 Zooey Deschanel with boyfriend Jonathan Scott in September 2019 (Photo: thenews.com)
Jonathan who has had his share of girlfriends over the past years was seen out of the blue with the beautiful actress.
Jonathan's Previous Relationship:- It's Official, Jacinta Kuznetsov Age 30 Engaged After Split With Jonathan Scott
Both Zooey and Jonathan were first seen at Little Dom's restaurant in Silver Lake, California on 13 September 2019. The two could be seen gazing into each other and smiling as they sat together cuddling throughout the course of their meal. While sources claim they met back on a mutual project, the accuracy of the reports is yet to be verified.
According to the source for usatoday.com, Zooey and Jonathan met in August while filming the series, Carpool Karaoke. In the episode, she and Jonathan were featured with their siblings Emily Deschanel and Drew Scott respectively.
Though the said episode wasn't released during the time they came out as a couple, it is sure that the lovely pair had an amazing time on the set. A source for peoples magazine also adds that the two became fast friends after the shooting of Carpool Karaoke.
While the relationship is budding and new, with a lot of common interest such as music and movies the two have set the news on fire with their romance.
Bio
According to her birthdate of 17 January 1980, Zooey is a 39-year-old actress. Her parents are father Caleb Deschanel and mother May Jo Deschanel. She also has an elder sister named Emily Deschanel who is also an actress.
Zooey stands at a height of 5 feet 5 inches (1.65m). Her nicknames include the likes of Zo and Zuzu
Net Worth Now
Zooey Deschanel is a household name in the American industry. Most famous for her work on the sitcom New Girl as the lovable Jess Day. Her other iconic acting chops include the lesbian-gay love interest, Natalie to Rashida Jones' character in the indie comedy, Our Idiot Brother.
Talking About Successful Actresses :- Lulu Antariksa Boyfriend, Lesbian, Parents
Her other popular movie credits also include The Good Girl, Elf, Bridge to Terabithia, Almost Famous, and The Hitchhiker's Guide to the Galaxy.
With numerous acting credits to her name, there is no doubt that the actress has earned a pretty penny for herself. As of 2019, she has completed her work with the New Girl project and has moved on to new projects.
Having a rich history and success in the entertainment industry, Zooey has amassed a fortune worth $25 million.