Entertainment
Jonathan Scott Reveals Why His Married Life With Wife Failed While Dating New Girlfriend
Jonathan Scott Reveals Why His Married Life With Wife Failed While Dating New Girlfriend There is one in a million chances to find a perfect partner for us on the first try....Though real life is not a fairytale, we still can fall in love again even after a failed relationship. Canadian reality TV personality Jonathan Scott too, has joined the group of celebrities, who have found a perfect partner for them after a failed marriage. Do you know that Jonathan is in a new relationship?...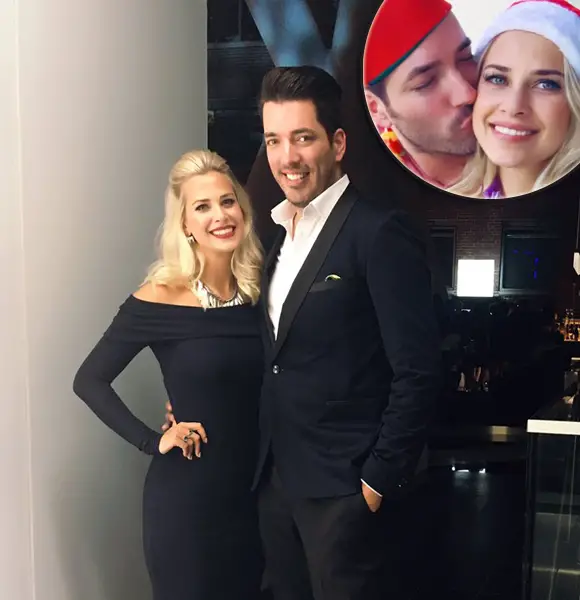 There is one in a million chances to find a perfect partner on the first try. Though real life is not a fairytale, people still fall in love again even after a failed relationship. The love life of celebrities like Daryn Kagan, Kathie Lee, and Melissa Gilbert can make people believe that love can happen again!
Canadian reality TV personality Jonathan Scott has joined the group of celebrities, who have found a perfect partner for them after a failed marriage. Well, Jonathan is in a new relationship. Read on to know about his romance.
Jonathan's New Romance!
As of September 2019, Jonathan is now with a new beauty wrapped around his arms.
If anyone is wondering who that girl is, its no other than Zooey Deschanel. American actress Zooey and Jonathan were spotted hand in hand walking around.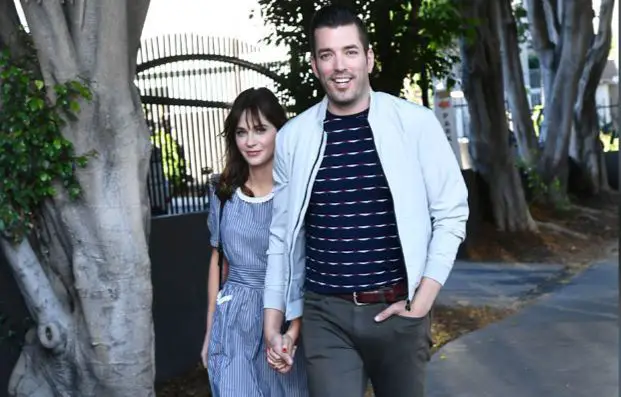 Jonathan Scott with girlfriend Zooey Deschanel in 2019 (Photo:thenews.com)
The pair were seen at the Little Dom's restaurant in Silver Lake, California on 13 September 2019. Jonathan was dressed in a bomber jacket, grey jeans, and sneakers while his new girlfriend wore a blue dress with metallic flats.
New Couple :-Alexandra Daddario Boyfriend, Husband, Family
The two apparently met during the shooting of a video in Carpool Karaoke series and hit it off. While their romance has made its public debut in 2019, due to their first appearance together not much is known about the detail of their dating relationship.
However, it is a common knowledge that both of them have come from the back of a long time relationship- Zooey separated from husband Jacob Pechenik in 2019 - and seem to enjoy the new bond quite well.
But, it will be interesting how far the love birds can take their relationship.
Jonathan's Old Romance!
A person can find partner imperfect when time passes, and this might be the reason for the end of a relationship. But an end to a relationship doesn't mean an end to one's love life.
Jonathan Scott, one of the Property Brothers star, had found love again. In 2016, he opened up about his love life, fending off the gay rumors that briefly initiated after his failed marriage.
Relationship History:- Cierra Ramirez Relationship, Boyfriend, Ethnicity
The 41-year-old TV personality dated Jacinta Kuznetsov. His ex-girlfriend Jacinta worked as a development producer at his company Scott Entertainment. They first met at the company and kept their relationship private, until people around them started noticing their chemistry.
Talking about his romance to PEOPLE, he expressed that it was the happiest time in his life. Jonathan explains-
"We didn't announce it, but on social media, people saw Jacinta come into my life this last year.Everything changes, but changes for the good. This is the most humbling, unexpected, fantastic place to be in my life. I've never been happier."
Moreover, in an interview with Hollywood Life on March 27, 2016, when Jonathan was asked his plans of getting engaged, he replied,
"Definitely in the future… It may be a little creepy if I throw a ring on it [now], but we are definitely a fantastic match. It's really good to have somebody at the end of the the day, that no matter what, they've got your back and they inspire you."
However, their romance was not meant to be, and the couple soon drifted away. While their split was a sad one, they didn't hold any ill feelings towards each other. The two got separated as they couldn't maintain a long-distance relationship.
As independent individuals, both Jonathan and Jacinta compromised to establish a working schedule, but all was naught. As the duo faced difficulty in meeting each other, the difficulty soon turned to impossibility compromising their relationship as a whole.
Like Johnathan, Jacinta has also found a new boyfriend, Will Allen with whom she is engaged to get married soon.
Growing Together With Brother
Start of 2019 has marked a perfect beginning for the Property Brothers. Professionally, they have released their second children's book titled Builder Brothers: Better Together. According to Jonathan and his brother, the book was inspired by their own childhood story growing up in Canada.
Previously, the reality stars' book titled It Takes Two: Our Story was the New York Times bestseller in 2017. Carrying some glimpses of the previous outing. The new book narrates about the experiences and their past obstacles while dreaming of building an empire of their own in the future.
Another Impactful Person:- Lori Goldstein Married, Family, Net Worth
In addition to the book, their new HGTV series A Very Brady Renovation is set to see the two in action. The show will see the brother renovate old homes, mansions and turn them into a modern-day paradise.
Jonathan's Failed Marriage!
Jonathan, who is now madly in love wasn't much in luck in love in the past. He has already been married once where his relationship with his wife couldn't last long.
Almost a decade ago, he married Kelsy, an airline crew scheduler, with whom his marriage lasted for only two years. He first met her in the year 2007 and moved from Canada to Las Vegas to be with Kelsy.
Talking about the failed marriage with PEOPLE in March 2017, Jonathan said-
"We were young, and there was a rush going into it. There was sort of a rush going into it," Jonathan explains. "She wanted to get married on 07/07/07 . . . so it wasn't something that naturally happened."
He continued-
"I think that one of the biggest things I learned is that you can have two good people who are just not good for each other. "I'm glad that we found that out early. You know, we didn't have kids or anything. And it really helped me understand what I wanted in a relationship. I don't think I would be in the position where I am now if I didn't have the experiences I've had the past."
The past now remains in the past and nothing more. Jonathan has moved on in his life with no chains holding him back.