Entertainment
What's the Meaning Behind Gillian Anderson's Miniature Tattoos?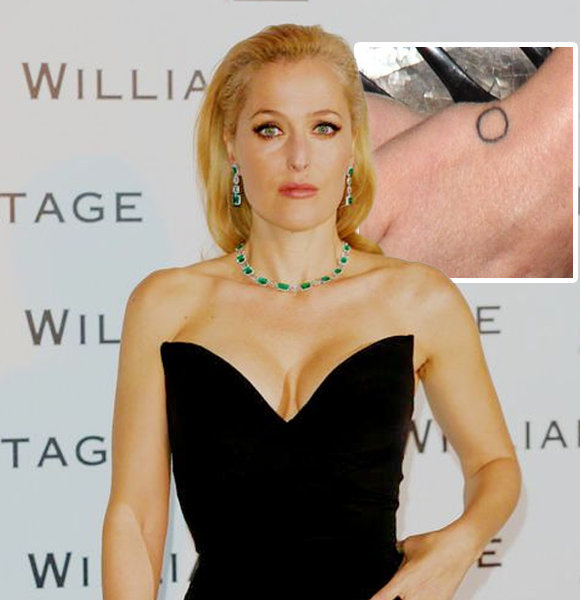 Gillian Anderson need not make an effort to prove her worth as her glorious career speaks for itself. And, her role as Margaret Thatcher in 'The Crown' just magnified her dominance, garnering attention from audiences worldwide.
Besides her charismatic beauty and outstanding portrayals, there is more to her that grabs attention. 
It's her tattoos; small, delicate tattoo designs, representing the way she lives her life. 
All on Gillian Anderson's Tattoos
We have covered it all!
Her sexuality, personal life to the secret of her ethereal beauty. But one thing that remained was to dive into the list of her meaningful ink designs. 
The 'X-Files' fame has (seemingly) more than three tattoos on her body, and rather than a statement piece, all of them are of miniature designs but absolutely beautiful on their own. 
She has inked two tortoises on her ankle. The reason behind this design was how it represented peace of mind, and she got it when she was in Tahiti. 
Her ectopic pregnancy left a scar on her body, and Anderson found just the perfect way to enhance its beauty. She got another ink on the scar. 
But, she's never really talked much about the scar on her body or even the meaning behind the little "P" she put on to cover it. 
She is the mother of three children. In addition, the 'Sex Education' actress has a circle design on her left hand that represents a divine connection between humans and divine powers. 
More On Tattoos: Tattoo Lover Nikki Sixx's Multiple Memorable Tattoos
Although she did joke that the "O" was for an Oscar, it seems to have more of a value to her as she and her eldest daughter share the same design together.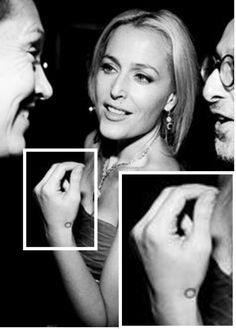 Gillian Anderson Circle Design (Source CrossedBeams)
Piper, Gillian's eldest child, shares a matching tattoo with her. How cute is that?
It is a simple ink with some deep meaning. 
She has another ink on her wrist. However, the story of the ink is rather funny. 
Anderson has a design on her right wrist, one she calls "one of eight limbs of yoga" however, for Anderson, it was the opposite of what she wanted. 
The actor wanted to ink a Sanskrit script after 'X-Files' ended, but mistakenly the writing was done in Hindi. 
"It was supposed to be Sanskrit, that's what I asked for, but it's actually Hindi."
She said of the piece, "Every once in a while, an Indian person comes up to me and says, 'Why does it say that?' "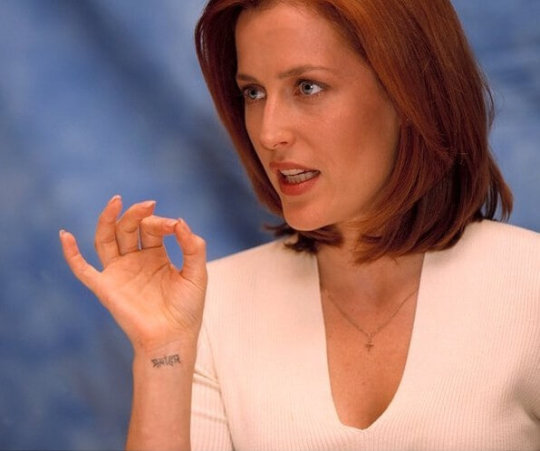 Gillian Anderson's Wrist Ink (Source CrossedBeams)
But for Anderson, she says it still represents one of the eight limbs of yoga and is about "right lines and right action."
More Interesting Stories On Tattoos: Titus Welliver Has Over Two Dozen Tattoos
Regardless, the actress embraces the tattoo on her wrist even though it came out as a mistake. So for Anderson, if it still represents something meaningful for her and gives her peace of mind, so be it, right?
All of Anderson's inks somehow correlate to mental peace, well-being, and overall tranquility in her life. 
It is unknown if she has added any more inks on her body, but by the looks of it, she hasn't. 
But we can say one thing for sure: this stunning charmer looks magnificent with her tattoos.