Entertainment
Arie Luyendyk Jr. To Find A Wife As The Bachelor Next Year; Faces Girlfriend Issue Amid The Announcement
Arie Luyendyk Jr. returned to The Bachelor Season 22 to find a wife after appearing on one of the franchise's series in 2012. The announcement indeed came when Arie was facing issues with his girlfriend.
Moreover, the fans got genuinely shocked by the announcement, as they were speculating Rachel Lindsay's Bachelorette runner-up, Peter Kraus to be the next Bachelor.
The Bachelor's Main Man For 22nd Season
Arie Luyendyk Jr. was a runner-up on Emily Maynard's The Bachelorette Season 8 and was also too close to becoming the Bachelor couple of times before in season 17 and 19. However, he finally made to the show in 2018 amid his love life issues.
Regarding his issues with then-girlfriend, Arie had an open and honest conversation with the ABC producers in Bachelor audition, where he said that he hadn't been in any love relationship since Emily. A source exclusively told Us Weekly:
"ABC sat with Arie and it was really great to catch up and see where he was in his life. And he told them he hadn't been in love since Emily and he was so sincere about finding a woman to complete his life, they knew that was their Bachelor!"
After the news got announced on GMA, the 33-year-old Emily also made a positive statement with Us Weekly. She said:
"I can't think of a better person to be The Bachelor than Arie and I've been hoping this day would come since Season 8 ended!"
She even gushed calling all the girls on Arie's season lucky.
"He's a gentleman through and through and all the girls on his season are lucky to have him."
Meanwhile, Arie also talked with People and called the time to be perfect for making the journey on the show.
"This is pretty surreal. It doesn't really feel real yet, but I'm taking it step by step. The timing is just so perfect in my life. I could not be more excited for this journey I'm about to embark on."
Arie's confession to the ABC production team and his selection vividly suggested that he was not dating anyone at the time.
Dating & Girlfriends; Before The Bachelor
However, he was in a rumored relationship with The Bachelor Season 16 winner, Courtney Robertson. Courtney later revealed that had hooked up with Arie in February 2016 and said to Us Weekly that he was a great friend who she liked to make out.
"I adore Arie. He's a great friend who I like to make out with from time to time!"
The statements indeed came years after the duo decided to take their friendship to the next level in 2012. To be more precise, it was after few weeks Courtney and Ben Flajnik, the season 16 Bachelor star, called off their engagement.
There was also another beautiful lady Jenna Jones, a Fox Sports reporter in Arie's life romantically, from around 2013 to 2015. The relationship of the two was going quite on and off those days but had a great bonding when they were together.
While there were no clear reports about the split of Arie and Jenna, Jenna reacted to the ABC's announcement through Twitter which she has now already removed. However, a TV enthusiast managed to have the screenshot of the posts and flaunted it yesterday through his account called RealitySteve.
In 2017, Arie was accompanying Sydney Stempfley. Arie and Sydney seem maintained a concealed relationship, but the beauty reacted to Aire's selection on Twitter and said that he would fail when it comes to choosing the one.
Interestingly, Later reports revealed that Sydney had applied for a contestant position - in that very year - before Aire got named The Bachelor.
The fans of Bachelor and mostly the family of Arie, which includes his father Arie Luyendyk, a Dutch former auto racing driver, were certainly hoping Arie to end the season with a perfect match up.
Whirlwind Romance With Wife - Engaged To Married Details
Premiered in January 2018, the 22nd season of The Bachelor saw Arie initially pick fellow contestant Becca Kurfin over his present wife, Lauren Burnham in its finale.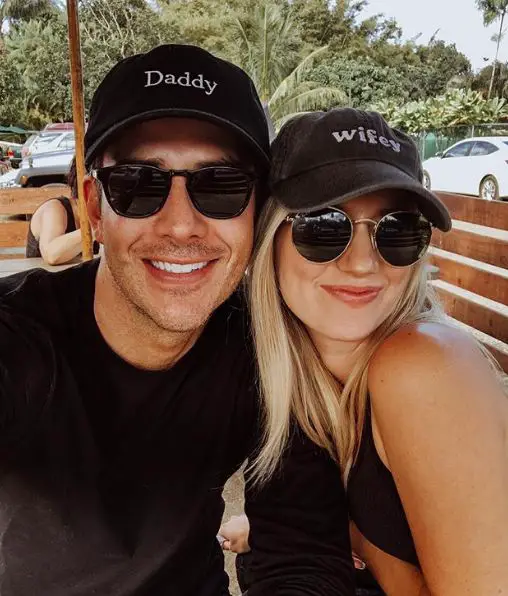 Arie Luyendyk next to his wife, Lauren Burnham in a post dated back to March 2019 (Photo:- Arie Luyendyk's Instagram)
After coming to his senses and breaking things with then-fiance Becca, the reality star got together with Lauren. And, the pair eventually got engaged on air when Arie proposed at the "After A Rose" special on 13th March 2018. At the time, he told his soulmate, Lauren:-
"I made some bad decisions but the best decision was running back to you."
In November 2018, the then-engaged duo announced that they were expecting a baby boy. Later, they learned their first baby was going to be a girl.
A month after announcing the pregnancy, Arie and his then-fiancee Lauren tied the knot in a fairytale-like wedding in Hawaii on 12th December 2018. The Bachelor's host, Chris Harrison officiated the duo's marriage ceremony.