Entertainment
Caroline Wozniacki Age 28, Dating & Engaged - Again! NFL Boyfriend - Real One
Danish professional tennis player, Caroline Wozniacki, who is a former world No. 1 in singles, have her share of heart-breaks apart from her head-to-head career with Serena Williams.
Caroline had been engaged before and already had her mind set to exchange the wedding vows. But as things don't always turn out as it is expected to, her fiance dumped her only months after the engagement. Carolina had a very public break-up which was heart-wrenching.
But despite the troubles, she found her perfect match. Carolina is currently engaged to a man with whom she dreams of starting a family together.
Fiance Called Off Engagement, Followed By Dating Rumors
Caroline Wozniacki is the first woman from a Scandinavian country to hold the top ranking position and 20th in the Open Era. Considering her success in her tennis career, she shares her ups and downs when it came to her love life. She has been previously engaged but only to end it in a heartbreak.
Caroline, age 28, was a once a fiance of Rory McIlroy. They were dating since 2011 and after being in a relationship for three years, they got engaged in 2014. The couple were set to exchange the wedding vows and had already sent out the wedding invitations.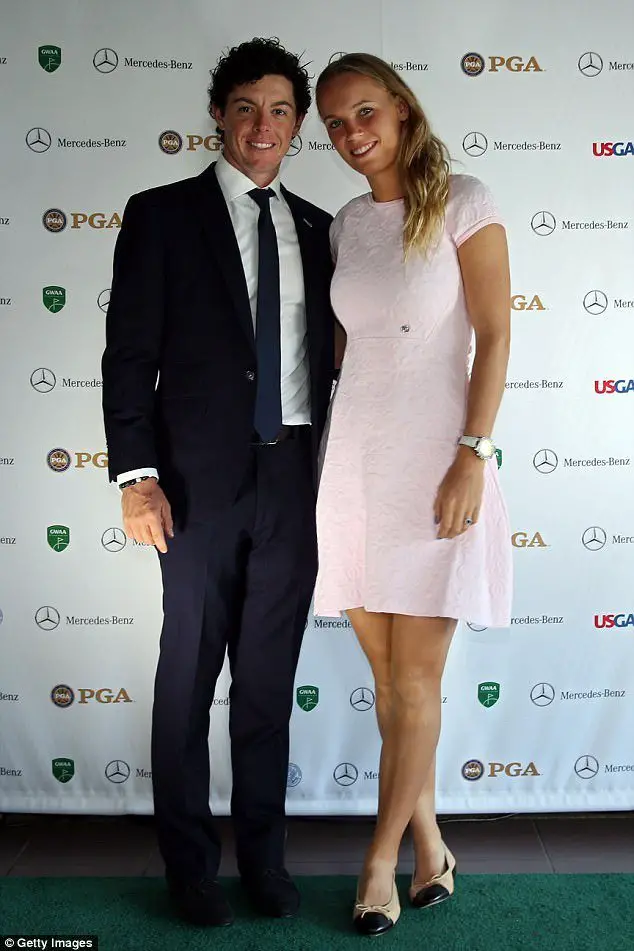 Carolina Wozniacki with ex-fiance Rory Mcllroy. (Photo: dailymail.co.uk)
But only months later Rory revealed that they had called off their engagement. He expressed that he was not ready for the commitment just yet and broke off in a 10-minute phone call with Caroline.
See Also: What Happened To Michelle Phan? Dating Someone Now After Staying Low-key For About A Year?
Caroline, who stands at the height of 5' 9½" (1.77 m), was heartbroken and her world fell apart but despite it all, she found her way back. Few weeks after being dumped by her ex-fiance, there were rumors that Caroline was smitten by her fellow player Feliciano Lopez.
Even though she had previously put a ban on reports asking about her relationships, she blushed and giggled when she was asked about Feliciano. She even described him as 'a great guy' which fueled their romance rumors.
However, nothing much yield out of the rumors. Later in June 2015, Caroline had her name tagged along with another name. It was reported that she was secretly dating NFL player JJ Watt.
Back then, it was reported that they dated for more than three months after they were first spotted in April 2015. They were pictured laughing and smiling together at the NCAA men's basketball finals which gave rise to their romance rumors.
You may also like: Michelle Wie Secretly Announced Boyfriend, No One Noticed; Earnings, Net Worth & More
However, later in July 2015, Carolina, who has a net worth of $30 million, insisted on being single and dodge off all the rumors relating her name to Feliciano.
After a heart-wrenching break up from Rory, Caroline had all her focus on her training. Back then she divulged that she would keep doing what she does with her career and if ever a right guy comes along she would give a relationship another shot.
Well, seems like, for Caroline, her right guy did find her.
Set To Exchange Wedding Vows Again?
After her unsuccessful engagement and series of relationship rumors, Carolina finally found love with David Lee. The couple first met back in December 2015 in Miami after being introduced by a mutual friend.
The very next day after their meeting, the duo attended a party at Villa Casa Casuarina. The pair began dating since then but kept their romance under the wraps. Later in February, their relationship was confirmed when Carolina shared a picture of a bouquet of roses that David had sent her on her Snapchat.
Don't Miss: Taylor Lautner Is Gay! Talks Surface Against Dating Hot Girls Time & Again
The pair were taking new challenges in their relationship and acing them with flying colors. Soon after being together for almost two years, David presented her with a ring.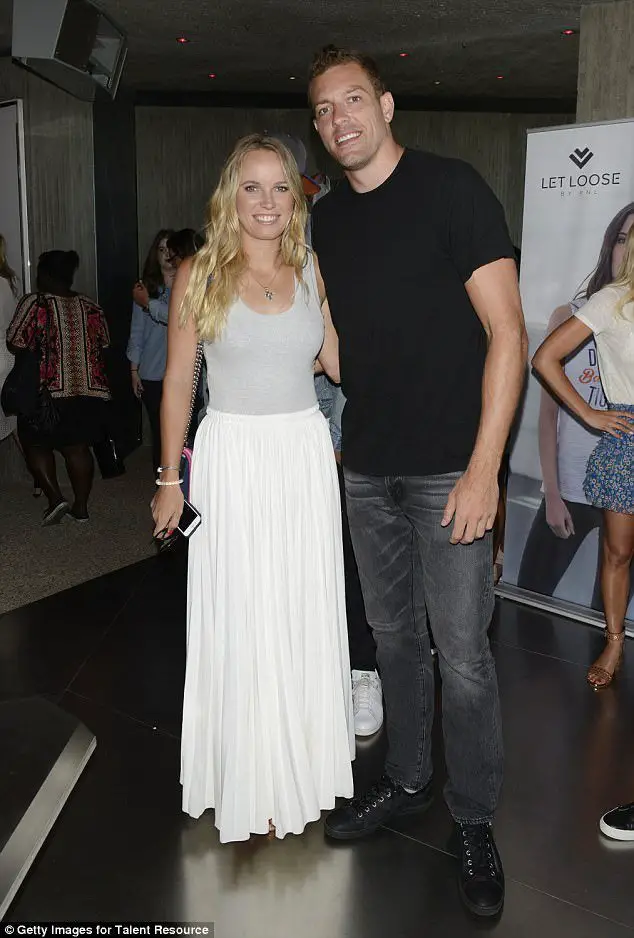 Caroline Wozniacki with her fiance David Lee. (Photo: dailymail.co.uk)
The proposal came when the couple was vacationing in Bora Bora. David got down on one knee and asked his girlfriend to be his wife. Carolina said 'Yes' to the proposal overcoming all the fears from the end of the previous engagement.
However, the couple has not yet set their wedding dates but it seems that they are willing to start a family together. In a recent interview in August 2018, Carolina revealed that she hopes to not only be known as an athelete but also as a mother who raised her kids right.
Well, it seems that the pair is looking forward to having a family of their own.