Entertainment
Christian Navarro Has A Girlfriend; A Dating Affair So Well-Hidden That Surfaced Gay Rumors
If you have already binge-watched the Netflix series 13 Reasons Why you might be already desiring for the friend like Christian Navarro.
Portraying the gay character of Tony Padilla alongside Katherine Langford, Dylan Minnette, Alisha Boe, Ajiona Alexus, Christian becomes the voice of reason and brings out his ever-ready help for his friends. He did every justice to his gay role to such extent that his sexual orientation was questioned for being gay.
However, in real life, Navarro had a girlfriend, who belongs to Asian ethnicity and openly called him baby.
Interested in Christian Navarro's dating history? Dig in!
Dating Amidst Gay Rumors; Girlfriend, A Wife Prospect?
Twenty-five-years old Christian Navarro has been weaving a dating story all this time.
13 Reasons Why star has been dating secretly with a mysterious lady named Shazi Raja. Much like Christian, his rumored girlfriend is also into acting. As for Shazi's filmography, she has made an appearance on HBO series titled High Maintenance.
Read Also:- Andrea Savage Is Married! Compares Real Life and On-Screen Husband And They Are Kind Of Same
Thanks to social media, the couple's love life are evident to all. Back in August 2016, Christian's girlfriend posted an Instagram image of her and Christian on the occasion of the actor's birthday.
Taking the occasion to Instagram, Shazi wished him a happy birthday and even quoted as "baby" in the caption.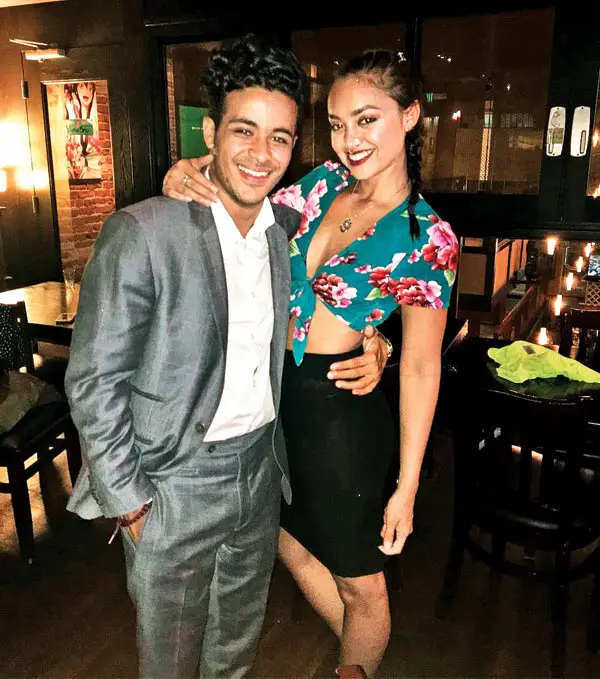 Christian Navarro along with his rumored girlfriend Shazi Raja (Photo: Shazi Raja's Instagram)
It's rumored that the pair's relationship had initially started off as a friendship and over time took a romantic route.
Back in 2015, Christian girlfriend, Shazi addressed him as a brother.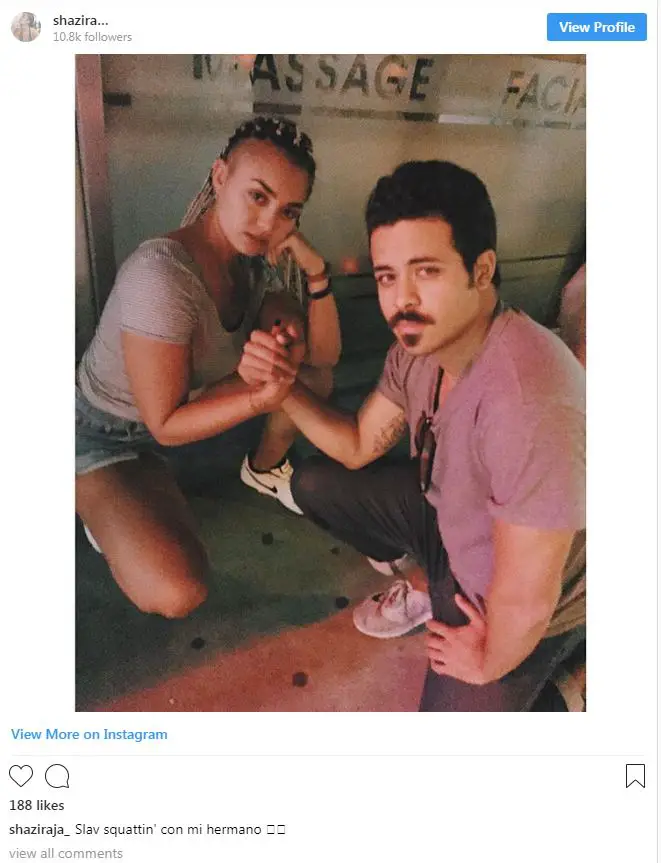 Shazi labels Christian a brother (Photo:- Shazi Raja's Instagram)
Nevertheless, as per the speculations, Christian has started dating Shazi in 2016 and have spent time together, be it beach time or chilling in her favorite spot.
The duo went to Muir Beach Overlook Muir, California on September 2016, which Christian's girlfriend later took it to Instagram. Quoting Christian as "love" in the caption, she shared an Instagram video.
Interesting:- Ann Coulter Denies Having A Boyfriend !Is It Because She Shares Gay/Lesbian Sexuality?
Further, on December 2016 came an Instagram image of Christian shaving from Shazi, where she has tagged him as "mylionman."
By the looks of it, the two clearly were sharing romantic moments together. However, the duo remained low-key since the year 2016, which speculated the two might have ended their dating life.
While some were wondering whether Christian enjoys a long-term relationship and turns Shazi his wife or not, the actor came with the split news. Talking to PopSugar in May 2017, he officiated his breakup by saying,
"I'm single! [My ex-girlfriend] and I separated a few months ago, and I'm single and doing my thing."
Well, as of now, Christian seems to be single, who is focused on his career as per his remarks.
Christian Navarro's Bio Including Tattoo Net Worth & Height
Born on August 21, 1991, Christian Lee Navarro is undoubtedly good looking and talented. He was born and raised in Bronx, New York. He began his career in the year 2005 with the film Day of the Dead 2: Contagium. Later, in 2007, Christian landed a role of Paco Mendoza in Law & Order: Criminal Intent which helped him to grab the attention towards him.
Later, he appeared in Run It (2009), where he played the role of John White. He then appeared in Blue Bloods (2013), Taxi Brooklyn (2014) and The Affair (2014). A year later, i.e. in 2015, he played the character of Carlos Gomez in Rosewood and then appeared in four episodes of Vinyl (2016) and one episode of The Tick (2016).
Discover:-Openly Gay Daniel Preda, Boyfriend Joey Graceffa Redefine Goals!
His most recent acting credit is 13 Reasons Why where he portrays the main lead, Tony Padilla. Christan revived his character, Tony Padilla, again when Netflix aired the hit teen series in May of 2018.
The Bronx native's character in the Netflix special may be covered in tattoos but in real life, his body is as clean as they come with only one tattoo(bird on the flower). To this day, neither his character nor Christian himself has given the context of the tattoos.
He has also appeared in Bushwick (2017) as Eduardo. Likewise, he is said to be appearing in Can You Ever Forgive Me? ( 2018).
Christain Navarro, who stands tall at the height of five feet seven inches, seems to be focusing on his profession as his personal life is completely overshadowed.
Despite a low-key personal life, Christian has the potential to achieve more in the days to come. From what we know, Christian receives an eye-catching salary from his profession.
Read Also:- Tana Ramsay Bio: Wife Of Gordon Ramsay, Her Age, Children, Height & Facts
As for his fortune, the 13 Reason Why star has a reported net worth of $2 million, which makes him the second richest act on the show. His co-star Katherine Langford tops the list with a reported net worth of $4.6 million.