Entertainment
The Bachelor Winner Courtney Robertson Dating After Split From Fiance Ben Flajnik and Tinder Boyfriend?
Life is long to enjoy it alone. In the journey of life, people try to find a perfect partner for them with whom they can share their happiness and sorrows.
There are stories that a person can genuinely fall in love only once and some individuals often end up with the wrong person and put no effort to find their soul mates.
Well, in the journey to find love and enjoying a happy and healthy relationship, people will face many hurdles. In the same way, not every love story has a happy ending as romances are not always fortunate.
Following this context, Courtney Robertson's love life is not much different. Let's have a look at her affair with Tinder boyfriend and her current relationship status.
Courtney's Unsuccessful Relationship With Fiancé:
If you have been following Courtney Robertson, then you must have known that she was engaged to The Bachelor star Ben Flajnik in the season finale. Though Courtney managed to win the show, she couldn't win the heart of her man forever.
During the show, the former pair already shared some relationship troubles. But Ben took no time to dump Courtney after he saw her horrible behavior on the show.
As of now, Ben is in a romantic relationship with a college graduate named Stephanie Winn.
Shortly after Courtney broke up with Ben in October 2012, she fell for The Bachelorette alum Arie Luyendyk Jr. However, her low-key relationship with Arie didn't last long as well.
Despite the breakup, Courtney has remained good friends with her ex-boyfriend Arie. She even sympathized with Arie when he got engaged to Becca Kufrin but immediately regretted his decision.
Arie had initially picked Becca as his future wife on the 2018 season of The Bachelor but, later dumped her and proposed Lauren Burnham. Courtney stated that everybody makes mistakes and that she was devastated to see Arie sad after he proposed to Becca.
Arie later got married to Lauren in a cherishing wedding ceremony which took place in Hawaii on 12 January 2019.
Found A New Love Interest?
While some people cannot get over a failed relationship, some find their way out of it by either falling in love again or by making themselves involved in their profession.
The Bachelor season 16 winner Courtney Robertson is a perfect example of the celebrities who have moved on from a failed relationship. Right after ending the relationship with Arie, Courtney grabbed media attention in January 2015 by her affair with a regular guy named Adam, whom she met on the dating app Tinder.
Talking about her relationship with Adam who lived in Venice, Calif, a source said-
"They've been dating 6 months now. He's 6'6". She loves that he's tall and that he's not on social media."
Likewise, another source told Us Weekly about how they met-
"They went out for dinner and drinks on their first date. On their second date, they both deleted their Tinders. She adores him!"
A couple of months after finding love in Tinder, Courtney revealed that she has already ended her relationship with her boyfriend, Adam.
In an interview with Us Weekly at the myVegas Las Vegas Extravaganza event in March 2015, Courtney explained-
"I'm single and I'm happy," "I have love in my life, and I have great people in my life. And I'm not rushing that part of my life."
A year later in February 2016, Courtney confirmed that she still hooks up with sexy race car driver Arie Luyendyk Jr., with whom she had a romantic relationship in the past. Talking about her relationship with Arie, she said-
"I adore Arie. He's a great friend who I like to make out with from time to time!"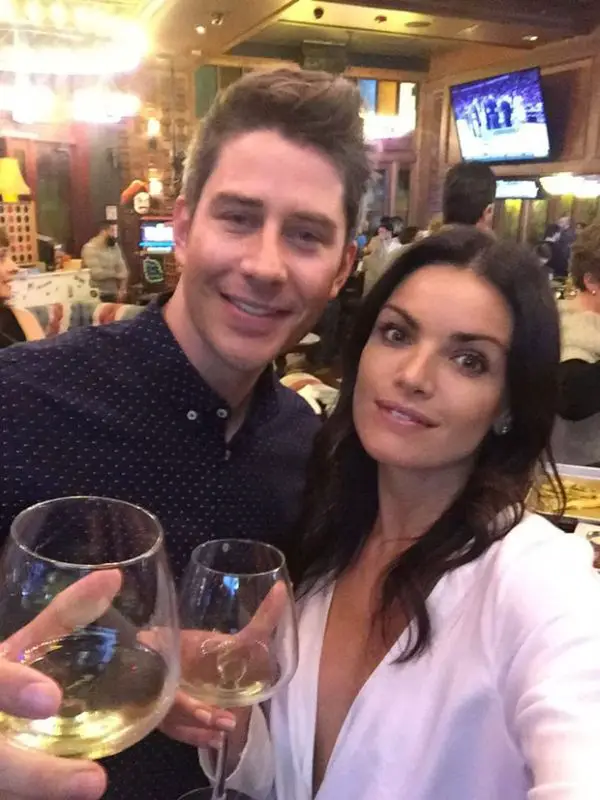 Courtney Robertson and sexy race car driver Arie Luyendyk Jr. pictured together (Photo Credit: Us Weekly)
New Partner:- Jenna Dewan Dating New Boyfriend Just After Divorce With Husband!
Likewise, Arie said-
"I just feel like she always gets such a bad rap. She's really just such a sweet, kind, funny person. She's really witty, and I think a lot of people just don't get her humor — she likes to stir the pot a little, and there's nothing wrong with that!"
Similarly, many names come along Courtney's dating life and affairs. She previously dated Desperate Housewives star Jesse Metcalfe, Reese Witherspoon's spouse Jim Toth, and Entourage star Adrian Grenier. Likewise, she is also known for her relationship with photographer Cavan Clark.
By the age of thirty-four, Courtney has been in multiple relationships but yet she hasn't managed to walk down the aisle.
Earlier in 2012, in an interview with Hollywood Life, Courtney's mom Sherry Robertson said that Courtney is not a type of girl who wants to get married.
Conversely, in a meeting with Star Tribune in 2014, Courtney revealed that she believes in marriage, but hasn't found a guy who she wants to get married to. She explained-
"I never really have. A couple of my serious relationships, the guys didn't want marriage. My parents have been married 34 years and I believe in marriage. I was raised more traditional and in L.A. it's tough. I'm thinking of moving back to Arizona."
Born to parents Rick Robertson and Sherry Robertson, Courtney has a successful career though she has faced multiple failed relationships. According to wiki sites, the former model Courtney currently works in real estate for Gibson International and Forbes Halliburton.
Dating Life Unveiled:- Jay Baruchel Wife, Dating, Net Worth
Courtney has also written a book named "I Didn't Come Here to Make Friends: Confessions of a Reality Show Villain," which has helped her to incline her career. Since the release of the book in 2014, Courtney who stands tall with the height of five feet nine inches works for a firm in Los Angeles and also has her realtor license.