Entertainment
Openly Gay Jussie Smollett, Partner Requirement; Boyfriend Isn't A Limit
Jussie Smollett is the breakout star of Fox's Empire, who got an enhanced fan following with his portrayal of the gay character, Jamal.
The openly gay actor, who describes his gay role as one of the most beautiful experiences, seems to be similarizing his on-screen role to real-life experiences as well.
But that's not all!
Digging deep into his real life, it seems boyfriend is not only the preference for Jussie.
Wondering why the boyfriend is not only his limit?
Fetch the answer from the following preface!
Long Dating History
The openly gay Empire actor, Jussie Smollett has shared his romance with multiple partners and created a long dating profile. In an interview with the Ellen in March 2015, the 34-years actor first time steps out with his sexuality:
"There's never been a closet that I've been in. It was a bigger deal to everyone than it was for me. But at the same time, I do understand why it is something to talk about."
Additionally, Jussie also said that he talked to Ellen publicly to aware the people that they are not alone, and to encourage the people to come forward with their sexuality.
In 2015, Jussie was rumored to hook up with the football player, Michael Sam. But Jussie claimed the news to be fake despite spending a lot of time together with Michael.
But his real-life romance came with
Similarly, he was rumored to dating his co-actor Dustin Ross. The pair, who first met on the set of an indie flick called The Skinny, portrayed the role of on-screen boyfriends. The duo also seemed to be created a real-life romance leading to three years on and off screen relation till 2015.
However, in 2015, the duo seemed to rekindle their love in February 2015 as they were spotted hugging and sharing a romantic time together.
Next, Jussie shared four years on and off relationship with Director Anthony Hemingway as reported in 2016. It is said that his sister Jurnee played the role of the bridge to make the romantic bond between her True Blood director and her brother.
Jussie also dedicated a song called "Hemingway" to his then-boyfriend, which he performed on the show "Verses and Flow" in 2015. Jussie's family also referred Anthony as their future brother-in-law, and Lee Daniels was heard that he prays the couple to be together.
Despite all, the couple silently parted their ways without sharing the separation news on the media.
And in 2016, Jussie came up with the most astonishing romance with the Empire creator Lee Daniels at the Human Rights Campaign 2016 Los Angeles Gala Dinner.
When Empire's cast was being honored, actor Jussie Smollett went to producer Lee Daniels and kissed him. The kissing scene surely benefitted the rumors of two openly gay, Jussie and Lee's dating affairs. However, they never confronted the dating news.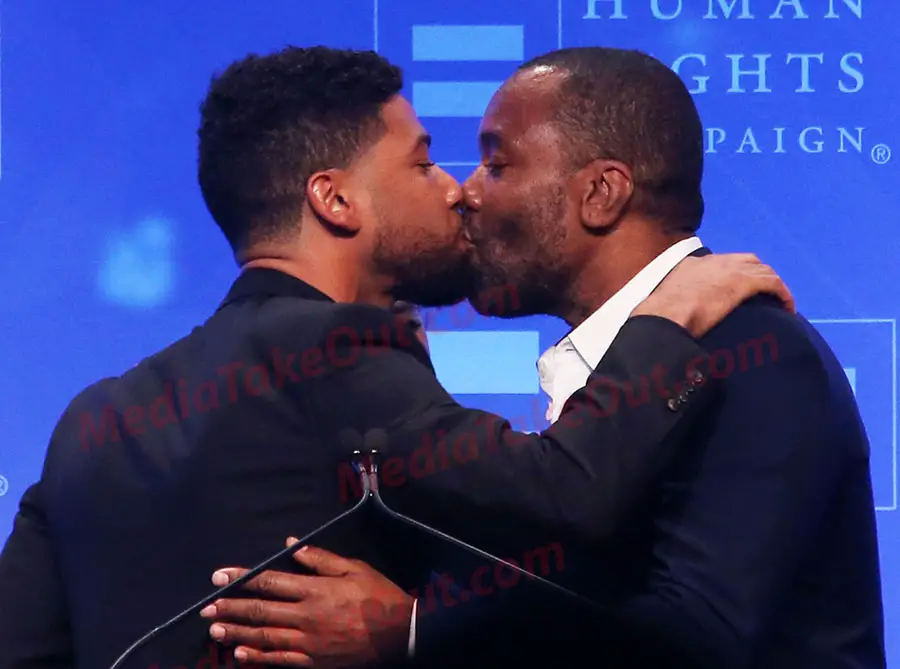 Jussie Smollett and Lee Daniels on the Human Rights Campaign 2016 Los Angeles' Gala Dinner (Photo: 360nobs.com)
Similarly, Jussie took no break from 2017 too as he was romantically linked with Tawan Davis.
The pair, who both work for the welfare of the African American community, have been protective of their relationship and enjoy hanging out with their family and friends together.
As of now, the openly gay item have been silent about their relationship.
Boyfriend Is Not The Only Essential
The openly gay, Jussie Smollett is interested not only in men. In an interview with out.com on March 2016 issue, he shared the interesting fact along with the steamy cover shot. He stated:
"If I fall in love down the road with a woman, I'm going to love that woman."
As he disclosed that he might fall for a woman too, he shared a speculating rumor with a girlfriend.
Well, Jussie's girlfriend rumors date back to 2007, when he was speculated to be dating Raven Symone. The two shared a perfect relationship, which created the buzz that she was pregnant with his baby. However, her team later confirmed that she was never pregnant.
Raven cleared the fake air and revealed that they never shared the romantic relationship. She explained to billboard.com on March 2015 stating,
"We never had a romantic relationship, but we definitely, living in method acting worlds, acted how we normally would (laughs). It was very natural and easy."
Additionally, she even disclosed that they both were excited to work together in the series, Empire and they are more like the siblings. She stated:
"We had never really worked together; we did a little music together prior to him being on the show, but as my best friend, normally we act like that when we're out in a club having fun. 'Let's do a Greaserendition; let's pretend we're a couple and have fun on the dance floor!' He's my bro."
Well, for The Mighty Ducks actor, it seems boyfriend is not only his limit.