Entertainment
Openly Lesbian Wanda Sykes Married Life; Manages Time For Wife And Kids Against Busy Career
Primetime Emmy Award-winning writer, Wanda Sykes is a proud gay figure, who is living a happy married life with her partner.
Not only the famous comedienne has a partner, but she also shares kids with her partner and has managed her married life and professional life well.
So, today, we would like to address Sykes' married life which includes her partner and kids.
Wanda Sykes Kids, Life-Partner
Known as Barb Baran on CBS' show The New Adventures of Old, Wanda first revealed her sexuality in 2008, and in the same year, she married her wife, whom she met in 2006.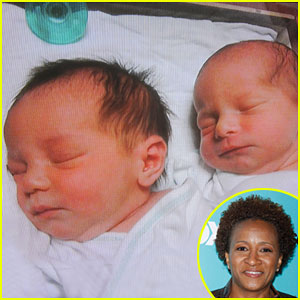 Wanda Sykes' twin kids, son Lucas Claude and daughter Olivia Lou (Photo: justjared.com)
Wanda and her partner/wife, Alex Sykes welcomed twins, son Lucas Claude and daughter Olivia Lou, in 2009.
On the happy occasion, Sykes's rep Danica Smith had said,
All are happy and healthy and at home,"
Later, Wanda first talked about her kids delivery in an episode of "The Tonight Show With Jay Leno" in 2009. She then said,
"Babies are very inconsiderate! Everyone said twins should be here at 35 weeks but nothing! Lots of waiting and they finally induced at week 39. I was [in the delivery room] when they did the C-Section. When the doctors tell you "Don't look this way," don't look that way. It was not pretty."
Also, when Jay asked if the twin babies calmed down after they reached home, she hilariously added,
"No! All hell broke loose! It's like they were tag teaming us, you put one down and then the other one starts crying. There is nothing twin-like about these babies, they are just two babies. I mean, I don't even think they know each other."
Amazingly, further in 2015, the same-sex marriage activist was seen to be managing her professional life and personal life hand in hand.
In an interview with windsorter.com in 2015, Wanda had said she wouldn't bring her kids to work. She said,
"I don't like bringing them on the road. I look at it as work. If I worked at a construction site, say, driving a forklift truck, I wouldn't want the kids joining me there. It's the same thing as going on tour."
She then continued,
"Sometimes, if I know she's in the audience, I will deliberately bring up something we had been discussing just to test it on the audience. If they agree with me, I'll tease her about it afterwards."
While Wanda was against bringing her kids to work, she did spend quality time with her kids.
The American celeb showcased one of her beautiful moments with her kids in August 2017. Wanda and her kids were seen spending time painting on canvas together in the video featured on Micheal Stores' Youtube channel.
Previously, in an interview with PEOPLE in August 2014, Wanda had talked about parenting and her bond with kids. To People, she had said,
"As a parent, it's just good to sit down together and keep them busy and do something together as a family."
Good to know that she did balance her work and family well!
Wanda Sykes Comes Out As Gay!
The Virginia native publicly came out back in November 2008 at a protest rally after California voters passed "Proposition 8", a ban on same-sex marriage. During the event, Wanda gave an impromptu speech revealing her sexuality at the event, which she had "no intentions" of making.
Also in 2010, she had given a worth-while stand-up comedy performance titled 'I'ma Be Me - Gay vs Black', published by HBO, where she joked about the differences between being black and gay.
Later, in an interview with CNN in June 2011, Wanda explained how she came out during the protest rally, stating,
"I kind of shocked myself. I was in the middle of it, and it was from anger."
Also, the former writer of The Chris Rock show added the pros and cons of coming out during the interview, saying,
"The worst thing, I guess, is just dealing with it, you know, like with family, and it's not necessarily the worst thing but, man, it's like every day I get invited to some gay event, you know. It's like, can you come to this gay event? Can you come support this? And it's like, good Lord, if I go show up at all these gay events, I'm not going to make any money. I'm going to be a broke gay. I'm going to be the brokest lesbian out there."
In the same month in 2011, Wanda also appeared on the show, PIERS MORGAN TONIGHT, where she said it was hard being gay than black.
Later, she also went to Oprah's show, Oprah's Next Chapter in October 2013 to spill the beans about her gay sexuality.
On the show, the Hampton University graduate revealed that she first disclosed her gay sexuality to her mother over the phone when her age was 40. She also added that her mother disbanded plans to visit her after the revelation. However, Wonda's mother later accepted Wanda's sexuality and children.
Former contracting specialist at the National Security Agency, Wanda, began to understand that she was different in grade school. She was confused about her sexuality at first, but she started dating women after her divorce with her husband of seven years, Dave Hall, an award-winning record producer.
Nevertheless, on The Oprah Winfrey Show, the famous actress/comedian also said that she was finally able to share the intimate connection, which was lacking in her first marriage, after meeting her wife.
However, she had previously cleared that she didn't divorce her husband because of her sexuality.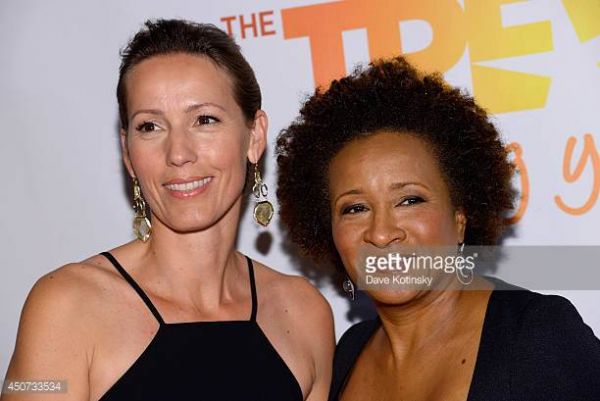 Wanda Sykes marries Alex Sykes in 2008 (Photo: gettyimages.com)
Similarly, in 2015, she also elaborated about her coming out in public in an interview on the Meredith Vieira Show. Later in 2017, Wanda also made her appearance on The Ellen Show. It was her 30th Appearance on the show.
An actress of the 2018 movie Hurricane Bianca 2: From Russia with Hate, Wanda talked about comedy and her kids with Ellen Degeneres, who had portrayed the first openly gay or lesbian lead character on television.
Likewise, in August 2017, Wanda brought same-sex parenting to Disney Jr.'s 'Doc McStuffins', reasoning her decision to join the show was for personal reasons. She stated,
"I love the show. My kids watch the show. My daughter went as Doc McStuffins for a couple halloweens. [The episode] was not about them being a same-sex couple. They just happened to be. It's so funny because that's the way my kids watched that episode. They didn't say, "Hey, it's two moms. They said, ""Hey, do we have an emergency plan?""
It must have been an emotional coming-out process for Wanda. Don't you think
Wanda Sykes Wiki-Like Bio
Wanda is mostly known for her funny stand-up comedies and was even ranked Entertainment Weekly's 25 Funniest People in 2004. She has also starred in the various TV series such as Curb Your Enthusiasm (2000), Wanda at Large (2003), Wanda Does It (2004), Vampirina (2017), Broad City (2017), and Blackish (2017).
The famous comedienne has also worked in movies such as Monster in Law (2005), Evan Almighty (2007), Rio (2011), Ice Age: Continental Drift (2012), Ice Age: Collision Course (2016) and Hurricane Bianca 2: From Russia with Hate (2018).
For her worthful contribution to the comedy world, she earned a Comedy Central Commie Award for Funniest TV Actress in 2003. Wanda also turned herself into a writer by publishing her first book called, Yeah I Said It in September 2004.
Currently, the stand-up comedienne is gearing for her shows in Ontario, California, set for March 2018. She recently celebrated her birthday on 7 March 2018.
From her successful career, the Portsmouth, Virginia native has been able to enjoy a net worth of $6 million.
Wanda Sykes was born on 7 March 1964 in Portsmouth, Virginia to banker mother and US Army veteran father. She is a graduate of Hampton University.
The award-winning writer/comedian/actress first started her career working for National Security Agency after she compleated her education.After NSA, she then started stand-up comedy in the later 1980's.
In 1991, Wanda married American record producer Dave Hall and got divorced with him in 1998.
Connect to her official site wandasykes.com to get info on her tour dates, bio, news, projects and more.