Primetime Emmy Award winning writer Wanda Sykes is a proud and open gay and has a partner in her life who she is happily married with. Not only does she have a partner, she also has children with her partner and manages her personal life and professional life with great precision. So today, we would like to address the marital life of this successful writer and educate you on the love the Sykes family share.
So without further ado, let us get ourselves going.
Wanda Sykes Comes Out As A Gay And Shares Ample Love With Her Partner And Kids!
Wanda Sykes publicly came out as a gay back in November 2008 while at a rally after California voters passed "Proposition 8", a ban on same-sex marriage.
On coming out, she said,
"I kind of shocked myself,"

"I was in the middle of it, and it was from anger."
Also, speaking about the pros and cons of coming out, she added,
"The worst thing, I guess, is just dealing with it, you know, like with family, and it's not necessarily the worst thing but, man, it's like every day I get invited to some gay event, you know. It's like, can you come to this gay event? Can you come support this? And it's like, good Lord, if I go show up at all these gay events, I'm not going to make any money. I'm going to be a broke gay. I'm going to be the brokest lesbian out there."
Furthermore, she also elaborated all of these in her interview on the Meredith Vieira Show.
Caption: The interview of Wanda Sykes on coming out as a gay in public (Published on Feb 23, 2015).
Wanda came out as a gay in 2008 and in the same year, she married her wife who she met in 2006.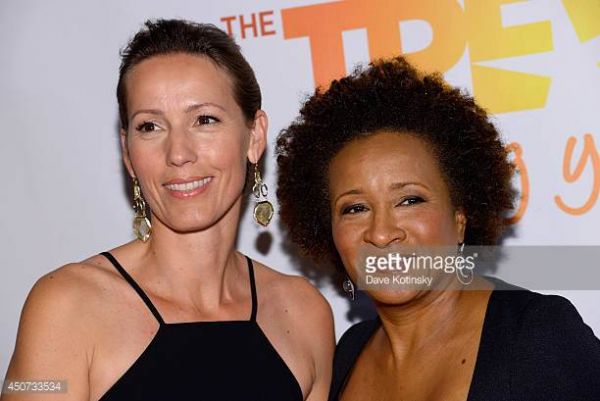 Caption: Wanda Sykes and her wife Alex Sykes got married back in 2008.
Photo Credit: gettyimages.com
She and her partner/wife, Alex Sykes also have twin kids in their life and the love they have for their kids is adorable. The two welcomed twins, son Lucas Claude, and daughter Olivia Lou in 2009.
On the happy occasion, Sykes's rep Danica Smith said,
All are happy and healthy and at home,"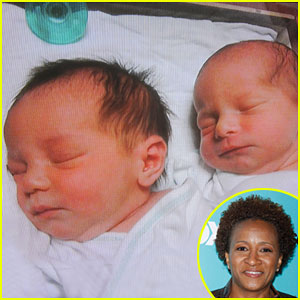 Caption: Wanda Sykes twin kids.
Photo Credit: justjared.com
Talking about her kids in an episode of "The Tonight Show With Jay Leno" in 2009, she said,
"Babies are very inconsiderate! Everyone said twins should be here at 35 weeks but nothing! Lots of waiting and they finally induced at week 39. I was [in the delivery room] when they did the C-Section. When the doctors tell you "Don't look this way," don't look that way. It was not pretty."
Also, when asked if the twin babies calmed down after they reached home, Wanda Sykes hilariously added,
"No! All hell broke loose! It's like they were tag teaming us, you put one down and then the other one starts crying. There is nothing twin-like about these babies, they are just two babies. I mean, I don't even think they know each other."
And at present, Wanda is seen to be managing her professional life and personal life hand in hand and she does not even bring her kids to her work.
"I don't like bringing them on the road,"

"I look at it as work. If I worked at a construction site, say, driving a forklift truck, I wouldn't want the kids joining me there. It's the same thing as going on tour."
She then continued,
"Sometimes, if I know she's in the audience, I will deliberately bring up something we had been discussing just to test it on the audience. If they agree with me, I'll tease her about it afterwards."
Good to know that she has managed her time to work and handle her family well!
Moreover, did you know, Wanda's mother canceled all her plans to visit Wanda when she came out to her mother while she was 40 on phone? She accepted Wanda and her grandchildren back in 2013.
It must have been an emotional rut for Wanda and once she explained that she then secondly came out to herself when she got divorced from her ex-husband Dave Hall who she was married to from 1991-1998.
We would like to respect the courage of Wanda to come out of such phase ever so strong and letting people know that accepting yourself is the biggest thing in life.
#American Actress
#The Chris Rock Show
---