Unless you are a social media evader, you must have come across the YouTube sensation, Amanda Cerny. The Pittsburgh native amasses 2.6 million subscribers on her self-titled YouTube channel.
Well, her popularity is across all platforms; she has staggering 24.4 million followers on Instagram and 960K followers on Twitter. 
The YouTuber of American nationality first stepped towards fame with her stint as Playmate of the Month for October in 2011. Then, she reached out to her friend, Jimmy Tatro and asked him for roles in his YouTube contents. But as he suggested her to use Vine, she started making her own six seconds skits.
Since then, there has been no looking back for the 27-year-old beauty whose date of birth is 26th June 1991.
Is Amanda Cerny Dating Boyfriend?; Her Net Worth
The social media star is doing best in her professional life but what about her personal life? Is she single? Is she a lesbian? Who is she dating? With her drop dead gorgeous beauty and the attribute to make everyone laugh, people ought to have a lot of questions about her personal life.
Another Social Media Star:- Gabbie Hanna Stole A Boyfriend! That's Right - Age, Sister, Net Worth & Facts
So, hold yourself as in 2016, the world went into a frenzy when she posted a video having a gala time with the megastar Canadian singer-songwriter, Justin Bieber. People started searching for her wiki on dating on the internet. However, nothing was confirmed. Nevertheless, she was in a relationship with comedian, Dane Cook.
Leaving behind the past, the beauty with 5 feet 7 inches height (1.7m) is in a committed relationship with fellow social media star, Johannes Bartl since 2017. The man in her life is an Austria born model with two million followers on Instagram. Moreover, he frequently collaborates with Amanda for YouTube videos.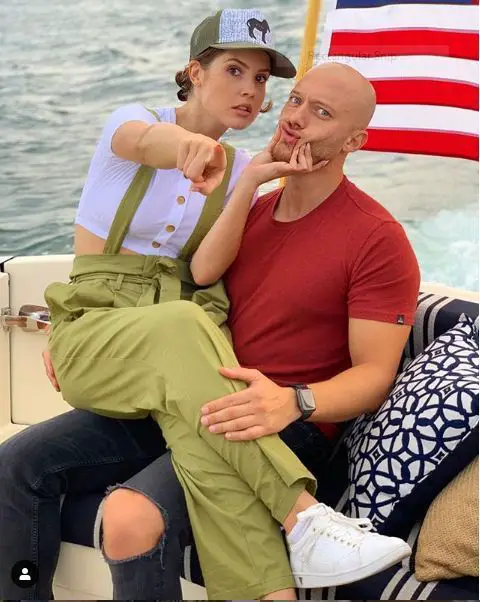 Amanda Cerny and her boyfriend Johannes Bartl share a moment on 19th January 2019 (Photo: Johannes Bart's Instagram)
The lovebirds sure awe everyone; sharing glimpses of their lovey-dovey moments on their Instagram handles. 
While Amanda boasts a perfect dating life, she also has a whopping net worth to be proud of. On top of that, her huge following has helped her build substantial net worth. Her famous collaborations include fellow YouTubers; King Bach, Andrew Bachelor, and even Logan Paul.
Her net worth of $800K enriches more with her endorsement deals with considerable brands such as Tinder, Guess Jeans and Paramount Pictures. Amanda of multi-ethnicity; Czech, German and Italian, charges $80-100,000 for a single social media post.
Parents Happy With Relationship?
Introducing your lover to your parents can be tricky. What if they don't get along? Or worse they hate each other? The Florida State University alum seems to be lucky in the case. She and her boyfriend introduced each other to their respective moms, and it seems they got their seal of approval.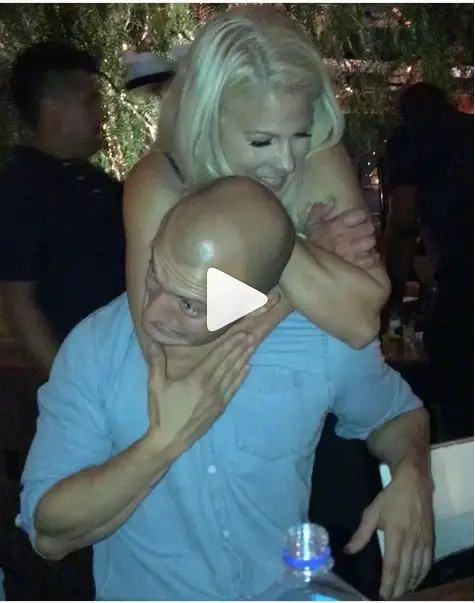 Amanda Cerny's mom and her boyfriend, Johannes Bartl on 4th March 2018 (Photo: Amanda Cerny's Instagram)
Amanda shared a hilarious skit featuring mama Bartl titled Meet The Parent. Her boyfriend got quite a reception when Amanda's mom choked him on their first meeting. Relax; it was just a joke!
Also Read:- Laci Green Gracefully Dating! Meet Cheeky Boyfriend At Age 28
Or was it? Johannes should be careful as this could be a subtle warning. Her mom, Amy Reed is the highest ranking Grandmaster on her style of taekwondo, now known as Oh Ryung Hon Taekwondo. Johannes, take note and better behave!