Entertainment
Aoki Lee Simmons Bio, Boyfriend, Net Worth, Parents
Aoki Lee Simmons' biological parents are... got bullied in high school... began dating boyfriend from... accepted to Harvard at the age of... boasts a net worth of... siblings with...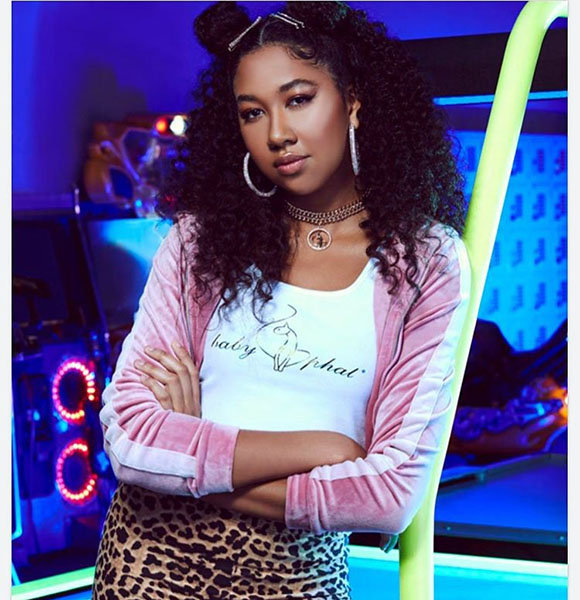 As the youngest daughter of Hip-Hop mogul Russell Simmons & supermodel Kimora Lee Simmons, Aoki Lee Simmons carried the unspoken burden of continuing the family's legacy.
Not only did the teenager shatter all the expectations, but she also did so on her merit.
Education - From High School To Harvard
At an age, where most teenage girls were busy playing make-believe with friends, Aoki strived for more.
An excellent high school student in both academics and extracurricular activities, Aoki's dedication finally paid off. At the young age of 16, she was accepted into Harvard.
Unable to comprehend the achievement, a gleeful Aoki took to Instagram in March 2019 and shared the news. She exclaimed:-
 "I'm only 16 and I'm going to Harvard baby! Insert emotional crying face."  
Via social media, her parents expressed pride in the milestone. Kimora's message, in particular, raised eyebrows as she took a dig at celebs, Felicity Huffman and Lori Loughlin. Felicity & Lori had allegedly bribed the Ivy League schools into admitting their respective child.
Lori's Daughter:- Beauty YouTuber Olivia Giannulli Stops Dating Boyfriend Amid New Success Height
For Aoki, the admission to Harvard was a welcome change. Admittedly, her high school had a high tolerance for racism. She even slammed the school for letting its student call her the "n-word."
Dating & Boyfriend
Even with the admission at Harvard, Aoki's astounding achievement pales in comparison when put next to her boyfriend's accolades.
Anthony Karambelas, Aoki's boyfriend, got accepted into California State University as a 14-year-old. He joined the college with the intent to acquire a degree in English.
Beyond impressive academic records, Anthony also carries good genes. Still growing, he stands at six feet and an inch (1.85 m) in height.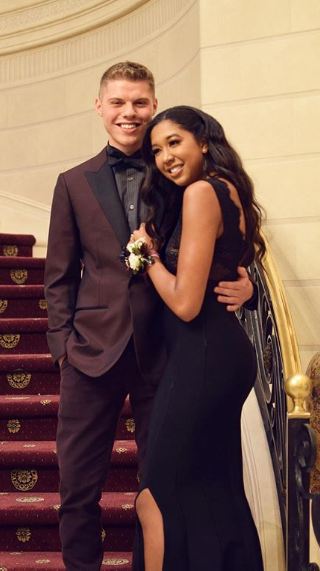 Aoki Lee Simmons with her boyfriend Anthony Karambelas ahead of their prom circa June 2019 (Photo:- Aoki Lee Simmons' Instagram)
Harvard bound Anthony and Aoki are childhood sweethearts. They initially began dating as teenagers.
Bio - Family Background & Age
Aoki was born in August 2002. The youngest of her parents' two children, she is biological sisters with Ming Lee Simmons. Kenzo and Wolfe, who were born from her mother's subsequent relationships, are her half-siblings.
Despite the divorce, Aoki parents' remain on speaking terms. Kimora even asked Russell to be a godfather to Kenzo.  
Continuing on her family background: 16-year-old Aoki calls Joseph Simmons (aka Rev Run) her uncle. Diggy Simmons, Angela Simmons, and Vanessa Simmons are her famous cousins.
Height & Net Worth
Aoki's life in the spotlight began as a toddler. Even before she learned to walk, her supermodel mother paraded her on the runway.
As a child, Aoki starred in the reality show, Kimora: Life in the Fab Lane. The E! series aired between 2007 and 2011. She also played an instrumental role in helping Kimora design clothes for Baby Phat, an iconic streetwear brand relaunched in 2019.
Beyond fashion sensibilities, Aoki has seemingly inherited her mother's height, which is six feet (1.83 m)
Although there are no details on her net worth, Aoki - with her sister & half-siblings - are the rightful heir to her parents' combined fortune of almost $400 million.