Entertainment
Been Married For Over A Decade Now, Rasheeda Shares Blissful Relationship With Husband And Kids
There are many celebrity couples whose relationship is not as blissful as we see, but there are some who shares a harmonious relationship with their partner which is something that every person wishes to have in their real life.
In this regard, today we are highlighting American television personality, rapper, and fashion designer Rasheeda Buckner-Frost aka Rasheeda's married life.
Blissful Married Life With Boyfriend Cum Husband & Kids
In the year 1999, Rasheeda tied the knot with her long-time boyfriend Kirk Frost who is a singer, songwriter, and rapper by profession. The owner of D-Lo Entertainment, Kirk is also popular as a regular cast member of "Love & Hip Hop: Atlanta" a VH1 reality series.
Interesting:- What Is Margaret Josephs Net Worth? Her Bio Adds Kids & Loving Husband
The only legally married couple in "Love & Hip Hop: Atlanta," Rasheeda and Kirk exchanged their vows again in 2012. They renewed their wedding in front of their friends and family.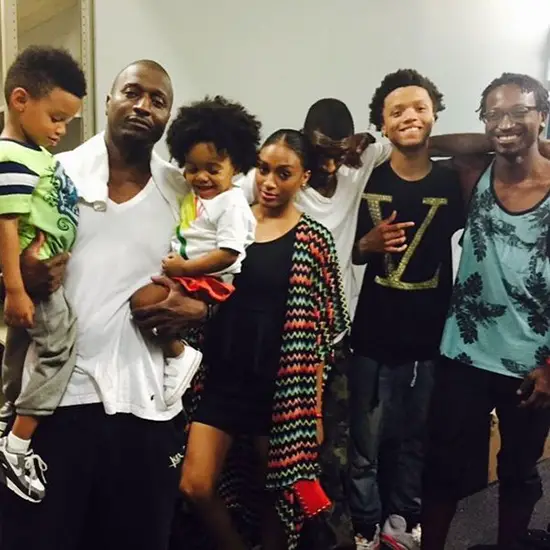 The Frost family is a family goal. In picture; Kirk Frost with her husband Rasheeda and children (Photo credit: vh1.com)
Kirk has six kids altogether; four from his past relationship and two sons named Ky and Karter with his wife, Rasheeda.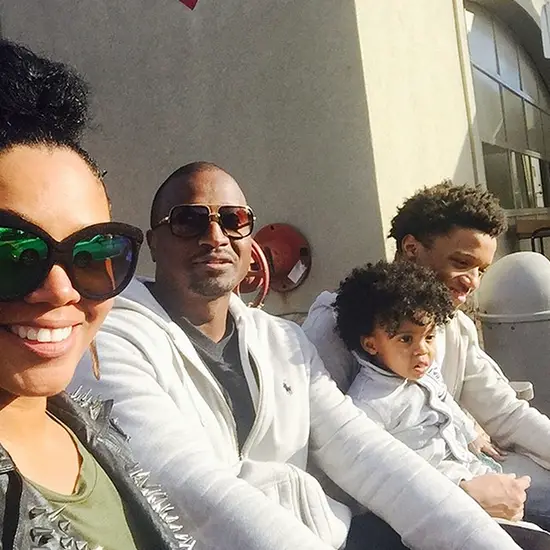 Rasheeda with her husband Kirk and sons Ky and Karter (Photo credit: vh1.com)
Rasheeda shares a blissful married life with her husband, Kirk, and children. No doubt their love life has a roller costar ride and trust issues, but the bond that they share is something very envious. Rasheeda can't stop herself from praising her husband's parenting skills.
You May Also Like:- Deadmau5 Gets Married To Longtime Girlfriend! Combo of Beautiful Wife And Exquisite Wedding Ceremony
In an interview with Realitytea.com in 2013, she said-
"He's actually just amazing, to be honest with you. He's just been a great father, he's been, you know, allowing me to get my rest as much as possible, and regardless of the fact that you can't get past the crying that you hear from the baby, but he's been really, really great."
She further added:-
"You know he's always been a good father regardless of how it looked on television as far as the things he said about 'I'm tired of raising kids,' and whatnot, you know. He has four adult children, you know. Over 18 [years old] kids that he was more so speaking about, but as far as him in Karter's life, he's just been 100% just doing his damn thing."
Till the day, Rasheeda and her husband Kirk has remained one of the most resilient and strongest couples on "Love & Hip Hop Atlanta."
Don't Miss:- Gregg Wallace's Wife Pregnant With Their First Baby, Family Is Now Complete!
Husband Unhappy With Rasheeda Pregnant; Love Child In The Picture?
However, there were some moments where the couple had a very hard time together. Rasheeda had revealed in an interview that Kirk wasn't happy when she got pregnant in 2013. However, he couldn't tell his wife to get an abortion.
In the interview, she said;
"I got pregnant, and Kirk wasn't happy about it. The sh*t was the real deal. He felt like he felt, and went and did what he did, and that's him. It wasn't no ficitious sh*t. I mean, people go through stuff, and the killer part that really be bugging me out is, the reason why people could relate so much is a lot of us been through that type of situation."
She continued:-
"The things that were going on with me and Kirk…you know what, if you're on reality TV, and you're going through some sh*t, then you're going through it, and that's what it is, and people can weigh in and say they feel like this and they feel like that, they can say what they want to say, but we have real issues. We have another sh*t that goes on in our relationship that people may not have seen just for the simple fact that it's too many damn people on the show, and you don't have all that camera time to speak to everybody."
Rasheeda then added:-
"At the end of the day, we're real people with real issues, with real problems, and the difference is it played out on TV with cameras in front of us, straight up and down."
Little did the Love & Hip-Hop star knew that she and her husband would be caught in another pregnancy scandal in five years time.
Read Also:- Beautiful Actress Sophie Turner Snugs With Her Rumored Boyfriend Joe Jonas At A Friend's Wedding!
After denying being the biological father of mistress Jasmine Washington's child for all of 2017 season, Kirk acknowledged that he was indeed the father to Rasheeda in March's episode of the hit reality show.
By all accounts, Rasheeda was left shell-shocked when her husband confided in her. Talking of being "in disbelief," she expressed condolences to the family of Kim Porter's family following her death.
Pregnant Again: Is Rasheeda's Estranged Husband The Father?
The news of Kirk fathering a love child with fellow Love & Hip-Hop castmate coupled with cheating rumors has rocked the pair's relationship.
Just when fans of the show beginning to suspect that the estranged couple's relationship had run its course, Rasheeda surprised the world by when she uploaded a snap of her looking rather stuffy around her midsection on Instagram.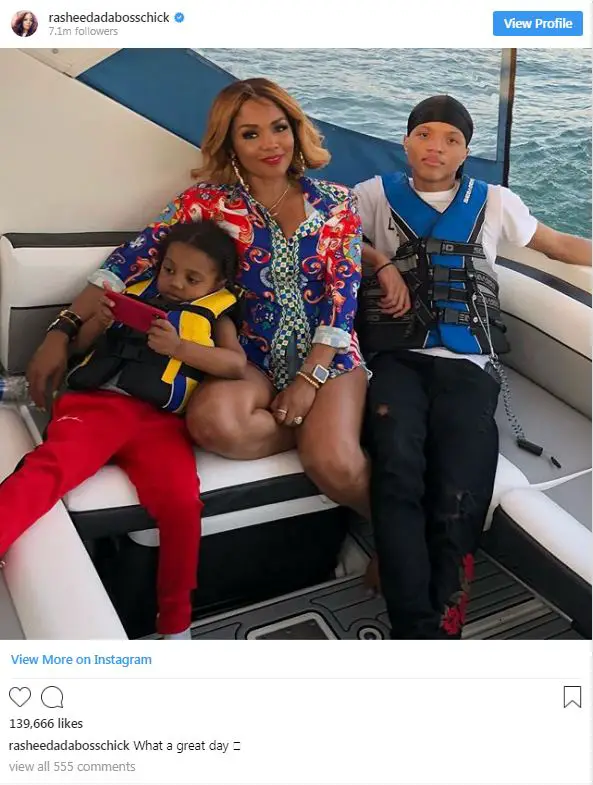 Rasheeda hides her baby bump (Photo:- Rasheeda Frost's Instagram)
Two days after posting the above pic, Rasheeda - who has a reported net worth of $600 thousand - shared a photo of the Frost family including her estranged husband Kirk from her birthday dinner.
Discover:- Mike Sorrentino Married At Age 36, Who Is Wife Lauren Pesce?
The married duo's said encounter has made public believe that Kirk might be the father of Rasheeda's - and theirs, if true - third child.