Corinna Kopf is a popular...showcasing affectionate and happy moment...about a possible break up...new boyfriend had done...also quite fond of...formerly worked as an...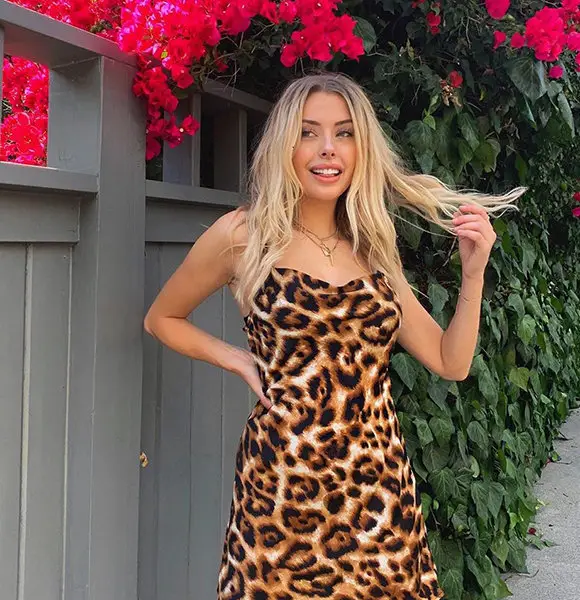 Famed through her self-titled accounts on YouTube & Instagram, Corinna Kopf sustains her popularity with a detailed explanation of her everyday life.
The internet sensation is a force to be reckoned, with 2.7 million followers on Instagram and over a million subscribers on the video-sharing giant.
Her personal life has also been a hot topic among fans. Though she faced a few heartbreaks in the past, the tides seem to be turning for Corinna now.
Dating History, Boyfriend Now
Previously associated with names like Jack Dail, Brennen Taylor, Nick Bean, Logan Paul, and Toddy Smith, the Instagram star is dating a new face in 2019
The blonde YouTuber was linked to up and coming Fortnite sensation Tfue- real name Turner Tenny. The relationship has not yielded much as their romance only began in March.
Fresh Towards Dating :- Samantha Ronson Lesbian, Dating, Parents
The couple even showcased some affectionate and happy moments. However, like any other relationship, their rocky ride became apparent in June when Corinna shared some excruciating details of her dating life.
The YouTuber claimed to fly out of Los Angles to meet her boyfriend now and then. Her boyfriend Tfue, however, was reluctant as he hates visiting LA. The small scuffle became such a vast topic; many even started gossiping about a possible break up.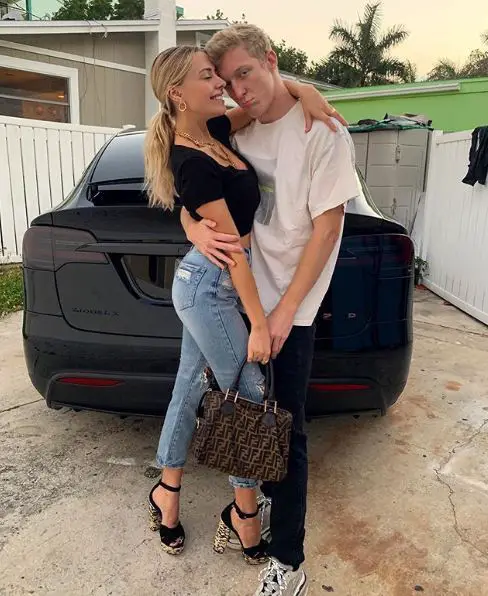 Corinna Kopf with boyfriend Tenny Tenner in May 2019 (Photo:- Corinna Kopf's Instagram)
Despite rumors of a breakup, the pair have not split yet. Seen kissing each other in August 2019, the pictures are proof of the couple's integrity as a unit.
Interestingly, though she didn't break up from her boyfriend, Corinna, however, wanted to take a break from the internet. There was a sudden outburst of fans on Tfue's social media, who questioned the new boyfriend's acts and wrongdoings.
Family Life & Childhood
Corinna - age 23 - is a native of Palatine, Illinois, born on 1 December 1995. She is of German ancestry and can speak the language fluently.
Her parents moved around alot during her early childhood. So as a young child, Corinna was raised in various parts of the country, including Wisconsin, Iowa, and Missouri. 
A commuter since her early age, the blonde beauty plans to roam around the world visiting her dream destination Australia one day.
Apart from her traveling interset, Corinna is also quite fond of tattoos and piercings. One of her inks which reads, "You are stronger, I Love You." is dedicated to her younger brother who committed suicide.
Corinna's Net Worth
Nicknamed the "Pouty Girl," Corinna - height 5 feet 5 inches (1.65m) - is sure to have amassed a fortune through her career as an internet personality.
She formerly worked as an Instagram model. But, she later opted to become a vlogger, hosting storytime videos, pranks, and challenge videos. She has even collaborated with other famous YouTubers like David Dobrik, Liza Koshy, Durte Dom, Nathalie Paris, Zane Hijazi, Bruhitszach, Franny Arrieta.
Popular Youtuber:- Paige Danielle Age, Baby Daddy, Husband, Family
With nearly 30 to 50 thousand views on her YouTube contents every day, Corinna's estimated earnings from the video-sharing site max out at the $65.9K mark per year. However, the exact net worth of the blonde beauty is yet to be publicized.