King Combs is mostly known as the son of a famous rapper...born in California...lost his mother in 2018 to...has a girlfriend since high school...signed by his father's record label in...has worked with artists like...Jeremih, Ty Dolla $ign and City Girls: Listen...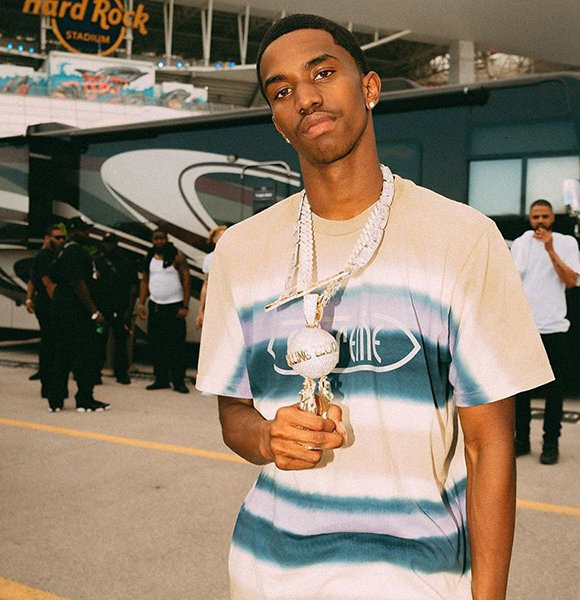 While almost everyone knows him as the son of OG rapper-entrepreneur-actor-singer-record producer Sean "Diddy" Combs, King Combs has made a name for himself in the music business. He is a rapper just like his daddy. 
Find out more on the upcoming rapper's life, including details on his family members, mom's death, and relationships.
Look Into King Combs' Background
Although the whole world knows him as King Combs, the rapper's real name is Christian Casey Combs. Son of the world-renowned artist Sean aka Puff Daddy and model Kimberly Porter, Christian was born on the 1st of April 1998.
The rapper grew up in California alongside his twin sisters: D'Lila Star and Jessie James. He also has a half-sister named Chance and two elder step-brothers, Quincy and Justin Dior.
From Family Of Achievers:- Jenna Bush Hager Husband, Net Worth, Family
On 15 November 2018, King suffered the loss of his mom. Kimberly was found dead at her home in Toluca Lake. A spokeswoman for the Department of Medical-Examiner-Coroner stated her death as natural and caused by lobar pneumonia. Christian posted a picture of him and his mother on his Instagram on her birthday, expressing his emotions and love towards her.
With a slim toned body weighing 70kgs and height of 5 feet 9 inches ( 1.75 m ), Christian - like his father - is a lady pleaser and easy on the eyes.
Girlfriend, Dating Life Uncovered
When it comes to the love life of celebs, it tends to be messy and complicated. However, King is the odd one out of the bunch. The rapper has managed to maintain an affair with the same woman for a considerable amount of time. And the lady in question is none other than the musician's high school sweetheart, Breah Hicks.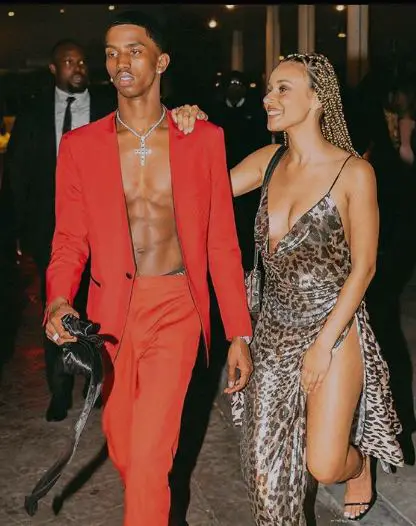 King Combs walks with girlfriend Breah Hicks on the 1st of April 2019 (Photo King Combs' Instagram)
The pair met back when they were sophomores through mutual friends at a football game. When they started dating, Christian was aged 15, and Breah was just 14 years old.
His Dad's Relationship :- Awesome Rapper Sean Comb Split/Breakup With his Dancer Girlfriend, What about his Kids? Planning to Sell House?
Five years into the relationship, the couple has been very open about their romance. They regularly feature each other on their social media. On the 1st of April 2019, the rapper shared a stunning photo of himself and his girlfriend attending his birthday party.
The party was attended by big named stars like Desiigner and Ty Dolla $ign. King's father, Diddy, gifted his song a Gold Jet Ski as his 21st birthday gift.
Career & Net Worth
Following in the footsteps of his dad Sean "Diddy," King Combs has managed to reach the same if a not higher level of success in the music industry. 
The rapper signed a contract with BADboy records on the 1st of April 2016. Shortly after, he released songs like Party, One for Me, and Type Different, which became instant hits with the hip-hop crowd. In early 2019, the rapper released his first EP album titled Cyncerely C3 featuring famous artists like Jeremih, Ty Dolla $ign and City Girls. 
Another Upcoming Rapper:- Tray Bills Age, Girlfriend, Net Worth, Bio
At age 21, the rapper has had an incredible run in the entertainment industry. There is no doubt that King will soon become a reputed figure in the music industry.
He has also been successful in terms of his wealth. While his dad Diddy sits with a net worth of $855 million, King's net worth is yet to be unraveled.