Entertainment
Justin Dior Combs, Obscure Dating Life - Results Gay Speculations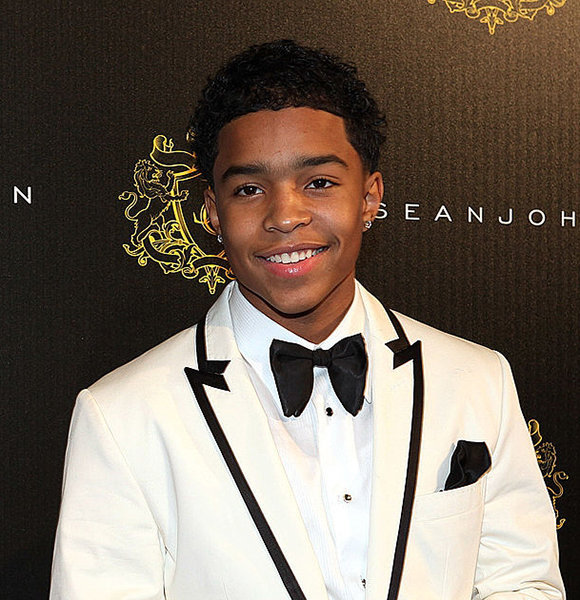 UCLA's junior defensive, Justin Dior Combs, has a very secure and protective father, hip-hop mogul Sean "Diddy" Combs, who even fought with the assistant coach at the UCLA athletic facility after he screamed at Justin during a strength and conditioning session. 
Well, Justin was engaged in controversy when the questions were raised about his sexuality tagging him as gay. In this context as well, the rapper stood up for his son. 
So, What sexuality and gay questions were raised, and what actions did the Rapper take?
If you are wondering about these questions, then we have the answer.
Is Justin Dior Combs Gay?
Well, the first son of Sean Combs, Justin Dior Combs, was in an intimate relationship with girlfriends. However, in 2010, Justin and actress Paige Hurd dated for only ten months, and by the year turned 2011; the pair decided to go their separate ways.
Likewise, his heart started beating for the model Chantel Jeffries at the end of 2011. But the teenage couple soon broke up in October of 2012.
Back in October of 2014, he was dating social media personality, India Westbrooks. However, their relationship ended in a couple of months; they had a break-up in the very first month of 2015.
See Also:- Beau Bridges Age 76 Has The Proudest Wife, Gay - The Other Kind Of
Despite having romantic linkups in the past, Justin was harassed on the internet with the tag of "Gay" and "Homosexual." His father even shut down the Instagram blog, The Industry On Blast (IOB), as the blog claimed that Justin is a homosexual.
Likewise, another Instagram blogger, Fameolous, knowing what happened to IOB, ultimately decided to wash his hands of the issue, and he got rid of any information that hinted Justin being gay.
In December 2016, a source revealed that Diddy's eldest son might have a preference for Men. The news about him being gay had aired after he was found liking the picture of a Gay Blogger Stahr Milan.
As stated by the source, the American Site 'MediaTakeOut' hinted that the son of rapper Sean 'P. Diddy' Combs, actor Justin Dior Combs is gay and not straight.
With this many gay accusations, which have no place in a star player's life. He has not come out with a statement regarding the matter. Therefore we cannot assume his sexuality.
More on Justin Combs
Justin was born on 30th December 1993 in the U.S to the mother, Misa Hylton-Brim as Diddy's first-born son.
At heart, a mama's boy, the 28-year-old can't get enough of his mother, whom he often likens to his twin. So for his 25th birthday, his mom penned a heartwarming tribute on Instagram.
Calling Justin her best friend, she professed pride in the man that he had become. His dad echoed similar sentiments in a different birthday post.
Dive In:- Colin Jackson Gay Revelation Came From Partner, Will He Trust Another?
The former college athlete returned the appreciation by wishing his mom on her birthday. He thanked his mother for raising him the right way in the said post - uploaded on 7th January 2019. His "bother" Niko Brim is also another recipient of his birthday wishes on Instagram.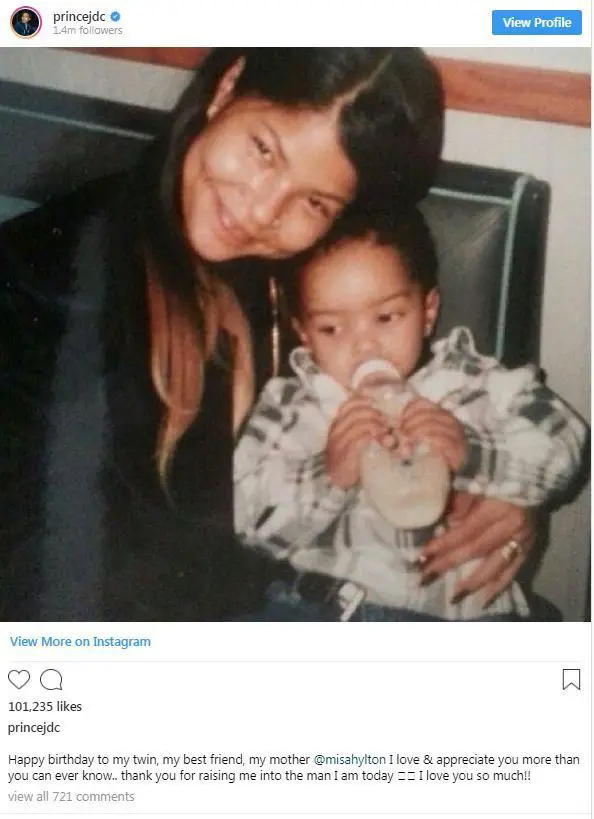 Justin Dior's Birthday Post For His Mom (source: Instagram)
Justin has six siblings; two brothers and four sisters, namely; Al B. Sure (Older Stepbrother), Quincy Brown (adoptive brother), D'Lila Star (Younger Paternal Half-Sister), Chance (Younger Paternal Half-Sister), and Jessie James (Younger Paternal Half-Sister). 
His father's former girlfriend, Kim Porter, whom he regards as the second mother, died unexpectedly at her Toluca Lake, California, home on 15th November 2018.
And Kim's death seems to have deeply affected Justin, as he still regards it as a bad dream. In the long memoir he wrote remembering Kim, he mentioned that she was dancing and celebrating just a day before yesterday,
Don't Miss:- Young Greatness Shot & Killed; US Rapper's Cause Of Death
Writing he will always cherish the special moments, he Instagrammed the adorable family picture alongside his father, second mother, and siblings writing a long tribute to her ultimate demise.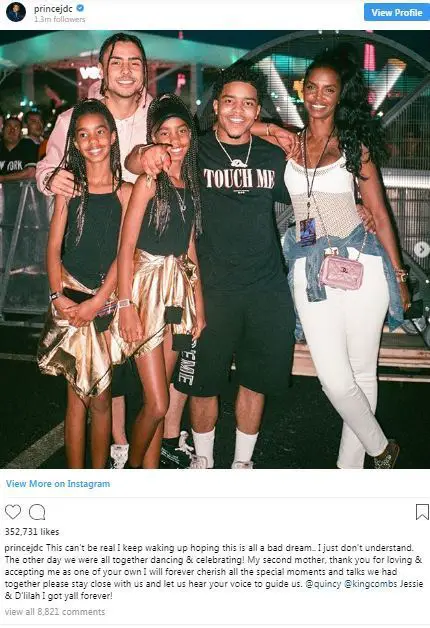 Justin Dior Combs Tribute to His Late Second Mother, Kim Porter (source: Instagram)
Recommended:- Tila Tequila New Baby - Married Husband Following Lesbian Partner's Death
The first graduate in the Combs family, Justin graduated from UCLA with a Bachelor's degree in Sociology in 2016. The proud father, Diddy, shared a picture of his son from his graduation on Instagram back in June 2016.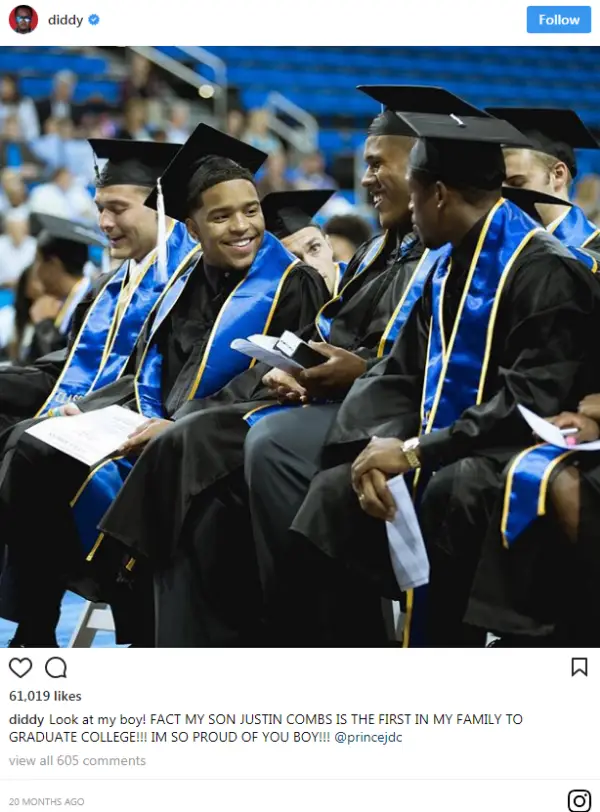 Sean Combs (Diddy) with His Graduate Son, Justin Combs (source: Instagram)
Combs, a Mount Vernon, New York native, was a quarterback in high school at Iona Prep. ESPN ranked him as a three-star recruit and the number 7 prospect in New York. 
Besides his wealthy family background, Justin was criticized for accepting the football scholarship. The young Combs took to Twitter and wrote,
 "Regardless what the circumstances are, I put that work in!!!! PERIOD."
Along with his passion for sports, Justin Combs debuted in the acting field with the TV show, My Super Sweet 16. Likewise, he made his theatrical film debut in the action movie Date with a Hammer.
Witnessing the star's rising career we cannot wait to update you guys more on him!