Entertainment
Kirby Howell-Baptiste Bio: Age, Family And More Of The Killing Eve Star
British actress Kirby Howell-Baptiste has been cast as one of the lead actresses in Paul Feig's comedy series Girls Code; where Kirby plays the role of Angela, a community-building social entrepreneur. The plot of the show has garnered attention...Moreover, in 2015, Kirby thanked her family for not pressuring her to be with them on Thanksgiving so that she could go hiking with her...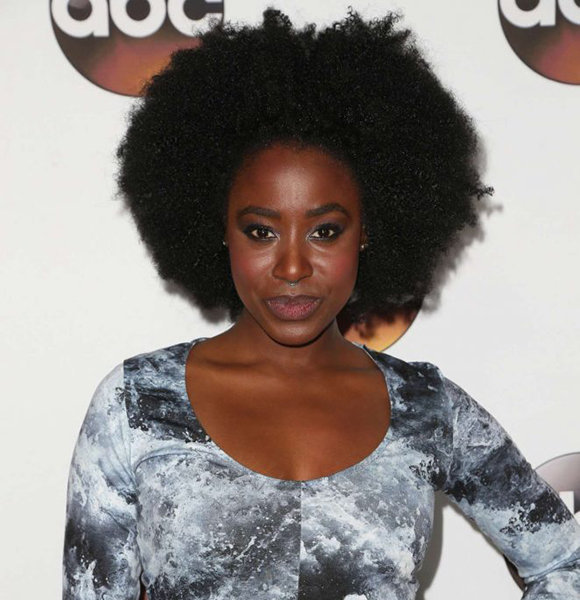 British actress Kirby Howell-Baptiste was cast as one of the lead actresses in Paul Feig's comedy series Girls Code; where she plays the role of Angela - a community-building social entrepreneur. The plot of the show has garnered the attention of the viewers.  
And along with the show, Kirby became an instant hit with the viewers due to her curly hair and arousing physique. Still, there are many personal and professional details fans are unaware of the beautiful actress. Let's try to find the answer to the question: Who Kirby Howell-Baptiste is? And, is she dating someone?
Also attached to the article is her bio-related info. 
Kirby Howell-Baptiste: Wiki; Killing Eve
Kirby Howell, the writer of short movies namely Minor Alterations and Lucky Day, is an actress who originally hails from London, England. Kirby got enrolled at the Anna Scher Theatre at the age of 12.
Child Actor:- Jacob Tremblay Makes Parents Proud; Acting Prodigy At Age 11, More To Come
Her bio suggests that after completing her secondary school, Kirby acted in the West End play, Echoic with Talawa Theatre Company. She later joined East 15 Acting School to study acting before moving to Los Angeles to study at Lee Strasberg Theatre and Film Institute.
Upon moving to Los Angeles, she began performing at The Upright Citizens Brigade. She started applying for roles and landed small parts on TV shows such as The King of 7B and House of Lies. Kirby was also a regularly voiced on the audio podcast show, Comedy Bang! Bang!. 
Kirby Came into the limelight after portraying the characters: Jenn in the 2017 show Downward Dog and Maya in the 2017 live-action feature movie A Dog's Purpose.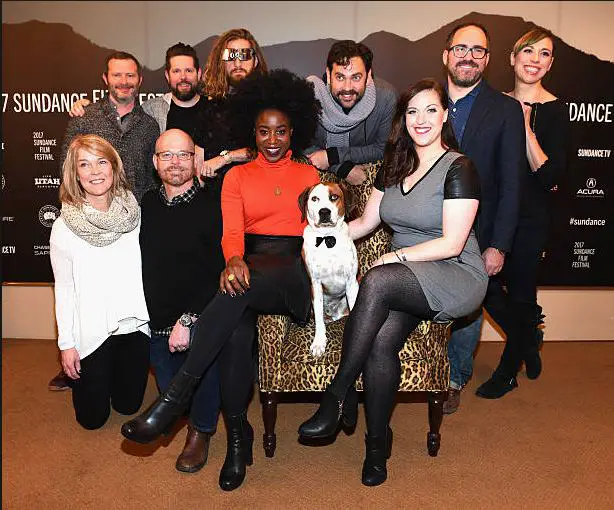 Kirby Howell at the premiere of Downward Dog (Photo: Getty Images)
The same year, she also got appointed as a regular cast member for television series Killing Eve, starring Sandra Oh. Kirby shared a post on her Instagram to reveal the news to her followers.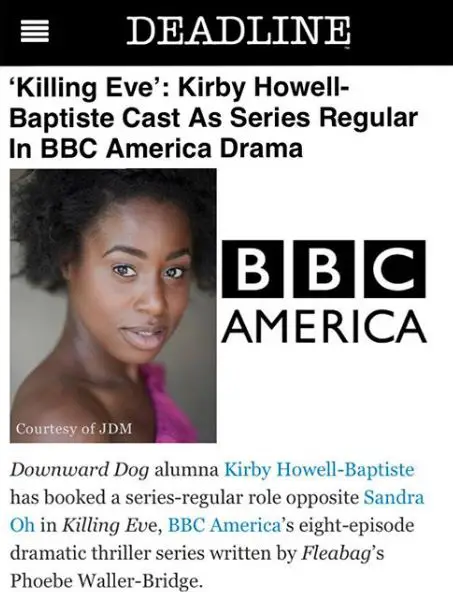 Kirby announces her casting in Killing Eve (Photo: Kirby Howell-Baptiste's Instagram)
The show premiered on 8 April  2018. Kirby will be appearing as Elena in 7 out of 8 episodes of the first season.
Killing Co-Star:- Who Is Jodie Comer's Boyfriend? Dating Status To Family Details Of Killing Eve Star
On Killing Eve, Kirby plays the role of Elena, the assistant of Sandra Oh's character Eve. Killing Eve, written by English writer Phoebe Waller-Bridge, follows the story of a bored MI5, who is tired of her desk job and dreams of becoming a spy.
The multi-starrer cast of the show included Fiona Shaw (Harry Potter), David Haig (Four Weddings and a Funeral), Kim Bodnia (The Bridge), Darren Boyd (Fortitude), Sean Delaney (Midsomer Murders) and Owen McDonnell (Paula).
As of 2019, she is living the best life in terms of her growing career stature. The On Killing Eve actress has made a dramatic transition from a supporting to a lead role in a short period. With that transition, her name in the acting industry is also multiplying.
At the start of January, the actress posted pictures on her Instagram attending multiple award ceremonies like The Critic's Choice Award, Golden Globes, and 25th Screen Actors Guild Awards. The images itself gives her fans an indication of her growing reputation in the industry.
Likewise, she is the part of the CBS upcoming drama Why Women Kill where she plays the role of Taylor. The character of Taylor can be described as a badass, intelligent woman who is a lawyer, by profession and has perfect control of her senses.
Thanks To Family; Boyfriend & Age Revealed
The wiki doesn't mention the birthdate of Kirby, but according to a post on Twitter, her birthday is proclaimed to be on October 23. Likewise, Kirby also suggested last year that she would change her phone number at the age of 30 and only give the new one to 20 people.
Kirby hasn't disclosed much information about her parents, except for a few posts on her Twitter account. In one of the tweets, she talked about giving a perfect Mother's Day gift to her mother by moving out; whereas in another tweet she wished a Happy Father's Day to all the men whom she could project her daddy issues on to.
Kirby also once jokingly blamed her parents for making her eat all her dinner before dessert. Further, in one of her tweets, Kirby even joked about her name and asked whether she was dumb to think that her parents liked her name.
More From Live RampUp:- Shannon Purser Has Boyfriend? Queer Sexuality - 50/50 Dating Chances
Moreover, in 2015, Kirby thanked her family for not pressuring her to be with them on Thanksgiving so that she could go hiking with her friend. But, other than the occasional posts, not much is known about her parents and family. 
Likewise, Kirby Howell's personal life has always been a mystery as she doesn't usually open about her relationships.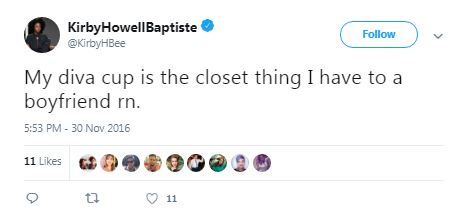 Kirby Howell Boyfriend Tweet: Kirby Howell Loves Her Diva Cup (Kirby Howell Baptise's Twitter)
Her fans will have to wait until she gets bored of her diva cup. 
She also has a husband whom she married on an undisclosed date but has talked about the husband on Twitter. On 5 June 2014, Kirby posted a tweet where she mentioned that her husband made an unusual request to blow him on the night.
Recommended For You:- Kayla Rae Reid & Husband Married – Again! Baby Becomes Ring Bearer
Recently, she came up with a new Twitter account deleting the old one, and the first tweet she posted was,
"I am so tired of waiting, Aren't you, For the world to become good And beautiful and kind? ....and social media. I'm also tired of social media."
Her bio suggests that she has even dumped her old Instagram account and is currently using a new one, but hasn't shared any posts yet. Moreover, according to her wiki, Kirby is set to play a recurring guest character named Ew in NBC's comedy show, The Good Place.