Entertainment
LoLa Monroe Husband Plans! Raising Career & Baby - Real Challenge
LoLa Monroe Husband Plans! Raising Career & Baby - Real Challenge the birth of her son came with a cost. She saw her burgeoning career stall as she tended her son. She saw her burgeoning career stall as she tended her son, but she made sure that he was brought up with love and care. American model LoLa Monroe has been dating American rapper King Los since 2009 However, in the past, she reportedly underwent cosmetic surgery to enhance her looks and body features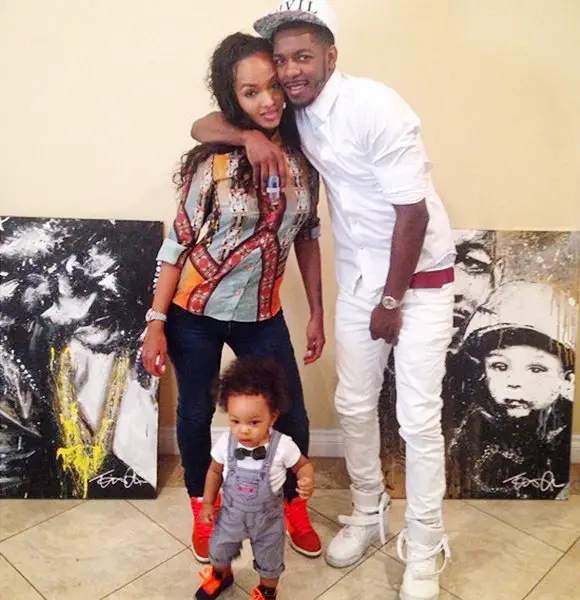 Birth of a baby is the source of unbridled joy to any parents; the arrival of a baby not only completes a woman, but it also completes a family.
For Ethiopian-American rapper LoLa Monroe though, the birth of her son came with a cost. She saw her burgeoning career stall as she tended her son, but she made sure that he was brought up with love and care.
However, she later felt a need to grow up professionally for which she worked out on a solution with her partner.
The remedy ensured that she could focus on her career and also her baby at the same time. 
Pregnancy, Career Struggle, Remedy 
Fershgenet Melaku, a.k.a. LoLa Monroe began her professional career as a model at the age of 19 in 2005. The video vixen then appeared in many music videos for the artists such as  Zay Z, 50 Cent, and Kanye West.
Later in 2009, she released her first mixtape, Boss Bitch's World. She released further two mixtapes the same year.
See Also:- Who Is Chandra Davis' Baby Daddy? Multiple Alleged Boyfriend, Husband Seen Nowhere
In 2011, she was signed as the first lady of Taylor Gang, the label formed by Wiz Khalifa. Her first mixtape with the gang released in the same year.
Previously in 2006, she had also made her acting debut in Wendy Williams's biopic movie Queen Of Media. Till 2010, she appeared in other three films including Video Girl, Crazy Like A Fox, and Before I Self Destruct.      
Her career was starting to take shape but came to an abrupt halt due to pregnancy in 2013. She was then expecting her first child with her boyfriend, fellow rapper Carlos Coleman, a.k.a. King Los.
The couple welcomed their first kid, a son named Brixton Royal Coleman on 12 March 2013.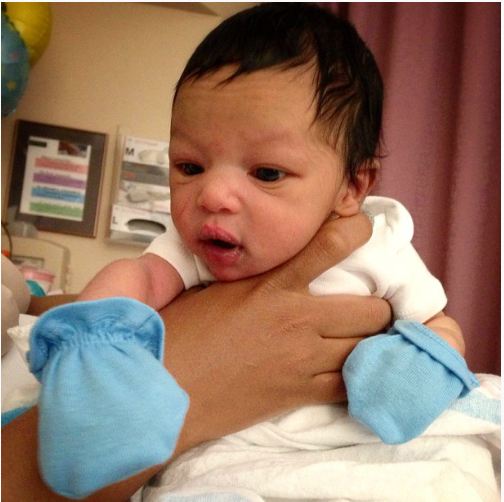 Lola Monroe and King Los's son Brixton Royal Coleman, born on 12 March 2013 (photo: bckonline.com)
As of now, the little Brixton accompanies the hot momma as Lola is spotted strolling with her son in public. She took to Instagram on 14 May 2018 sharing the candid picture with her son. She described her son as the highest vibration and the closest being to her heart. 
"You are the highest vibration and the closest thing to the most high #MyHeartInHumanForm ❤️ hope yall had a much deserved special mommy's day .. ♥️?? thank you for the."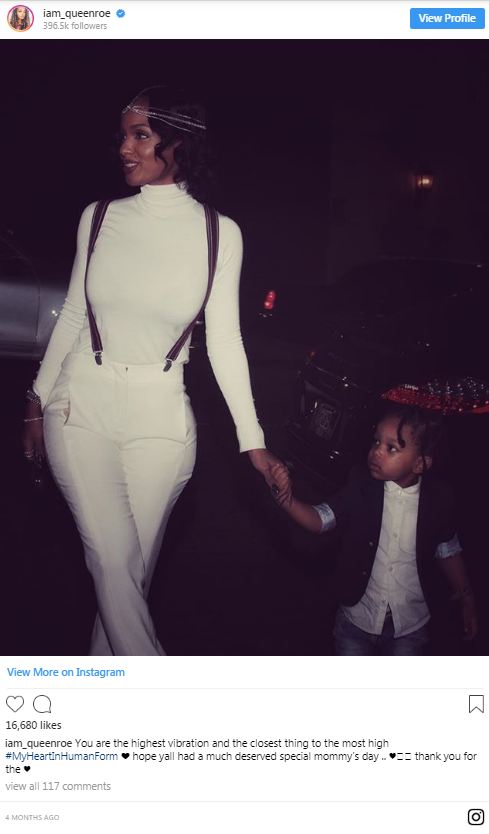 Lola Monroe with her son, Brixton Royal Coleman (Photo: Lola Monroe's Instagram)
Post pregnancy, LoLa Monroe's husband's career hit extraordinary heights while she took care of her son. Back then, Monroe was finding hard to juggle her personal life along with her professional life. 
LoLa only appeared in a season of the reality show The Platinum Life after her pregnancy, but her music career had stalled. 
Read Also:- "I'll Always Have Her Back!" Val Chmerkovskiy Opens Up About his Split with Amber Rose
The show, The Platinum Life,  chronicled the life of four wives and girlfriends of black rappers, Miguel, Ne-Yo, Nelly, and King Los. During one of the episodes of the same reality show, she expressed about rescuing her fledgling career post-pregnancy.  
During the third episode of the show, published on 30 October 2017, LoLa, and her rapper beau agreed to take LoLa's career to newer heights. They also concluded that sitting up in the home and tending Brixton wouldn't let LoLa flourish in her career.
Consequently, they worked out a solution, and that was hiring a nanny to take care of their son Brixton.
The couple planned to hire a nanny to take care of baby Brixton so that LoLa could devote more time towards achieving her dream of making it big in the music industry.
Back in 2014, in an interview with VladTv, Lola had said that she wouldn't quit her career because of motherhood. She had also said that she was planning for marriage with boyfriend Los.  
In the past, Lola had denied marriage solely focusing on her career. In an interview with All Urban Central (AUC) back on 28 June 2018, she talked about her struggle and how she came over it. She stated that the essence of her music comes from her struggle and her music depicts the real world. She has been on her own since she was aged 15. 
Don't Miss:- With Multiple Dating Affairs, Did Anabelle Acosta Actually Manage To Have A Boyfriend Or Are Those All Rumors?
And since then, she has been living for herself, and it seems she found a good way to share her feelings and pain as her every lyric is content with her struggle to reach the height of success.
Furthermore, she added that she wants to remind the people that they just should normally going whatever they have faced in the past and must overcome their struggle. Also, she hastily stated that "respects never come from money." 
"Respects never come from money, it comes from who you are, what u represent, ur integrity, your codes your ethics."
Since she pushed her wedding plans for her career, it seems the wedding bell is soon to heard loud as she has already accomplished a different height in her career.
Ninth Anniversary; Ready To Be Husband-Wife?
The couple has been evolving in their relationship ever since they moved to LA from Washington DC for better opportunities.
They have been together for near a decade as of 2018, and it is only a matter of time for the couple to announce their marriage, as per as Monroe's recent interviews.  
You May Also Like:- NBA YoungBoy Wiki: Real Name, Baby Mama, Kids, Net Worth - All Revealed
When asked about marriage by an interviewer from Power 106 FM on 23 October 2017, LoLa coyly answered that they were planning to take their relationship a step forward.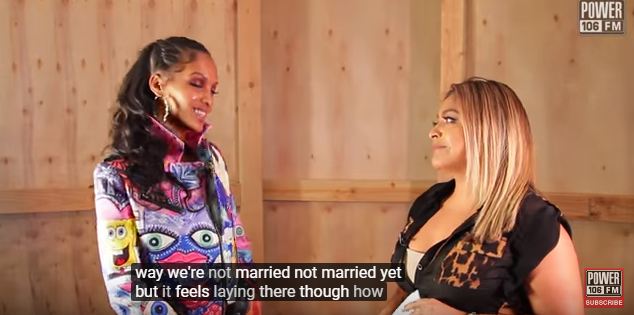 Soon-To-Be Husband and Wife: Lola Monroe says "We are not married yet, I am near though" during the interview with Power106 FM (Photo: Power 106 FM)
American model LoLa Monroe has been dating American rapper King Los since 2009. The pair celebrated their ninth anniversary together in 2018.  She also walked the red carpet with her soon-to-be rapper husband. She was spotted on the 2018's Bossip award with her boyfriend where the couple was busy posing for the photo.
Taylor Gang, Cosmetic Surgery, Weight Loss
LoLa, born on 23 October 1986 in Ethiopia, grew up in Washington DC after her parents moved to States. She was into music from a very young age and started writing poems at the tender age of 6. She was discovered by Style Entertainment's agency's CEO Mike Styles in D.C.
She has four movie credits, six mixed tapes, and numerous songs as a guest artist to her credit. She was part of the Taylor gang for two years from 2011 to 2013.
Don't Miss:- 'Insecure' Actress Natasha Rothwell Bio: Age, Weight Loss, Husband Talks & Facts
A model for Glow Skin Acne Package, LoLa is also an advocate of natural beauty and is seen preaching make-up free looks during her public appearances.
However, in the past, she reportedly underwent cosmetic surgery to enhance her looks and body features, which has brought her controversy.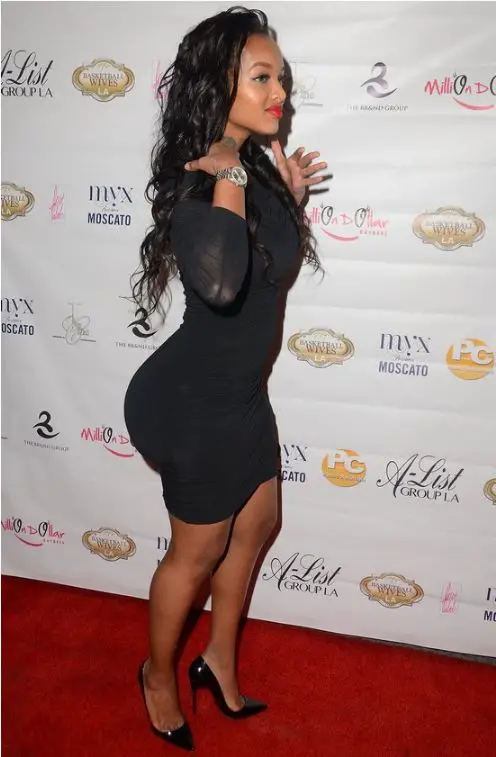 Lola Monroe reportedly went through plastic surgery; her before surgery pictures are less curvaceous, her body frame has increased (photo:rapgenius.com)
Despite the plastic surgery plus implants addition allegations from many, LoLa has remained mum regarding the matter. 
However, in a 2010 interview with Vlad TV, she said that one didn't need to get enhanced to be in the industry while adding woman should go through the process if it made them happy.
Three years later in 2013, Monroe talked about losing 30 pounds in three weeks. 
See Also:- Brittany Cartwright, Age 29, Unveils Weight Loss Secret! Before and After Pic Screams
Writer's Op-ed
LoLa Monroe seems all set to take her career to an unprecedented level after taking an enforced break due to her son's arrival.
It takes a lot of hard work to create something like a new album in such a competitive industry. That's why hiring a nanny was a good idea for the couple to maintain a balance in their family dynamics and career ambitions. It was also a perfect way for LoLa to prepare for her new album. 
Cheers to them for working things out.