Quick Information
Date of Birth

1967-01-07

Age

54 Years 4 Month(s)

Nationality

British

Birth Place

Swindon

Profession

Comedian

Birth Name

Mark Jones

Zodiac Sign

Capricorn

Ethnicity/Race

White

Relationship Status

Single

Gay

No

Net Worth

N/A

Height/ How Tall?

6' 1" (1.85 m)

Hair Color

Brown

Eye Color

Dark Brown
Usually, when it comes to marriage, most celebrities take their time and don't rush towards it. Many like to live in a relationship whereas some get married after a long affair with their partners.
In Mark Lamarr's case, neither seems to be working out as he is almost lived half a century and doesn't show signs of having a wife.
But fans believe it to be more about not wanting to reveal rather than not dating. Mark, who is a well-known comedian and presenter, has a very secretive way when it comes to his personal life.
Celebs like him are always ones who tend to keep their private information private and far from the vulture eyes of people out there. 
Dating History: Longterm Ex-Girlfriend & Wife Prospects
Mark was in a long-term relationship with a model Allison Webb back in 1994. However, he has not disclosed much about his romantic ties in the eyes of the media.
Longterm Romance:- Astrid Menks Bio, Net Worth, Family, Husband
After dating for almost seven years, it came to the limelight that he had split with his girlfriend in 2001 without mentioning the actual reason for their split. 
However, some sources claim that he got dumped by his girlfriend and as a consolation prize, he gifted his girlfriend a 140,000 pounds flat in London's trendy Maida Vale.
A close pal of Mark even shared that their relationship was always a bit strange. After his split, he got linked to Boddington's ad girl Melanie Sykes and Big Breakfast star Sara Cox.
And since then, he is reportedly single and enjoying his singlehood occupied with his professional obligations
Absence Of Married Life - Gay Label
Despite having a few revelations of him dating woman, people speculate if he could secretly be gay.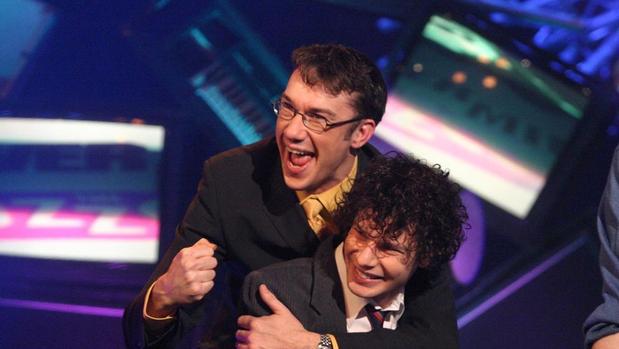 Mark Lamarr and Simon Amstell on the set of Never Mind the Buzzcocks. (Photo credit: pinterest.com)
There was a big rumor in the media regarding Mark's sexuality. As he lacked a wife to lead a pleasant married life, people speculated that he could be sexually gay.
Facing Gay Tags:- RiceGum Net Worth, Girlfriend, Gay, Siblings
His rumored partner, Simon in an interview described himself as "twisted 21-year-old gay geek from Essex."  But with his long-term relationship with his girlfriend Alison, Mark cannot be assumed as a gay man.
Early on in his career, around 2000, he had tackled the very topic saying:-
"I've been called a feminist, a misogynist, gay and homophobic. I can at best be one of those things; I doubt if I'm any of them. But I haven't got the cunning to fight the public perception of me."
Despite his statement, Mark continues to get hounded by his detractors for being a closeted gay.
Faces Assualt & Imprisonment Charges
Away from his past relationships, Mark became a subject of public scrutiny when he got arrested in September 2018 for allegedly assaulting and imprisoning his ex-girlfriend.
His neighbors called the authority after hearing screams come out of his residence in Chiswick, West London. It eventually got him slapped along with a restraining order.
The Metropolitan Police confirmed the arrest afterward and revealed that the radio personality got released on conditional bail. Per the statement, he would appear at Uxbridge magistrates court on 2nd October that year.
Charged With Assault:- Orlando Brown Arrested For Alleged Assualt Against Girlfriend; Call For A Split?
But on 1st October, the Crown Prosecution Service announced that it was dropping charges against Mark because of insufficient evidence.
More About Mark Lamarr
Apart from being a comedian, Mark has his talents exposed in other sectors as well. He is a writer for several TV shows and documentaries like Art That Shook the World (2002) and 15 Storeys High (2004).
Additionally, he has also appeared in some TV shows like Never Mind The Buzzcocks, Pervirella (1997), The Mark Steel Lectures (2003) and many others. 
Mark was born in Swindon, Wiltshire, England on the 7th of January, 1967 as the youngestof four kids in a middle-class family. He was born amidst three sisters to an Irish father who owned a courier company.
As a child, he studied and graduated from the Oakfield School, where he attended and passed 5 O-level tests. But he quit school at 17 because he had a snag to perform and write even as a kid.
Fellow British TV Personality:- Dan Osborne & Wife Keeps Wedding Strong Amid Issue With Ex | Details
As a teenage boy, Mark used to watch several TV shows to enhance his presentation and comedy skills. He rose to fame by publishing his poem named " Too Fast to Live, Too Young to Work" in 1987 although he had already performed it at London's Comedy Store, a year prior.
Then in the late 90s, he joined BBC's Radio 2 Network where he played music tracks but in 2010, left the show saying the show had lost interest in real, mainstream music.