Spanish tennis ace Rafael Nadal, age 33, is all set to become a married man!... The news of Rafael being engaged to his longtime girlfriend & now wife-to-be, Mery Perelló comes just days after the current world no. 2 tennis player's devastating loss at the Australian Open Final...
The news of Rafael Nadal - age 33 - engaged to his longtime girlfriend & now wife-to-be, Mery Perelló came just days after the current world no. 2 tennis player's devastating loss at the Australian Open Final.
Read along to learn the details of the Mallorca, Spain native's engagement to Mery - who also goes by the name Xisca - and the wedding that followed.
Gets Engaged To Girlfriend-Cum-Future Wife; Set To Get Married
Although Rafael and his girlfriend of more than 14 years got engaged almost a year ago, it is just now that the beloved couple has come forth with the revelation.
Fellow Tennis Player:- Nick Kyrgios Is Dating! Meet Super Hot Tennis Player Girlfriend Ajla
According to the Spanish-language magazine Hola!, the 17 Grand Slams singles titles-winner initially popped the big question to Mery in May of 2018 during their romantic trip to Rome, Italy.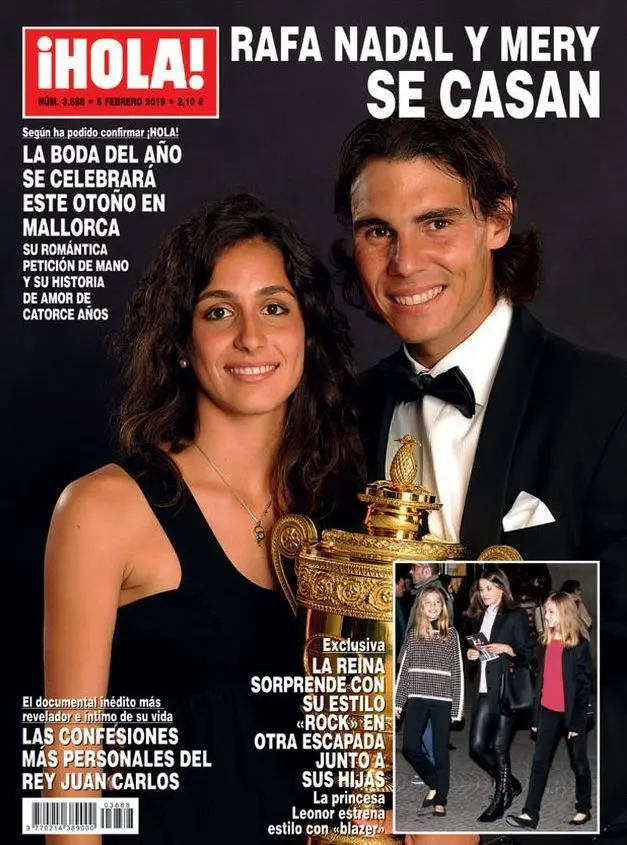 Rafael Nadal along with his then-wife-to-be Mary Perelló graces the February 2019 cover of Spanish Magazine (Photo:- Celebrity.nine.com.au)
The smitten couple was set to get married next Autumn in the beautiful city of Mallorca, a part of the Balearic Islands located in the Meditteranean region of Spain and which is also the tennis star's hometown.
Rafael's wife-to-be, Mary - a 30-year-old insurance worker holding a business degree - rarely attended his games as she believed that it helped preserve their relationship. That said, she was in attendance when Rafael lost to his arch-nemesis Novak Djokovic at the 2019 edition of the Australian Open.
In a post-match interview, he professed excitement in having Mary accompany him to Australia. Previously, in an interview with Hola, the 32-year-old asserted his intention to start a family.
From The Same Sport:- Juan Martin del Potro Silent Girlfriend Rift! Dating To Get Married Now?
While being parents may have been still in the cards for the engaged duo, it was- by no means - their top priority. First comes the wedding then the children, right? 
A Star-studded Wedding 
Finally, on 19th October 2019, Rafael tied the knot with his fiancée Mery Perelló on the luxurious estate of Mallorca La Fortaleza in Majorca. Their wedding ritual was initiated by Mallorcan priest Tomeu Catala, and the soon to be husband and wife said their vows in the presence of 350 guests, mostly filled with high profile icons.
Latino singer Enrique Iglesias, Tennis players Feliciano Lopez, David Ferrer and Juan Monaco were not the only celebrities present at the event. Reputed Billionaires and Latino icons made it to the list of his wedding.
However, his contender and tennis player Roger Federer didn't attend the wedding which bought speculations that they were not in god terms. But, Roger later clarified about being unaware of the wedding as he wasn't invited at all.
For those invited, the guest had to hold on to the moment to relish the moment as shooting anything from inside the venue wasn't allowed at all. Moreover, all the guests were instructed to hand over their phones during the event. This request was put upon the guests as eloquently as possible through individual cards that read,
"We remind you that we would like you to enjoy our wedding and to be in the strictest privacy. When you arrive you will find a locker so you can leave your cell phones."
With a private wedding like this, it became evident why the pictures of the newlywed were hard to get a glimpse of in the media.
Bio Unveils Essential Details: From Height & Weight to Net Worth
Nevertheless, Rafael claims that he would let his kids pursue a career of their choice, just like his parents - Ana María Parera and Sebastián Nadal - who didn't meddle with their kid's passion.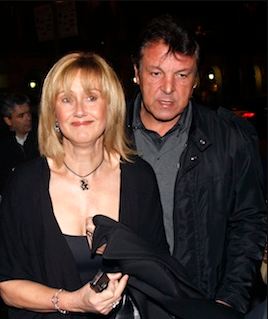 Rafael Nadal's parents: Ana María Parera and Sebastián Nadal get photographed in a public setting following their reunion in 2011 (Photo:- SportsYahoo.com) 
Born on 3rd June 1986, his bio suggests that a young Rafael grew up alongside his sister playing both football and tennis but opted to stick with the latter in a bid to finish his high school education. And what a decision it proved in the end.
Bio You Might Wanna Read:- Kennya Baldwin Bio: Wife Of Stephen Baldwin; What's Her Age & Net Worth?
Using his chiseled physicality, the 11 times French Open champion has amassed $183 million in net worth in prize as well as sponsor money. For reference: the Spaniard's weight and height read 85 kilograms (187 pounds) and six foot and one inch (1.83 m), respectively.