Entertainment
Sasha Farber's Surprising Engagement to His Girlfriend, Married Plans? Girlfriend and Dating History
Seeing Sasha Farber proposing to his girlfriend and asking her to marry him and be his wife is just a natural thing that happens between a long time girlfriend and boyfriend; but how he did it was something that would mesmerize any women in the world.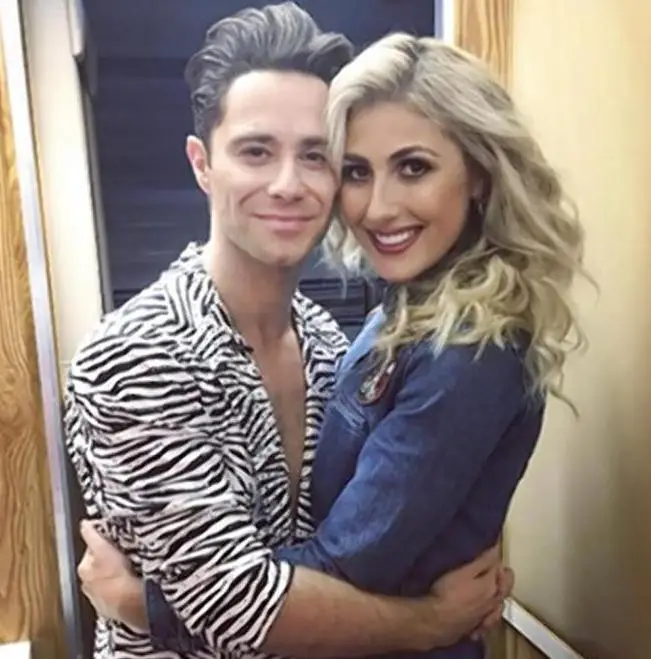 Seeing Sasha Farber proposing to his girlfriend and asking her to marry him and be his wife is just a natural thing that happens between a long time girlfriend and boyfriend; but how he did it was something that would mesmerize any women in the world.
Well, Sasha made his woman more mesmerized after their beautiful married which she still thinks a dream has come true.
Personal Life: Engagement, Girlfriend, and Dating
During the result show, Sasha Farber unexpectedly proposed to his from five years, a fellow dancer Emma Slater. Emma was already out from the 23rd season of Dancing with the Stars (DWTS) with her dance partner and former Texas Governor Rick Perry last week.
However, Emma was intentionally set up with her boyfriend, Sasha for her one last dance in the show.
More About DWTS:- Gymnast Shawn Johnson Post Wedding Love & Tragedy With Husband
The couple danced a contemporary dance on Bruno Mars' Just the Way You Are and as expected they couple ripped the act with a truly bewitching choreography.
After the couples had been done with their act, the DWTS host Tom Bergeron who is also the former host of America's Funniest Videos came down on the floor and joined the couples, silenced the hooting and cheering crowd and said,
"First of all, you guys have great chemistry, and Sasha, I've always thought you had the potential to host. So I'm going to give the show over to you."
All the time Emma had a slightly confused smile on her face but as soon as Bergeron left the stage, she turned face to face with her boyfriend, and that is when she knew what was going to happen and the crowd knew it too.
The 33 years old kissed his girlfriend saying 'I love you' then fumbled in his back pocket for a bit and pulled out a small box. Just as he pulled it out, he was on his knees, and that is when he asked Emma to marry him and be his wife.
Tid- bits Of DWTS:- Bindi Irwin Engaged In Bliss! Perfect Boyfriend That Dad Would Surely Approve
Sasha Farber engaged to Emma Slater (Photo: Dancing abc's Instagram)
The exuberated and taken aback Emma said yes right away and just as Farber was putting on the ring, the couples were joined by all of their fellow friends and competitors. This recent news just blasted off any remaining speculations and rumors about him having a gay person. He is not gay but supports it anyway.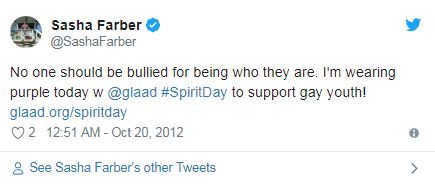 Sasha Farber supports to gay youth (Photo: Sasha Farber's Twitter)
Another DWTS Stars' Relationship:- Kendra Wilkinson Dating After Divorce | Meet New Boyfriend Frankie Conti
The couples who were dating for five long years are finally on their road to getting married, but it is not sure when will they swap their vows. With Inquisitr, Farber said,
"Marriage is definitely on the cards. It's just there's no time at the moment. We're so busy. You never know. Maybe tomorrow or next week. Who knows?"
The couple also moved into their new cottage-style home in Los Angeles recently in August and gave ETOnline an exclusive tour of their home. We only saw that the marriage proposal went flawlessly, but Sasha was frightened inside his head all the time about the possible horrible outcome of his plan. With USmagazine, he said,
"I was a little bit nervous when we were doing the dance, thinking that [the ring] would fall out of my pocket, thinking, This could go horribly wrong."
Well, now we are just waiting for the couple to get married and start their life as husband and wife.
Married Life; Family Planning, Loves To Have Twins
While the couple celebrated their better days during their dating life, they are living the best days of their life!
The fans' favorite couple tied the nuptials on 25 March 2018.
Dive In:- Nancy McKeon Now: Husband & Children Relationship Amid DWTS Entry
The couple was overwhelmed to announce that they are excited to wake every morning as "Mr &. Mrs. Farber." Sharing the adorable picture from their wedding day, Emma expressed their gratitude towards everyone for their love and support.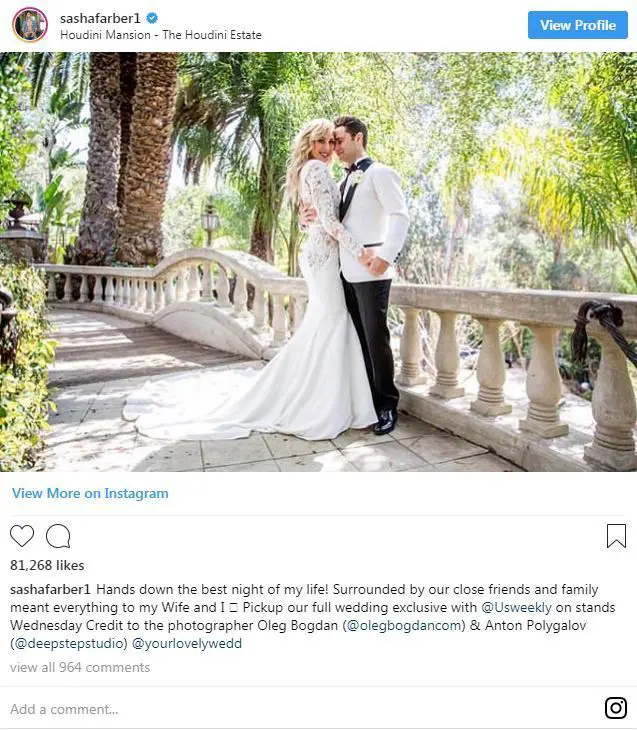 Sasha Farber got married to Emmy Slater (Photo: Sasha Farber's Instagram)
During their happiest moment, the couple invited plenty of Dancing With The Stars alum and dancers including Lindsay Arnold, Hayley Erbert, Witney Carson, Jenna Johnson, and Brittany Cherry and they were all bridesmaids.
And for their first dance as a married couple, the two lovebirds chose Ed Sheeran's Perfect.
Their wedding was planned by World's one of the best wedding planner, Michael Russo and Emma claimed that he created the magic in everything during their special day.
Discover:- Vogue Williams, Age 34, Intimate Wedding Just A Start! New Mom Explicit Details
The couple, who went to Mexico for a honeymoon, is on the cloud nine after their beautiful married life. But they are hoping to start a beautiful family soon. The blonde beauty gushed to the ET-online in April that the kids are going to be soon and her husband soon reacted that he would love to a father right away.
 Hinting on their family would soon start in 2019, Sasha further added that he would love to have twins as he is a twin himself.
Sasha Farber's Short Bio:
Sasha Farber was born on May 9, 1984, in Russia. He moved to Australia with his family following the Chernobyl nuclear catastrophe. He started to dance at the young age of thirteen and has also performed at the 2000 Summer Olympic Games in Sydney.
Later in 2013, he became the Dancing With the Stars pro and is currently competing in the 23rd season of DWTS.