Entertainment
Sterling Shepard & Wife Chanel Iman Daughter Cassie Snow 'Baby No.2'
Sterling lives a married life with wife Chanel Iman...A year later, his wife was pregant again with another...ollowing their marriage, their first baby daughter....Their wedding was held in
The New York Giants first selected sterling Shepard in 2016 in the second-round selection. Interestingly, he was drafted alongside Odell Beckham, Jr., another prized possession of the team.
Throughout his career, the player has suffered multiple concussions as well. Thankfully though, in November 2019, he cleared concussion protocol and was ready to make his mark in the field again.
Sterling Shepard's Married Life, Children
Sterling lives a married life with wife Chanel Iman, Victoria's Secret model. The two first met at Victor Cruz's birthday party in November 2016, where they instantly took a liking to one another. 
More On Their Dating Time Line:- Talk About Dating Goals! Chanel Iman Reaches It All With Her Affair With Boyfriend
Likewise, after dating for a year, he asked her hand for marriage in December 2017. His fiancée even shared a moment of their engagement through her Insta handle.
Finally, on 3rd March 2018, the pair exchanged their vows and initiated their life as a married couple. The wedding was held in Beverly Hills Hotel in Los Angeles, and several A-list personalities such as Chrissy Teigen, Gabrielle Union, and Odell Beckham Jr. attended the auspicious day.
Following their marriage, Sterling and Chanel's first baby daughter Cali Clay was born the same year. A year later, his wife was pregnant again with another child.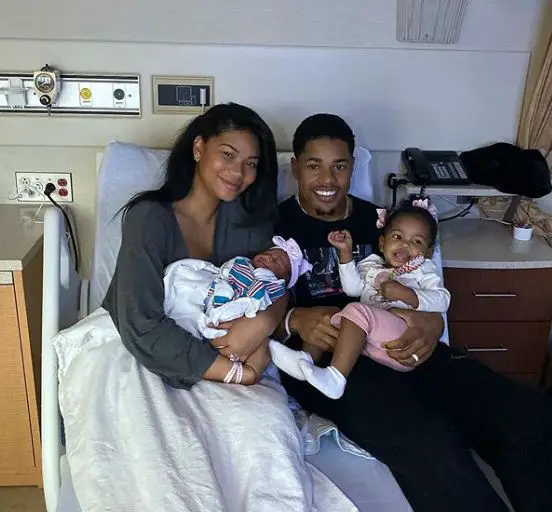 Sterling  Shepard with wife Chanel Iman and eldest daughter Cali Clay right after the birth of their second daughter Caddie Snow Shepard's on 17th December 2019 (Photo: people.com)
So, eventually, on 17th December 2019, his youngest daughter Cassie Snow Shepard arrived in the world. Interestingly, his wife even shared the pic featuring their baby no.2 citing her as their early Christmas gift.
Net Worth, Contract
Sterling's exact net worth remains undisclosed, but by the look at his contracts, he is doing exceptionally well on the financial side. He signed a four-year-long contract with New York Giants through which he earned a jawdropping amount of $41 million.
NFL's Jim Harbaugh Net Worth Details, Salary:-  Contract, Is He Fired?
Moreover, the contract included a signing bonus of $10 million. In 2019, he earned a base salary of $760,624. Furthermore, his base salary will see a significant boost in 2020 as his guaranteed salary for that year is $5,450,000.
Facts About Sterling Shepard Including Fantasy :
As of December 2019, Sterling's rank in Fantasy football is 61.
His roster percentage in the Fantasy league was 71.4 by the end of 2019 and had leveled down by 0.1 percent.
In 2019 he played in the receiving position against teams such as Miami Dolphins, and Philadelphia Dolphins.

 

In terms of measurement, his height is 5 feet & 10 inches (1.7 meters).