News
Eddie Huang Married, Girlfriend, Engaged
Being engaged pretty much mean that a couple might be on the road to tie the knot and get married. Some couples take their engagement into marital dimensions, while some relationships fail to reach that level.
But what happened to the engaged relation between American chef, Eddie Huang and his girlfriend turned fiance? Did they get married after getting engaged or did they venture on separate paths?
Well, you no longer have to wonder!
Married With Wife Or Still Engaged To Girlfriend?
Eddie Huang, age 37, has always maintained a low-key personal life, no wonder there are budding curiosities amidst his fans. But, one thing we all know is that Eddie once mentioned that he was engaged to his girlfriend named Dena, who grew up in Scranton, Pennsylvania in an Italian-Irish-American family.
Suggested:- Harry Shum Jr. Baby, Wife, Married
Huang made his relationship with Dena come to the recognition of readers and his fans through his memoir. In the journal, Eddie also expressed how it was like to get permission from her father to propose her.
Speaking of him asking for Mr. Fusco's (Dena's father) permission to propose Dena, he wrote what her father said as,
"Eddie, it's a Communist country and, look, you know I'm an open-minded g#uy, but come on, I don't have to tell you how bad it can get. It's not the same. It's not America."
But eventually, his efforts paid off and then Mr. Fusco decided to give them his blessing, and they got engaged. However, the engagement between them did not last, and thus, they called off their plans to get married 18 months later. Speaking about the breakup and the calling off of the commitment, Eddie shared,
"I wanted to cross a bridge so I paid the toll, I paid the toll, I asked the father, I felt like a monkey."
Nothing got revealed by the man about the reason for the demise of their relationship, but it is now clear that the two did not take their relationship to marital dimensions and the connection was limited to engagement only.
So, now that everyone is aware that he did not get married to the girl he was engaged to and failed to make her his wife; everyone might be willing to know as to how his romantic aspect looks like at present.
Explore New:- Romeo Santos Baby, Girlfriend, Engaged
In 2013, Eddie posted some interesting pictures on his Instagram where he has called Lena Sanvito his "wifey." And that is why people were suspecting if the man tied the knot to her.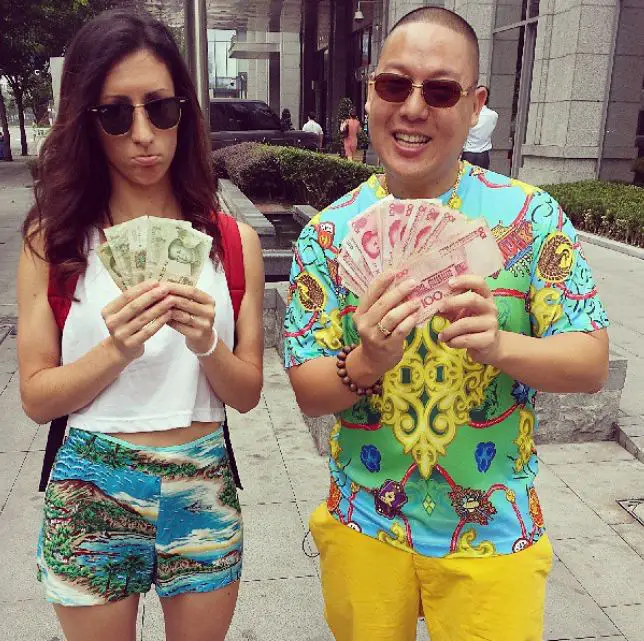 Eddie Huang showing off Yuan with his "wifey" Lena Sanvito circa 2013 (Photo:- Eddie Huang's Instagram)
However, Eddie refrained from speak about his connection with the lady, who got featured in his post. Hence, without his official word of affirmation or falsification, no significant conclusion can be reached for now.
Eddie Huang & The Sexual Assault He Kept Hidden For 20 Long Years
Eddie Huang, like several teenagers and kids these days, was a victim of sexual harassment back when he was 14. Eddie suffered harassment during a Baptist church ski trip and kept it a secret for 20 long years until he chose to open up about it in a New York Magazine cut.
Eddie wrote,
"I just feel powerless to the memory. Him taking his time with the shower, steaming up the room, then coming out with his d— hanging out,"

"He took out a Bible and started to read scripture with his d— hard,"

"My chest started to tighten and I couldn't breathe, fearful for what would happen next. The panic turned to outrage and ultimately humiliation."
But despite having the thoughts of battling the person, their difference in height and size stopped him. He also chose not to call the cops or tell anyone about it, fearing no one would believe in his words.
"Even if I told somebody, there was nothing they could give back to make me whole again."

"Finally, after more than 15 minutes, he packed his d— and left."
Eddie mentioned that he had a friend with him on the trip who was the only one to know about the incident. Also, Eddie never thought about speaking about the event because he didn't want it to define him.
Accused Of Sexual Assault:- Mario Batali Won't Be Charged For Sexual Assault, Find Out Why
However, Harvey Weinstein's case happened later when Eddie was in China with his family, girlfriend, and brothers. Eddie went through the allegations that were reported against Harvey and also he came forth the Kevin Spacey's share of misdeed. Moreover, he got inspired by Anthony Rapp, as he shared things that Eddie never could!
Bio Unveils Family & Brothers
Born on 1st March 1982 to Taiwanese immigrant parents, Eddie grew up alongside her brothers Emery and Evan in Orlando Florida despite being a Washington DC native.
An enthused eater from an early age, the world-renowned restauranter learned the culinary skills from his mother. His family used to operate a steak restaurant chain in Orlando.
Before fame, Eddie attended both the University of Pittsburgh and Rollins College, before joining Yeshiva University's Cardozo School of Law. After college, he also tried his hands in stand-up comedy.
And in 2009, he opened BoaHaus, a Taiwanese restaurant in East Village New York. Four years later, he published his memoir Fresh Off the Boat. ABC later adopted the book into a TV series of the same name.
Fresh Off The Boat Star:- When Is Jae Suh Park Birthday & What Is Her Net Worth? All Details
Since achieving celebrity chef status, Eddie has helped his brothers launch an investment company called Batu Capital while running several ventures of his own.