Entertainment
Sal Vulcano's Sister Jenna Vulcano Age 31 Ended Married Life With Husband, Why?
Jenna Vulcano may not be the team member of New York comic drama troupe, Impractical Jokers, but she steals the spotlight as the sister of Sal Vulcano, one of the pranksters of the group.
Jenna, age 31, has frequent appearances on the show, Impractical Jokers and has grabbed attention from her appearances. And her fan followings grew after she got married to one of the four members of the show during its airing. Her married life with the impractical joker did not last long and ended pretty soon.
What might have happened between the two? As these jokers are always into performing impractical pranks could this be one of their pranks?
Well, read along to clear all of your doubts!
Exchanged Wedding Vows; Brother Was Blindfolded And Taped
The Impractical Jokers are mostly known for their shocking and hilarious jokes on TV, consisting of four group members James Murray, Sal Vulcano, Mike Boccio and Joe Gatto.
See Also: Don Lemon's Most Handsome Boyfriend Cum Partner! Gay Love - Serious Goals
Back in 2014, the sister of Sal, Jenna also got featured, dressed up in a perfect bridal dress with a veil on her head as she walked down the aisle. She got married to her brother's co-star James Murray in the church wedding ceremony in the presence of their family members and close friends.
Even the show exhibited their wedding, where the video of Jenna and James' romantic moments was shown to the guests among which Sal was one. The video also consisted of Jenna and James signing the application for marriage in the Office of the City Clerk.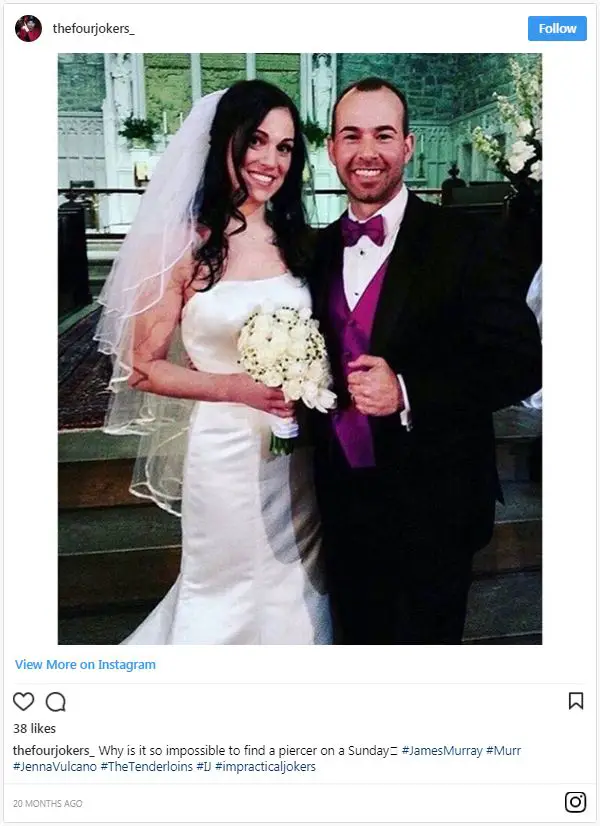 Jeena Vulcano with James Murray in a wedding ceremony. (Photo: Impractical Jokers Instagram Page)
Finally, the duo exchanged the marriage vows and shared a sweet kiss in front of the guest. Carrying out all the rituals, the duo was pronounced as husband and wife.
Don't Miss: Maura Tierney Divorced Her Husband After A Longtime; Revealed About Battle With Cancer And A Sense Of Relief Too
Among the guest was Sal, who was blindfolded earlier prior to the marital ceremony. He was forced to watch his sister marry and not say a word regarding the matter as his mouth was sealed with a taped throughout the ceremony.
However, the marriage ended just a day after the nuptial knot was tied.
Married Life Ended In A Blink; Husband For A Day
Jenna's marriage with James Murry came to an end just a day after their marriage. The ceremony that took place in the presence of family members and close ones ended in a blink of an eye.
Turns out the marriage was in fact, just another prank for their fans staged by impractical jokers excluding Sal Vulcano. James married Jenna as a return punishment to Sal who had earlier punished James to skydive from a plane.
Jeena and James exchanged the marriage vows only as a part of their prank and annulled the marriage only a day later. James revealed the end of the marriage through a tweet.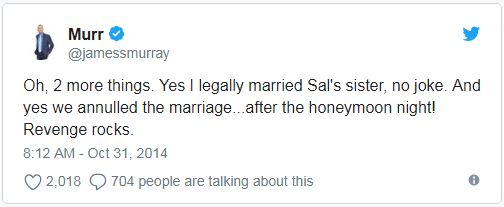 Jeena Vulcano annulled marriage tweet by James Murray (Photo: James Murray Twitter)
Well, James was her husband even though it was just for a day.
However, talking about Jenna's love life away from the camera and The Impractical Jokers, she has not much revealed about it. Turns out she prefers to keep it at the bay instead of gushing about her possible boyfriend.
Well, being on the show alongside her brother did gain her exposure to the entertainment world, but seems like she does not much prefer the hustle of the media.
Sal's Sister's Family Life
While Jenna rose to fame through her brother after being married to one of her brother's co-star James, Sal and his sister have been raised together by their parents, a professional poker player​​​​​​​ mother ​​​​​​​Dianne Fernandez and Sal Vulcano Sr.
You May Also Like: Who Is Gerald Anderson's Girlfriend In 2018? Parents, Siblings - Details!​​​​​​​
Turns out, both brother and sister had to witness their parent's divorce at a very young age. When Sal was just 4 years of age, his parents had parted ways.
Well, having their parents apart was not so easy for them but despite it, Sal and his sister has been going strong with their life.