Entertainment
Kehlani, Age 23, Confirmed Pregnant! Baby Daddy, Queer & Right In Front
The American songstress Kehlani Ashley Parrish has finally said hello to her longtime dream of cherishing the motherhood!
Kehlani Ashley Parrish, who self-claimed to be queer, has welcomed pregnancy in the most adorable way. However, the soon-to-be mother kept her share of secrets by not popping out the baby daddy's name.
But the fans are already going strong with their assumption, and it appears that the speculated name is the real-baby dady!
Want to know the reason behind the speculation, then dive in!
Pregnant With First Child; Questions On Baby Dady
The Gangsta singer, who dreamt of having a big lovely family since very young, announced on 12 October 2018 that she is expecting her first child. The story of soon to be experiencing the motherhood is similar to Cody Nickson's fiancee Jessica Graf.
The Songstress shouted about the happiest news via Instagram by posting a picture of herself holding her baby bump while standing in the sunshine. The 23 aged beauty-brunette did not identify the father of her child, but she indeed quoted him with the amazing partner.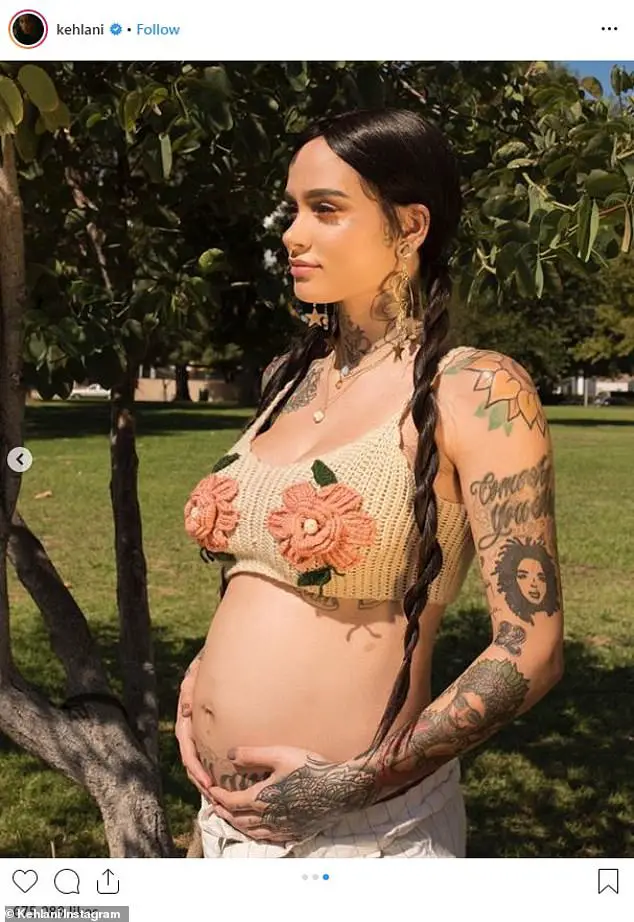 Kehlani announces pregnancy news with an amazing partner (Photo: Kehlani's Instagram)
While she was raised by her aunt after her parents; mother was a drug addict and father died after her birth, she wants to be the great parents to her child. Along with sharing the picture, she declared that having a " big healthy happy family" has been a young-aged dream stating "this was the hardest thing to hide."
Kehlani, who stands at the height of 1.63m, further added:
"i am so honored to be given this gift by spirit, creator, and an amazing partner whom i trust with my body and life. i knew sharing something so personal and precious could bring stress into my world but there isn't a word anyone would say my way that could take away from this."
The 23-years-old singer-songwriter gushed that she is four months pregnant with the baby girl and already counting the days for her little angel's arrival.
"dearest little girl, i am so proud to be your mommy. i am so proud to have received you. i cannot wait to meet you, i know you will be 50,000 times more special than i can even imagine at this moment."
The "Ring," hitmaker singer, opened more about her pregnancy during the latest interview with Nicki Minaj's show, Queen Radio in October 2018:
"It was planned so we had a short timeframe of having to actually have sex every day. And we were excited that it didn't start feeling like a chore."
Well, since she did not drop the name of her baby dady, numerous questions were aroused about her partner. So she has hinted the identity of her baby dady and claimed that he has been rocking her Instagram for long.
First-Time Pregnant Couple:- Anthony D'Amico Age 35 & Wife Dreams Come True, Pregnant With First Child!
Rumored Baby Dady; Partner Respects Her Queerness
Since she surprised fans with her pregnancy news, her fans started making their guess about her unborn child's father. After she revealed her baby bump, she shared a selfie on her Instagram Story quoting she has not hidden the baby dady, in fact, he has been in front of everyone's face.
And even during an interview with Nicki Minaj on Queen Radio, she explained the distinct features about her man.
Discover:- 'Suits' Star Patrick J. Adams & Wife Welcoming First Child At Age 37!
While Nicki asked Kehlani about her romantic relationship with a woman or boyfriends, she explained that she was, in fact, sharing a romance with the "bisexual man," who understands her queerness and fluidity.
Well, with describing the distinct nature of her partner, her fans have already made their assumption as Javie Young-White to be her baby daddy.
Although the "In My Feelings" singer did not drop the name, Javie has been ruling Kehlani's Instagram feed for a long time. On 9 October 2018, she Instagrammed the picture with Javie captioning, beans with the emoji of love.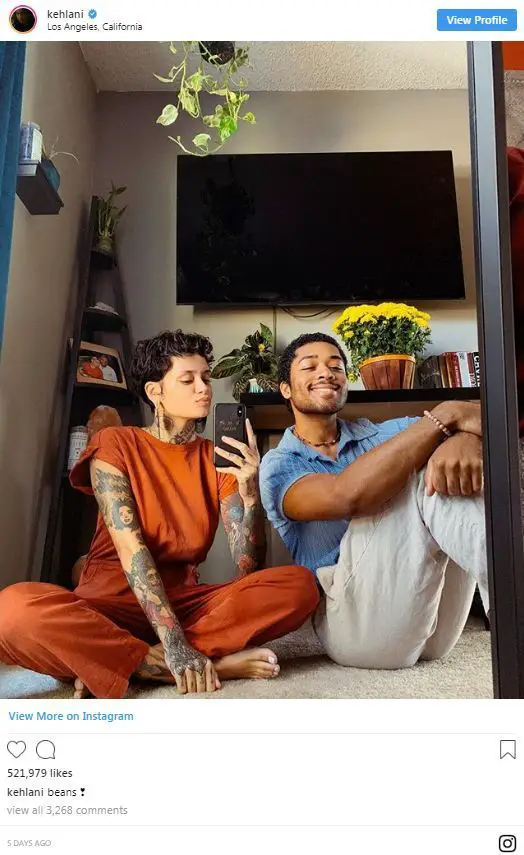 Kehlani sending love emoji to her rumored baby dady, Javie (Photo: Kehlani's Instagram)
First Happiness:- Jinger Vuolo & Husband Jeremy Vuolo's First Child! Baby Name Reflects God's Grace
The diverse ethnicity Kehlani, who previously shared that she's attracted to the queer man, was also sneaked on Javie's Instagram commenting "Hey Dad" on 10 October 2018.
The assumption on Javie being the baby daddy became more credible after Javie tweeted cherishing his fatherhood.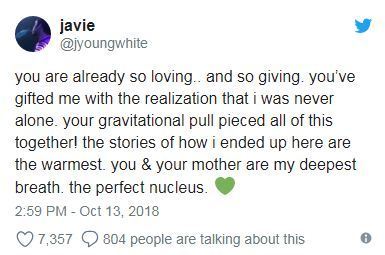 Javie expressed his fatherhood via tweet (Photo: Javie White's Twitter)
Since her post reached the conclusion that Javie is her baby daddy, it seems she needs some more time to confirm the on-going speculation.
So, stay with us to know the real Kehlani's baby dady!