Entertainment
Paul Bettany Is Romantic Just As His Character 'Vision'! Talk On How He Met Wife Jennifer Connelly and Their Connection
Vision is one of the characters everyone loved watching on "Captain America: Civil War " and several Iron Man movies.
The man to portray the role, Paul Bettany is seen loving the beautiful "Scarlet Witch" Elizabeth Olsen but did you know, he is an equally romantic person off the screen and has been living a romantic married life with his wife, enjoying a healthy family life with his children?
Well, today let's figure out how his relationship with gorgeous Jennifer Connelly first started and the present condition of his relationship.
The Beautiful Married Relationship That Paul Bettany And His Wife Share:
Paul Bettany has been married to his actress wife Jennifer Connelly since 2003 after dating for some months, and if you are curious to know how the two met, we have got you all covered.
The two reportedly met while shooting  "A Beautiful Mind" nearly 17 years ago, and the two were bonded well since the get go, as the two were a good team together.
Skeaping of the time they first met, Paul said,
"I've never been this close to someone that beautiful before, I remember thinking, 'I bet every man you ever met has tried to flirt with you."
His wife Jennifer also added,
"I remember meeting him at the first read through, I thought, 'Hmm, he's really good that guy.'"
Moreover, speaking of how Paul was able to win her over, Jennifer elaborated,
"He started playing guitar and it was all over"
That is how he did it!
To know more about their relationship, you can check the video below, where Paul shared their first encounter and the experience of that time, with Kelly and Ryan.
Caption: Paul Bettany on Meeting Jennifer Connelly, His Wife.
Published on Jul 24, 2017.
Adding more to their romance are their kids, Stellan and Agnes Lark.
Their family was seen out on a low-key stroll past Manhattan's Soho back in 2015.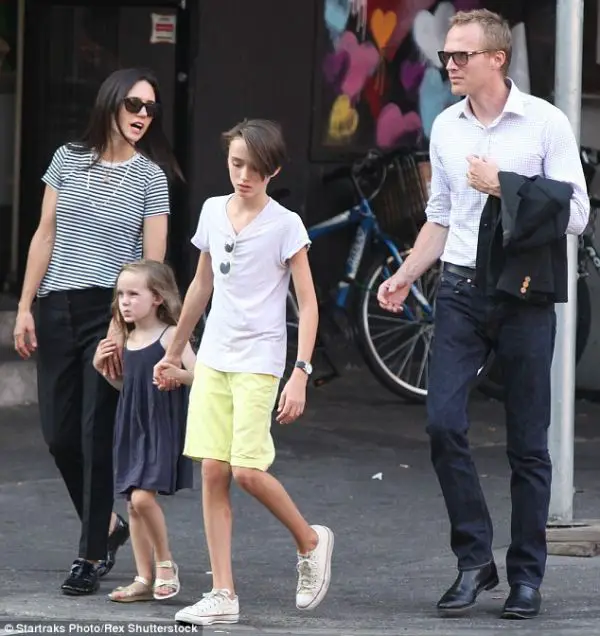 Caption: Paul Bettany, taking a stroll past Manhattan with his wife Jennifer and his children in September 2015.
Photo Credit: dailymail.co.uk
His family is just adorable, and we wish that the family's love just keeps on growing.
And did you know, Jennifer also has a son named Kai from her previous relationship with David Dugan?
Apart from the personal front of Paul's life, his professional life is equally splendid as well.
He was seen kissing his on screen co-star Elizabeth Olsen on sets of "Avengers: Infinity War", a movie that will include the entire Marvel Cinematic Universe's characters like Drax the Destroyer (Dave Bautista), Doctor Strange (Benedict Cumberbatch), Thanos (Josh Brolin) and The Collector (Benicio Del Toro).
Moreover, the other characters include Groot (Vin Diesel), Captain America (Chris Evans), Iron Man (Robert Downey Jr.), Nebula (Karen Gillan), Loki (Tom Hiddleston), Spider-Man (Tom Holland), Thor (Chris Hemsworth),
Furthermore, other notable characters include Nick Fury (Samuel L. Jackson), Mantis (Pom Klementieff), Black Widow (Scarlett Johansson), Falcon (Anthony Mackie), Hawkeye (Jeremy Renner), Star-Lord (Chris Pratt), Hulk (Mark Ruffalo), Maria Hill (Cobie Smulders), Gamora (Zoe Saldana), Winter Soldier (Sebastian Stan) and also Wong (Benedict Wong).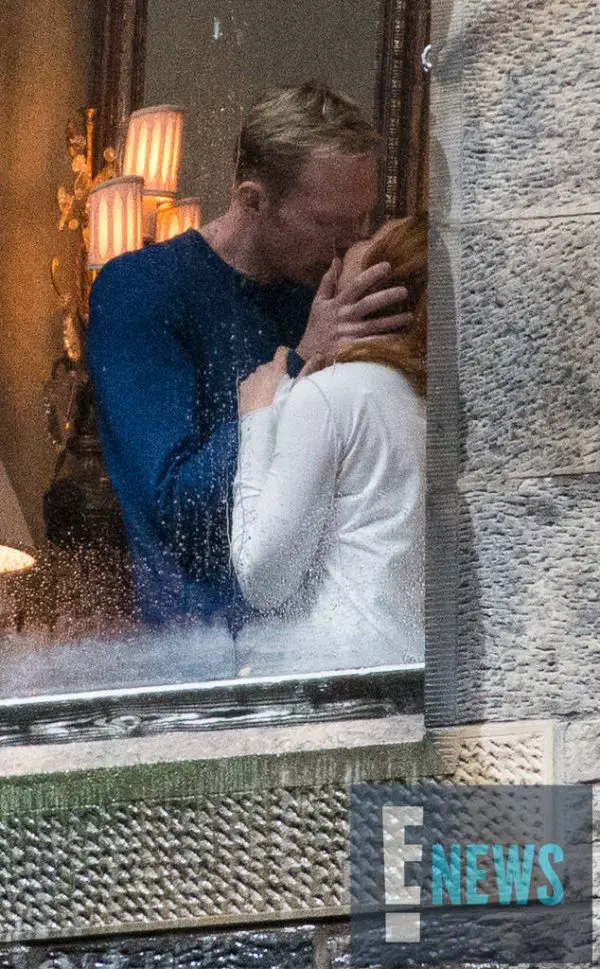 Caption: Paul Bettany, kissing Elizabeth Olsen on the sets of "Avengers: Infinity War," April 20, 2017.
Photo Credit: eonline.com
This project already looks great, and this will surely add to his net worth, which is already at the $20 million mark. His ravish looking net worth justifies his hard work and dedication to a good extent!
Stay with us for the budding updates on Paul Bettany!