Entertainment
After Divorce, Regina King Revealed About Dating Again; What Should Her Boyfriend Be Capable Of?
It looks as though, after staying single for a couple of years, American actress Regina King will get back on the dating runway. The talented actress has been looking up for her significant one for a long time as she revealed the criteria required to be her boyfriend.
However, she has already been married and is also a blessed mother. But her relationship with her husband came to an end. She then gave love another chance and dated her former boyfriend for years which eventually ended in a split.
Let's find out more about the dating thing which she disclosed.
Ultimate Requirement For Boyfriend, Dating Now?
'American Crime' actress Regina King while making her appearance on "The Wendy Williams Show" in March 2015 mentioned about dating. She shared with Wendy about her expectations which a guy should have. During the interview, she said,
"You need to do better job at it,"
She divulged,
"I've been so busy with work, and my girlfriends are like, 'Do you think a man is just gonna go knock on the door, like, 'I'm here!'?' And I think I wish he would, but I have to make that more of a priority."
Thinking of taking her career and love life alongside, she is now thinking of dating again.
See Also: Edgar Ramirez Relationship Status Now! Search For Perfect Wife Over?
During the interview, on the very topic of dating, Wendy asked,
" Can he be the plumber or does he have to own the plumbing company?"
For which Regina King, now 47 added,
"I mean, look, look, this is the thing. I think you can find love anywhere, and my heart is open to it, but I would like to have...if I can pay for us to go on a vacation, all expenses paid out of my own pocket, then he should be able to do that as well."
Well, that's true, you can find love anywhere you just need to keep your eyes wide open. That is what King might be following so far.
Divorce From Husband After 10 Years As Married Couple
King was married to Ian Alexander Sr. in 1997. The pair dated each other for three months before getting tied up in marriage.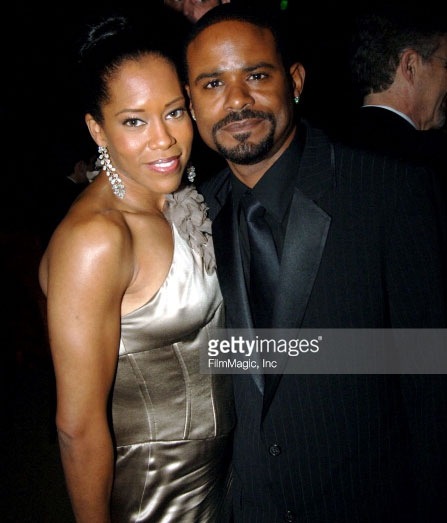 Ian Alexander with Regina King in the 77th Annual Academy Awards in the United States in 2006. (Photo: gettyimages.com)
With the quiet marriage life, the pair also shares a son, Ian Alexander Jr., who is now 22. But the beautiful marriage didn't last long, and they separated in 2007.
Little did Regina know that her experience parenting Ian would help her win an Emmy in the future. Her portrayal of a grieving mother in Netflix's Seven Pounds sees her channel her motherly instincts unlike never before.
Interesting:- Tony Raines & Girlfriend Alyssa Giagone Engaged! The Challenge Star's Ring
When asked about her inspiration behind her Emmy winning role by Vanity Fair, she simply said:
"Just being a parent. A lot of it is pulling from that right there."
In the same interview, she opened about how some scenes in the show helped her tap into her deep seeded parenting issues.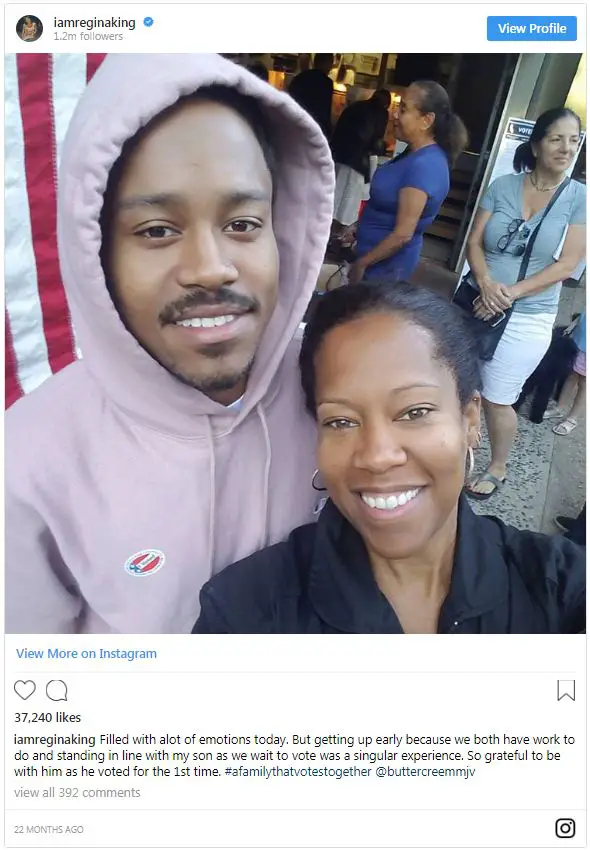 Regina King with her son (Photo: Regina King's Instagram)
After a decade-long marriage, two divorced putting forward Ian's extramarital affair as an ultimate reason. In addition to that, Ian's abusing nature towards King was also supposed to be another cause for the divorce.
Don't Miss: Billy Magnussen Keeping Possible Married Life Hidden; Does That Make Him Gay?
Leaving behind the relationship with her husband, King dated Malcolm-Jamal Warner for several years.
Before dating Regina, Malcolm had several another high profile affair with fellow Hollywood stars including seven and a half years relationship with actress Karen Malina White. Likewise, Malcolm was by his actress girlfriend Michelle Thomas' bedside when the latter died in 1998.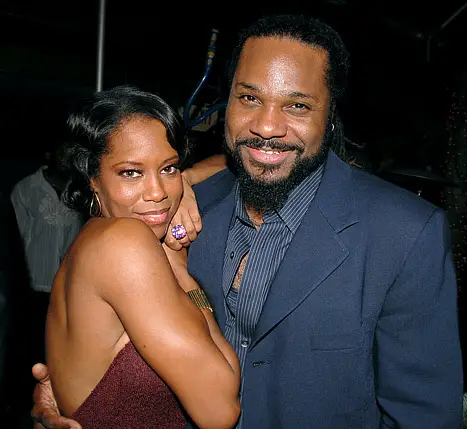 The boyfriend of King, Warner for several years but split in 2013. (Photo: actors44.com)
Regina and Malcolm's relationship faced a similar fate. After dating for nearly two years, the pair decided to part ways in March of 2013.
As Warner revealed, the two were able to keep their togetherness out of the spotlight, but their split in 2013 created the buzz in the air. Warner disclosed, about their break off where he said;
"I think what Regina and I—you know, we had been together for several years before people realized we were together. So, unfortunately, our breakup got more coverage than our being together, and that kind of sucked 'cause we spent so much time trying to keep it out of the public eye, and then the breakup was so much in the public eye. So all relationships have their share of obstacles, and you just try not to have yours plastered."
After the break up with King, Warner is not linked up with any woman and is currently single. On the other hand, Regina is also possibly single to date.
Regina King's Bio Including Net Worth & Sisters
The Emmy-winning actress King was born on January 15, 1971. She was born to special education teacher mother and electrician father. She has a younger sister who is also an actress.
Discover:- Pauly Shore Married Status Amid Gay Rumors | Has Girlfriend Now? Details
King has signed out with ABC's studios for the next two years. For the particular project, King's sister who has got a similar name as hers, Reina King will be serving as a development executive. Both names of the sisters, Reina and Regina, mean queen in Spanish and Latin.
King's got into the acting arena from 1984 starring in television's '227' in lead role. She then got her feet in different movies and TV shows. She is best known for her role in ABC's 'American Crime' for which she has won two Emmy Awards.
She is also running a charity foundation 'I Have a Dream.' Also, she has signed up with ABC's studio. All her work as actress and television director has contributed to making her net worth in proper figure of $12 million.
Adding up to her resume, King just picked up her third Emmy in 2018. King was announced the winner of Outstanding Lead Actress in a Limited Series or movie for her role as Latrice Butler in the Netflix's series Seven Seconds.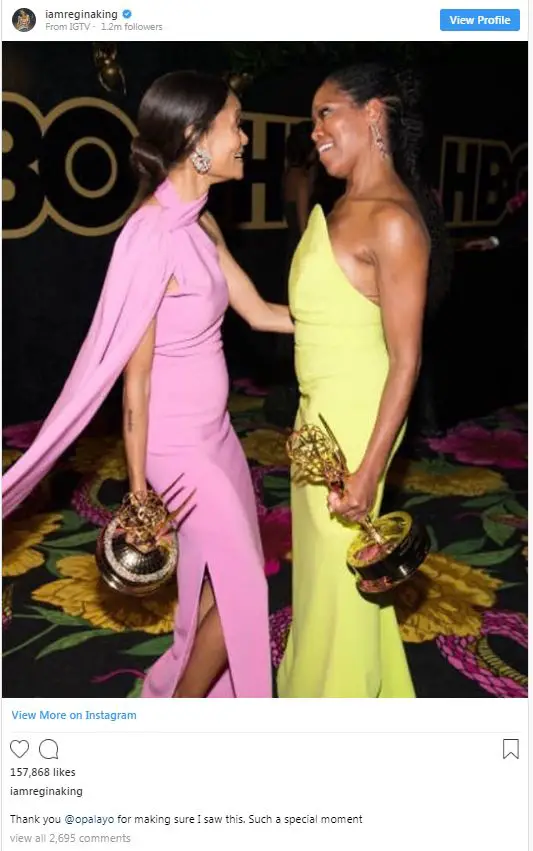 Regina Hall collects her Emmys (Photo:- Regina King's Instagram)
The announcement came as a surprise to her as she was not expecting to have it on her name that night. The crowd inside Los Angeles Microsoft Theater appealed her along with a standing ovation form her fellow nominee Srah Paulson.
You May Also Like: Is Kenneth Choi Married Man With Wife Or Just Committed To Hard work?
The announcer Leslie Jones was more excited for her and cheered for her all along the way. Even Netflix made sure to congratulate her the other day for her win stating "she deserves the world."
However, some fans of Seven Seconds mocked the tweet as the series has now been canceled for the second season after the airing of the first season.
Regina King's Impressive Run Continues In 2018
Regina continued her stronghold on Hollywood by providing the movie-goers with a stellar performance in Barry Jenkins' critically acclaimed romantic flick If Beale Street Could Talk -- a movie based on James Baldwin book of the same name.
Her portrayal of Sharon Rivers - arguably her greatest performance on the silver screen till date - has drawn widespread traction; so much so that she has received National Board of Review, New York Film Critics Circle prizes and Spirit Award nomination for her supporting role.
The crème de la crème of the awards, however, have come in the form of Palm Springs International Film Festival's Chairman's Award.
Read Also:- Demetria Obilor Age 27 Married Status, Who Is Her Husband? Find Out Here
Regina credits her success to her ability to make people uncomfortable with her acting performances on-screen. In December 2018 BuzzFeed News' Profile interview, she claimed:-
"I like to see people uncomfortable. I think that that's when you get really to the truth."
A week before her BuzzFeed interview, she sat down with fellow Hollywood heavyweights including Lady Gaga. Nicole Kidman, Kathryn Hahn, Rachel Weisz, and Glenn Close to speak on the challanges faced by women in the industry.