Had you said that a woman dunked the ball in a basketball game around 15 years back, the world would have laughed at you. But things have changed over the years, thanks to Lisa Leslie; the first woman to pull off a dunk in WNBA history to silence millions of mouths who called it "impossible."
Caption: Lisa Leslie becomes the first WNBA player to dunk.
"Boys have a tendency to jump around a lot more than girls. Boys have that desire to want to dunk way more than girls do. It just never seemed like something we could truly fathom and do."

- Lisa Leslie
Having entertainment basketball world with a dazzling career, Lisa is cited among the best names to have ever embraced this sport and was deservedly voted into the Top 15 players in WNBA history.
Let's recall this stellar journey of her to the peak of the women's basketball:
Embarking her career
Standing 6 ft 5 inches tall, Leslie inherited her basketball caliber and height from 6 ft 3 in great mother Christine Lauren and a semi-professional basketball player father, Walter Leslie. Leslie along with her three siblings had to undergo a torrid childhood as Walter abandoned them five months before her birth, forcing Christine to run truck driving business.
It may come as surprising one, but this legend had ambitions to be a television weather reporter before being introduced to basketball in her middle school. Initially a lefty, she evolved to become ambidextrous following her efforts to build right-hand dominance to avoid being the only lefty.
By the time she reached high school, her name was buzzing even at colleges. In next few schooling years at Morningside High School in California, she would flourish as the top player in the country with the average of 27 points and 15 rebounds per game and would make it into the USA's Junior World Championship team.
Caption: A look back at the splendid career of Lisa Leslie.
The University of Southern California is where she pursued her college career in between 1990 to 1994 conquering even greater heights. In her way to accumulate 2414 points, she shattered numbers of Pac-10 records winning multiple awards that include Rookie of the year 1991, National freshman of the year 1991 and National player of the year in 1994 and three All-American Honors.
The Professional career with LA Sparks and the USA
Her professional career kicked off after being hired by WNBA's franchise Los Angeles Spark in 1997 where she would stay until she called her time in 2009. Averaging 15.9 points per game in her debut season, she started it on high and ended up even brilliantly with league records of 6263 points, 3307 rebounds, and 10444 PRA. In her Sportswoman of the Year performance in 2001, she led her team to a WNBA title and another next year.
Caption: Top Ten plays of Leslie's career as a WNBA player.
The three-time MVP in WNBA was only 17 when she made it into USA's national team squad as the youngest ever. With American team, she made four Olympic appearances winning each along with two World Championships in 1998 and 2002 that constitute of her individual average of double digits in every competition.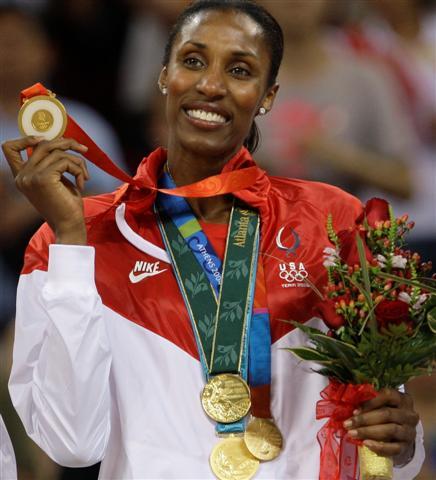 Caption: Lisa Leslie donning her previous medals controversially in 2008.
Source: thecomeback.com
In 2008 Summer Olympics, her act of wearing all three previous medals while receiving the new one dragged her into bitter controversy. Here's a video to shed more light on it.
Caption: Lauren Jackson and Lisa Leslie's controversial hair incident.
Her rivalry with Lauren Jackson is cited as one of the biggest rivalry in Women's basketball history since her hair extension was pulled off in an Olympic final.
Caption: A touching tribute to the career of Lisa Leslie.
The Naismith Memorial Basketball Hall of Fame inductee hung her number 9 jersey in 2009 to end her incredible career finishing as the league's leading rebounder and scorer. Talking about The Essence about retirement, she says,
"Everyone uses the word retired but I like to consider it as being in transition. I'm too young to be retired (laughs). But it feels good. I'm happy and confident about my decision to call it quits knowing that I was still able to contribute both on the offensive and defensive side of the game. I didn't want to stay out there until I had to be boxed out of the game."
She later achieved her MBA degree from the University of Phoenix and is living her "life after basketball" by trying her hand on acting and modeling.
Leslie as a wife and mother
What if I say that ball isn't the only thing she can handle beautifully?
The fact that the star on the court with the ball is a successful mother of two and loving partner of her husband makes her best even as a "family woman". The first two words of Lisa's official Instagram and Twitter account reads "Wife and Mummy" which speaks volumes about her role. Having been started a new phase in her life, she must have felt that he real life begins now, not that she didn't consider basketball her life.
Leslie is having one hell of a blissful married life after being tied in a marital knot with her husband Michael J Lockwood in Maui, Hawaii on November 5, 2005. While Lisa has conquered basketball courts, Lockwood, the pilot at United Parcel Service, has earned a reputation in aviation fraternity, including the heroic landing of tattered aircraft in 2009. Also, an author of book "Women have all the power", Lockwood is a father of two daughters from his earlier marriage.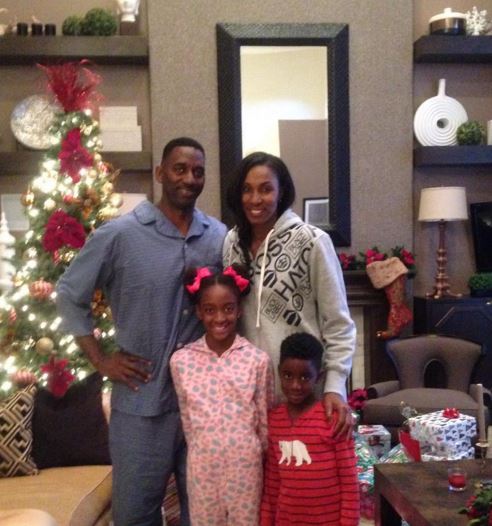 Caption: Leslie and her family at Christmas just look beautiful together.
Source: assetcache.com
Leslie started dating the 6 ft 7 inches tall Lockwood after four persistent calls he made, having got the number through a mutual friend. The Couple was blessed with their first child, daughter Lauren Jolie Lockwood on June 5, 2007, while Leslie took a year out of her WNBA career for her pregnancy. Their second child came in the form of son Michael "MJ" academyJoseph Lockwood II on April 6, 2010.
" I have three kids (an 18, 15 and 2); the two oldest are by marriage and the youngest I birthed. You just find the balance. You're up early to make sure they're clothed, fed and everything else. I love being a wife, mom and career woman. You really have to give your hats off to women who do this every day because you never understand their whole sacrifice until you go through it."
In her most recent picture, she has posted that "family time is the best time". Surely is, Stay blessed Leslie.
This shows that she is having a wonderful life with her husband and her children.
She has given the world so much to feast on:
She continues to contribute to basketball world witAcademyhe Lisa Leslie Basketball and Leadership Academy (LLB&LA) which she founded in 2012.
"My academy will deliver exclusive year round basketball skills training for girls and boys. It is designed to instill discipline, mental toughness, and the qualities needed to win in the game of life. Even beginning players will learn the game of basketball using the same principles that are needed at every level. Why limit the information at the developing stage that's needed to succeed in high school, college and on the professional level? The academy is equipped with highly experienced coaches. My staff and I have a profound understanding of the training necessary to succeed. With my Olympic and championship experience, I am confident that athletes of all ages will learn the skills and techniques that will help them to excel. I am so grateful to have the opportunity to share my knowledge of the game of basketball."
And did you know that she also has been indulged into modeling, motivational speaking, entrepreneurship and acting? Clearly, she has had quite the journey to her life after basketball.
#Basketball player
#2008 Summer Olympics
#WNBA
#WNBA MVP
---