Entertainment
Dunk Expert Lisa Leslie's Husband Is Boeing 767 Captain, Flower Girls Children, Married in 2005, Career
Dunk Expert Lisa Leslie's Husband Is Boeing 767 Captain, Flower Girls Children, Married in 2005, Career Lisa Leslie is the woman responsible for creating the history as the first woman to pull off a dunk in WNBA history. Leslie got married to the man, who was previously married to someone and later, his children from the previous marriage became the flower girls in Leslie's wedding.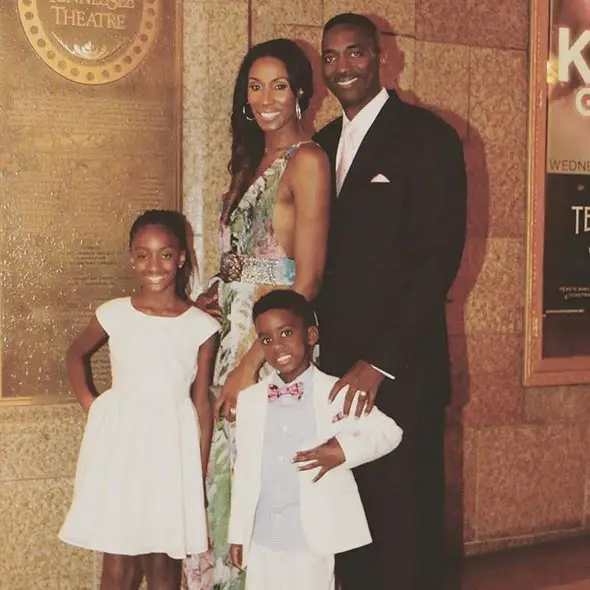 "Boys have a tendency to jump around a lot more than girls. Boys have that desire to want to dunk way more than girls do. It just never seemed like something we could truly fathom and do."  - Lisa Leslie
Lisa Leslie is the woman responsible for creating the history as the first woman to pull off a dunk in WNBA history.
Leslie got married to a man, who was previously married to someone and later, his daughters from the previous marriage became the flower girls in Leslie's wedding. 
Middle School Dilemma, All-American Honors
Standing 6 ft 5 inches tall, Leslie inherited her basketball caliber and height of 6 ft 3 inches from her strong mother, Christine Lauren and a semi-professional basketball player father, Walter Leslie.
Leslie along with her three siblings had to undergo a torrid childhood after Walter abandoned them five months before her birth, forcing Christine to run a truck driving business.
It may come as surprising one, but this legend had ambitions to be a television weather reporter in her middle school, before being introduced to basketball.
Initially a lefty, she evolved to become ambidextrous following her efforts to build right-hand dominance to avoid being the only lefty in her middle school.
By the time she reached high school, her name was buzzing even at colleges. In the next few schooling years at Morningside High School in California, she would flourish as the top player in the country with the average of 27 points and 15 rebounds per game. She would also make it into the USA's Junior World Championship team.
The University of Southern California is where she pursued her college career in between 1990 to 1994 conquering even greater heights.
In her way to accumulate 2414 points, she shattered numbers of Pac-10 records winning multiple awards that include Rookie of the year 1991, National freshman of the year 1991 and National player of the year in 1994, and three All-American Honors.
WNBA Stints, LA Sparks, The USA
Lisa's professional career kicked off after being hired by WNBA's franchise Los Angeles Spark in 1997. She played for the team till 2009.
Averaging 15.9 points per game in her debut season, she started it on a high note and ended up even brilliantly with league records of 6263 points, 3307 rebounds, and 10444 PRA.
During her Sportswoman of the Year performance in 2001, she led her team to a WNBA title and another in next year.
The three-time MVP in WNBA was only 17 when she made it into USA's national team squad as the youngest ever.
With the American team, she made four Olympic appearances, winning each along with two World Championships in 1998 and 2002.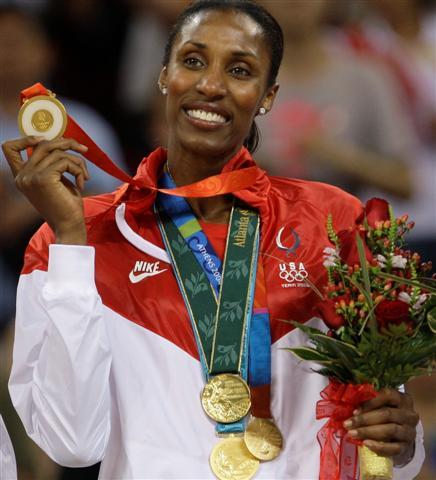 Lisa Leslie donning her previous medals controversially in 2008 (Photo: thecomeback.com)
In 2008 Summer Olympics, her act of wearing all three earlier medals while receiving the new one dragged her into bitter controversy. 
Her rivalry with Australian veteran Lauren Jackson during the 2000 Sydney Olympic Women's basketball gold medal game was cited as one of the biggest rivalries in Women's basketball history, Lisa's hair extension was pulled off by Lauren Jackson in the Olympic final.
The Naismith Memorial Basketball Hall of Fame inductee hung her number 9 jersey in 2009 to end her incredible career. She finished the year as the league's leading rebounder and scorer.
Talking to The Essence.com  about her retirement in 2009, she stated,
"Everyone uses the word retired but I like to consider it as being in transition. I'm too young to be retired (laughs). But it feels good. I'm happy and confident about my decision to call it quits knowing that I was still able to contribute both on the offensive and defensive side of the game. I didn't want to stay out there until I had to be boxed out of the game."
She later achieved her MBA degree from the University of Phoenix and was seen living her "life after basketball" by trying her hand on acting and modeling.
In 1996, Leslie led her team to Olympic gold. After the Olympic Triumph, she had no hopes of playing basketball in the US. Then, there was no professional league for women. So, she came to New York and got involved with the Wilhelmina Models to start her modeling NBA decided to start WNBA.   
In 2018, she worked on the basketball short movie series, Uncle Drew.
In 2014, Lisa, a panelist, started starring on CBS all female weekly sports talk show We Need To Talk alongside panelists Tracy Wolfson, Allie LaForce, Dana Jacobson, Swin Cash, Andrea Kremer, Dara Torres, Summer Sanders, Aditi Kinkhabwala and Katrina Adams, and contributors Lesley Visser, Amy Trask and Laila Ali. 
Leslie as Wife and Mother
A ball wasn't the only thing Leslie handled beautifully, as he has a beautiful family on her side.
The versatile player got married to the Boeing 767 captain and real estate investor, Michael J Lockwood, in Maui, Hawaii on 5 November 2005.  The intimate wedding ceremony took place before 85 guests.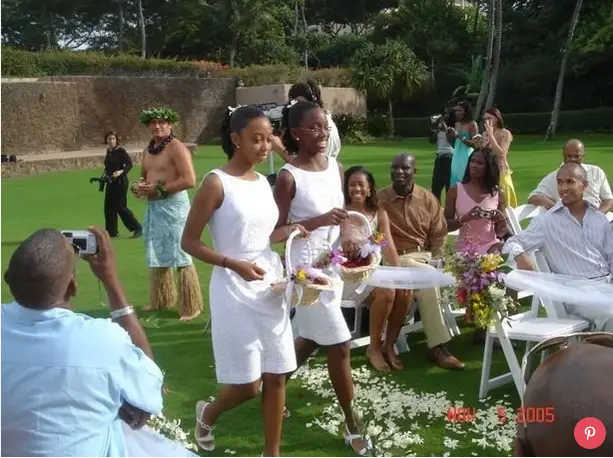 Flower girls at Leslie's wedding (Pinterest)
Michael's two daughters from his previous marriages served as the flower girls in the wedding.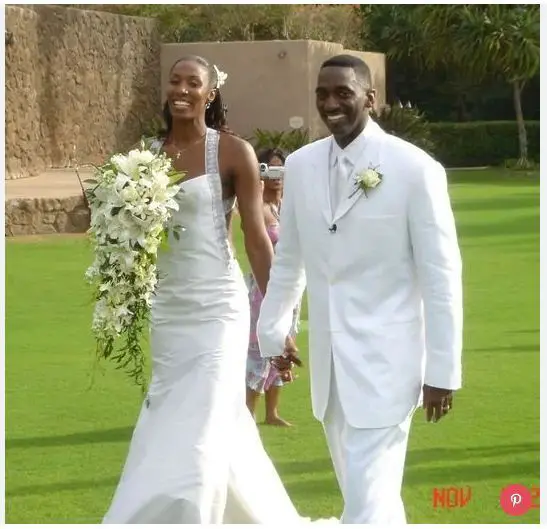 Lisa Leslie's wedding at the Maui, Hawaii on 5 November 2005  (Pinterest.com)
Talking about her wedding, Leslie said in an interview with ESSENCE on April 2009 stated, 
"It was important for me to have an intimate ceremony with close family and friends. It was truly a beautiful day. This was the wedding I always dreamed of."
She also talked about her proposal moment, stating, 
"I had no idea even after seeing the message on the bed in our hotel room that he was about to propose. I just thought, 'Awww, how sweet!'But when he did get on bended knee I was so corny and like, 'Oh yes, yes, yes.'"
Lockwood, the author of the book named Women Have All The Power… Too Bad They Don't Know It, made a surprise proposal following the NCAA Women's Final Four tournament on 4 April 2005, in Indianapolis.
Lisa, who had conquered basketball courts, married a successful husband who had earned a reputation in aviation fraternity for the heroic landing of tattered aircraft in 2009. The couple first met through Michael's friend, whom Lisa met in an airport during a personal vacation.
Leslie started dating the 6 ft 7 inches tall, Lockwood after her soon-to-be-husband, made four persistent calls, having got the number through the mutual friend. Recalling her first meeting with Essence, she stated, 
"He told me him and his wife were a fan and then said, 'Hey, I have a great guy you should meet you're both tall. I'm thinking, 'I'm not trying to meet anyone; I'm good single,' but I finally gave in and shared my number with him to give to Michael and the rest is history."
Leslie had received Lockwood's fourth call after his final message which read, 
"I've called you three times. C'mon, you can at least call a brother back!"
The two later talked every day for a month since the day before they met in person. Leslie stated in an interview with ESSENCE on December 2009 that he impressed her instantly,  
"He made me laugh and I love to laugh. When I called him back we talked for eight hours that day and then every day for a month before meeting in person. It was nice to connect with him on a spiritual and intellectual level without having the pressure of the physical."
Two years after getting married, the couple was blessed with their first child, daughter Lauren Jolie Lockwood on 5 June 2007. Then, Leslie was taking a year break out of her WNBA career due to her pregnancy.
They conceived their second child, a son named Michael "MJ" Joseph Lockwood II on 6 April 2010.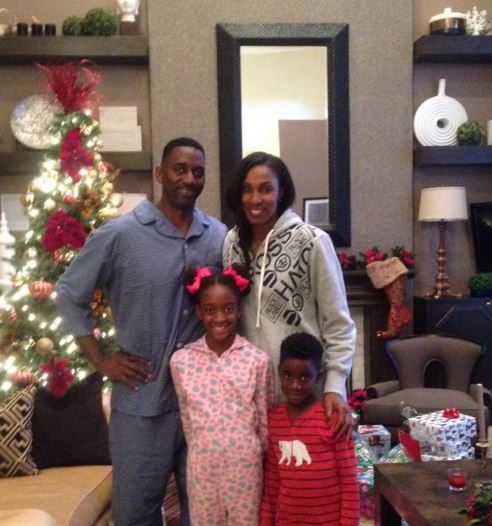 Leslie and her family at Christmas just look beautiful together (Photo: assetcache.com)
In an interview with ESSENCE on October 2009, Lisa was asked how she was managing both motherhood and basketball to which she had replied, 
"I have three kids (an 18, 15 and 2); the two oldest are by marriage and the youngest I birthed. You just find the balance. You're up early to make sure they're clothed, fed and everything else. I love being a wife, mom and career woman. You really have to give your hats off to women who do this every day because you never understand their whole sacrifice until you go through it."
Later, in February 2017, Lisa shared an Instagram image, where she exhibited her whole family enjoying a vacation together.
She has a beautiful life with her husband and her children. Don't you think?
Lisa Leslie Kids, Children, Family
Even after her retirement, she continued to contribute to basketball world with the academy, the Lisa Leslie Basketball and Leadership Academy (LLB&LA), which she founded in 2012.
"My academy will deliver exclusive year round basketball skills training for girls and boys. It is designed to instill discipline, mental toughness, and the qualities needed to win in the game of life. Even beginning players will learn the game of basketball using the same principles that are needed at every level. Why limit the information at the developing stage that's needed to succeed in high school, college and on the professional level? The academy is equipped with highly experienced coaches. My staff and I have a profound understanding of the training necessary to succeed. With my Olympic and championship experience, I am confident that athletes of all ages will learn the skills and techniques that will help them to excel. I am so grateful to have the opportunity to share my knowledge of the game of basketball."
And in 2017, Lisa Leslie became head coach at the New Orleans Gators club, a co-ed professional basketball team founded by American rapper/businessman Percy Miller. 
Earlier in 2016, she had sold her luxurious Calabasas, California located house for $1.854 million.  
Later in 2018, Leslie, who idolizes Oprah as her role model, presented the first-ever Lisa Leslie Award to South Carolina's favorite A'ja Wilson. 
Lisa Leslie is one of the Top players in WNBA history including Diana Taurasi, Erin Phillips, Maya Moore, Elene Dele Donne, DeLisha Milton-Jones, Tina Charles, Candice Dupree, Tina Thompson, Tamika Catchings, Lauren Jackson, Cappie Pondexter, Sheryl Swoopes, Swin Cash, and more.